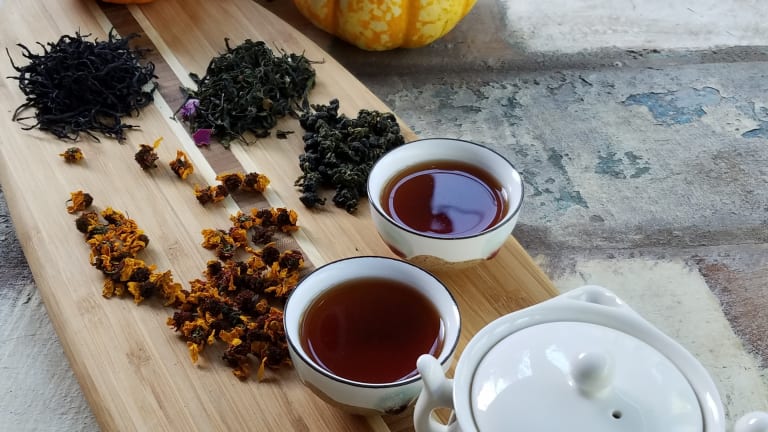 How to Host a Memorable Autumn Tea Party
Let's get ready to find out how to host a memorable autumn tea party with the perfect menu for a party.

Fall is officially here with its crisp air reminding us to pull out the warm woolies, and sip a piping hot cup of tea. Dawn Bryan, founder of The Qualipedia, shares some fantastic tips to help welcome in this chilly time of year with an unforgettable tea party. Let's get ready to find out how to host a memorable autumn tea party.
Related: Classic English tea party sandwich recipes
Tea Party Themes
There are a variety of ways to throw a tea party. You could go the classic English tea party route, or you could throw all the rules out the window and host a memorable tea party, which does not have to adhere to any of the traditional rules and leaves a lasting impression on your guests. Non-traditional tea soirees can be anything you choose: formal, informal, for a few guests or a hundred. Consider a Mad Hatter's Tea Party with hat decorating elements, or a fall hat exchange, or chill out with guests and have a yoga instruction followed by a traditional Zen tea ceremony.
The Perfect Tea Time Menu
Most tea foods are bite-size fingers foods. However, you can update the three course tradition with your favorite mini foods. Consider a gorgeous spread of nuts and dried fruits, kabobs, cheese plates, filo puffs or yummy Spanish tapas instead of the traditional small sandwiches and scones.
How to Pick the Right Tea
Choose from many different teas including white, green, herbal, Darjeeling, and oolong among them
Check instructions for selected tea, as teas vary in their brewing time.
Start all teas with cold fresh water.
Place 2 or 3 tea bags into pot of hot water to steep
Cover the pot or cup while tea is steeping.
Remove loose leaf tea leaves immediately after steeping or if using tea bags squeezing the tea bag after putting it directly into a cup is a no-no, allow it to drip briefly into cup while removing.
Condiments for a Tea Party
Many tea drinkers prefer their tea served plain; however, you should have sugar and other sweeteners, various milks and lemons available for your guests. Tip: Milk goes best with black teas and traditional English teas, and lemon with Chinese.
So gather your friends and host what is sure to be one of the enjoyable parties of the season!
WANT MORE RECIPES FROM MOMTRENDS?
PIN IT!
Looking for more food ideas? Check out the Momtrends Recipe Board on Pinterest!