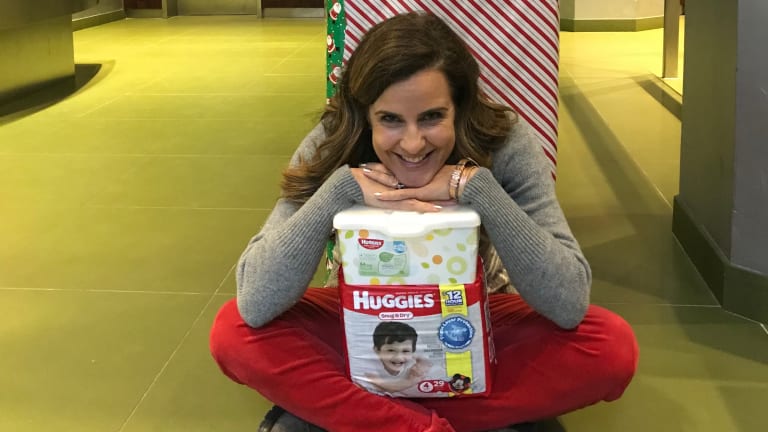 Host a Huggies Diaper Drive
The Season of Giving
Giving Hugs at the Holidays
I admit it, I'm feeling all the feelings of the season. The overwhelming sense to DO IT ALL and the sense that I am doing too much and missing out on the magic. One way to slow it all down and focus on the REAL meaning of the season is to give back. That's why my team decided to host a Huggies Diaper Drive.
This holiday we worked with our young friends (aka kids of the Momtrends team) to host a diaper drive in our apartment building.
We decided to host a diaper drive after our visit to the Hopeline resource in NYC.  Hopeline is a community resource in the Bronx providing everything from diapers to potty training classes to social support to food. They have a tiny budget but a HUGE impact on their community. Read more about Hopeline here https://www.momtrends.com/mom-life/how-diaper-bank-works.
We saw firsthand how diaper donations can help families. So, we took action. And you know what? Giving back really put me into the spirit of the season.
Since we live in a huge NYC building we decided to host right in our "home," but other great places to organize diaper drives are churches, schools, community centers and sporting venues. All it takes is a big box, communication and HUGS!
Here's how easy it is to host a Huggies Diaper Drive.
Hosting a Diaper Drive
1. Find your Donation Center. Locate your local diaper bank and drop off donations. You can find the diaper bank nearest to you by visiting nationaldiaperbanknetwork.org. We knew about Hopeline from our visit earlier this year. Coordinate a drop off time so you don't overwhelm the center. Many operate on very tight budgets with limited staff, so you want to make sure you contact them BEFORE you start the drive.
2.Get organized. Once we had the thumbs up from our building staff to host a drive, we got our supplies ready. We worked with our amazing building staff to secure a HUGE box from a delivery. Then our helper, Ryland, wrapped the box to make it look more attractive and to catch the attention of our residents.
3. Get the word out. Ryland designed signs to post in the hallways and on the ox. We also created an email blast to send to residents. We asked for unopened packs of diapers and wipes in all sizes. TIP: Keep the timeframe short to inspire action, one week should do it. Of course, we love Huggies, but let people know all diapers ae welcome.
4. Prime the pump. We ordered Huggies wipes and diapers to get things going. Once our building saw donations in the box, things started rolling. 
5. Promote on Social Media. Post on your Facebook and Instagram accounts to spread the word.
6. Deliver the goods. Make a follow up call to the center and confirm the deliver time. 
7. Say Thank You. Post on social media and to your building communication hub (or your school/church). Let everyone know the results and how they helped. Bringing it full circle helps everyone understand the need and might inspire more giving.
I was blown away by the response and generosity of our building (we have 270 units and 500+ residents). We filled this enormous box over the top with diapers and wipes for families. 
After the drive ended, our helpful staff helped load up the box. Next stop? The Bronx. We drove the huge box to Hopeline and delivered it to Maris, the Director. She was thrilled and touched by our efforts. 
You Can do it Too
In 2011, Huggies became a founding sponsor of the National Diaper Bank Network. Since then, they've proudly donated over 200 million diapers and wipes (and counting). I'm so proud to partner with them and to have this brand inspire me to take my own actions.
You don't have to be a millionaire or own a huge company to make a difference. Each small act of kindness and gratitude helps. Each diaper drive raises awareness about the issue of diaper need. During the holiday season it's too easy to focus on the getting not the giving. At Momtrends, we plan to make this an annual event.
Together, we can make a big impact. If a few caring families host diaper drives it can make a big difference.
Donating rewards points
If a diaper drive isn't in your future, I get it. There are more ways to give. 
Perhaps the easiest of these is donating your Huggies Reward Points. We can all chip in to help fight diaper need. The Huggies No Baby Unhugged program helps ensure all babies get the hugs they need to thrive by working with the National Diaper Bank Network to donate diapers across the country. Learn how you can help at Huggies.com/NoBabyUnhugged.
This is a sponsored post. As a member of the Huggies Parents Council my job is to share stories and information that I think you'll find inspiring and informative. All opinions are my own.