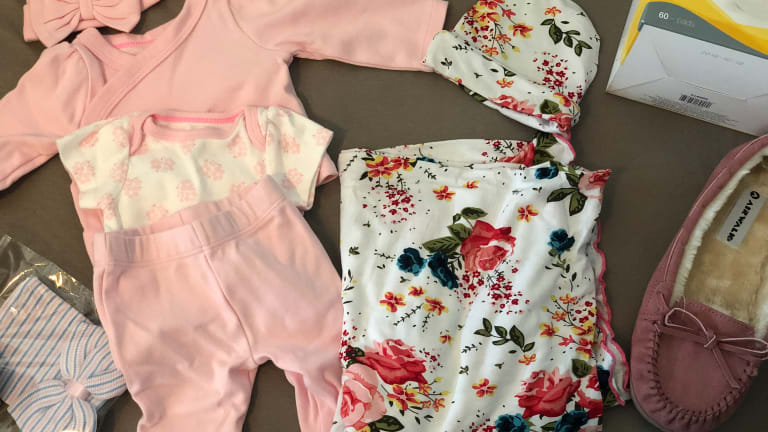 Publish date:
Hospital-Bag Essentials for Mom and Baby
Okay, as I write this the true countdown is on. T-minus 14 hours until I'm scheduled to show up at my local hospital for an induction. (Ugh, this stubborn baby is just too cozy in mah belly and the doctors want her out!) 
So, yeah, t's gonna be a busy couple of days... of waiting and panicking and laboring and, well, who knows--birthin' babies isn't always predictable.
I've had my hospital bag packed for a week or two now, but it was missing a few key items I was planning on just grabbing on the go. But now that I know when I'm going, I can really double down on my checklist and make sure I'm totally prepared and entirely good to go.
Another contributor at Momtrends recently had her first and shared the contents of her hospital bag--so I thought it would be interesting to share what I have packed to make myself comfortable and welcome #3.
What's in my maternity hospital bag for Baby #3
For Mama...
Maternity Pillow: Since I'm being induced, I'll be spending an extra night at the hospital. My trusty maternity pillow has been my favorite bedtime companion for the last nine months (ha, I mean second fave--sorry, husband.) Having your own comfortable pillow can be key to making you feel more at home in a foreign bed and a foreign place.
Nursing Nightgown: You're gonna wanna get out of that hospital gown asap. Swap it out for a nursing friendly nightgown of your own--or a regular nightie if you're not planning on breastfeeding (no judgment here, mamas).
Nursing Tanks: If you plan on breastfeeding, the nurses will be bringing Baby to you every few hours. 
Robe: A little light robe or cardigan for layering over tanks and nighties is clutch.
Maternity Sweatpants: I'll be leaving the hospital in my favorite pair of maternity sweats. They feature a full-belly panel to give ample support and comfort.
Glasses: I don't plan on laboring in contact lenses. Plus with a baby coming in and out of the room, I'll want to be able to see in the middle of the night--so don't forget your spectacles.
Nursing Pads: In all likelihood, your milk may not come in until after you leave the hospital, but it pays to be prepared with a few nursing pads packed. 
Makeup/Skincare/Hair Care Products: I don't need to look glamorous for Baby's big debut, but I might want to pop on a little concealer for a photo or two. I like my creature comforts, and I hope to get a shower in--so I'll be taking my own personal care items.
Lip Balm: I didn't have lip balm with me for my first labor and delivery and my mouth was so dry and my lips were so chapped. That's why rosebud salve will be on my bedside table.

5 Pretty Ways To Organize Your Jewelry
I admit - I'm guilt. Despite my best efforts, my "jewelry drawer" has become a tangled mess of necklaces, bracelets and earrings. This cluttered collection not only makes it hard to see what I have, but difficult to untangle the pieces I do want to wear! This summer, I'm ...read more
This Year's Coolest Jumbo Pool Floats
Pool season is almost here! I can't wait to relax, read a book, and sip a cocktail while lazily drifting in an oversized float. (Just kidding, I have two toddlers--but a swim mama can dream, right?). If you've got a staycation planned, check out this year's coolest jumbo pool ...read more
Crystal Clear and Pristine: Pool-Cleaning Tips
Tropical Storm Isaiah gave us quite the midsummer surprise here in the suburbs of New York City. We just got our power back on after a whole week of darkness! With trees down, debris everywhere, and lots of uncertainty, one thing we forgot to check on: our above ground Intex ...read more
Slippers and Slipper-Socks: Hospital socks are fine, but your own cozy slippers are even better. Pack a pair to trek around in. 
Laptop and Cord: If you have time to kill, you might want to email, do work, watch Netflix... you name it.
iPhone and Charger: My phone is my camera and Imma wanna keep my family and friends in the loop--so I've got to stay charged and ready. 
Book: If you have other kids at home, like me, you probably rarely get the opportunity to read a book. Take one with you, and enjoy some peace and quiet--well, a little bit of it, at least.
For Babe
Coming-Home Outfit: Steeped in tradition, a coming-home outfit for Baby is a special thing. I like to be practical though. I've chosen a simple ensemble from Target's new Cloud Island line. It's sweet and pink but cozy and convenient. 
Knit Hat: I ordered this special hospital-style hat for a photo op of my little lady.
Blankets: Follow the forecast and make sure Baby is dressed appropriately and has plenty of options for layering.
Swaddle Set: If you're having professional photos taken at the hospital, pick out a sweet swaddle set from Milk Snob. How cute is this?
First Stuffed Animal: This is the teddybear my own dad brought me in the hospital when I was born. It's going to be Baby's first snuggle item too.
Infant Car Seat: The hospital won't let you leave without a car seat. We'll snap our girl into the Chicco Fit2 before we go.
PIN IT!
This is not a sponsored post. Some samples were received.