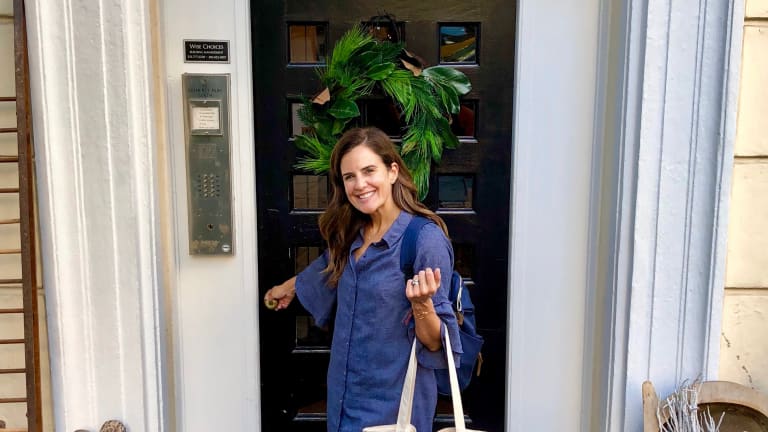 Holiday Prep with Blue Diamond Almonds
Easy Entertaining and Gift Ideas
Our calendar is already filling up with holiday fun. So, when Blue Diamond Almonds invited me to their "Holiday House" showcase this month, I was definitely ready to get holiday inspiration. We're HUGE almond eaters in our family because I love the easy snackability. I was eager to start my holiday prep with Blue Diamond Almonds.
Blue Diamond Bold Flavors
I headed to a beautifully decorated Gramercy Park townhouse in Manhattan. The first room had a delightful spread of nuts, cheese, charcuterie, and fruits. This is definitely my speed. Blue Diamond paired the beautiful spread with a delicious selection of their Artisan Nut Thins, which are all gluten-free and made with a mixture of brown rice and almonds.. I like to keep fixings like these on hand to make a pretty platter. It's easy to stock up on almonds, dried fruit, and now Artisan Nut Thins ahead of time. Then you just add a variety of wine or sparkling water to pair with the platter.
Some of my favorite finds were the line of Blue Diamond Bold Flavors. These are almonds with some zing. I loved the Wasabi & Soy Sauce flavor. I got a wasabi kick (I love wasabi peas) with a nice salty finish. These were anything but basic and I love how I can step up my spread this holidays season with these bold flavors.
Hostess Ideas
Next we headed to the dining room. I loved how the team had worked the foody theme into the Holiday House decor. The rosemary centerpieces were awesome --I'm totally going to use that idea this holiday season. In addition to getting some fun ideas to make my own home look great, I walked away with an idea for gifting. This year I can pair Blue Diamond Gourmet Almonds with a bottle of wine in a pretty basket for the perfect hostess gift. My favorite flavor from this new sophisticated line was Garlic Herb, & Olive Oil,
These almonds are roasted and seasoned with garlic, spices and extra virgin olive oil. They are a delicious way to start or end a meal and I'm certainly going to try them in my salads too! 
Baking with Almond Breeze
I love baking sugar cookies with my girls. It's one of our Christmas traditions. This year, I'm trying a new recipe that included Almond Breeze. I know lots of folks are paying attention to nut milks. Almond Breeze is an alternative to dairy and soymilk and is great for baking. Almond Breeze Original is also lactose free, soy free, calcium enriched, and contains only 60 calories per glass—that's half the calories of 2% milk. The Holiday House inspired me to mix it up when it comes to baking.
This Easy Sugar Cookie recipe uses Almond Breeze Original Almondmilk and Almond Breeze Vanilla Almondmilk. The cookies were scrumptious and I just had to share the recipe.
Ingredients 
1 cup butter flavored vegetable shortening
1½ cups sugar
1 egg
1 tsp. vanilla
2¾ cups all-purpose flour
1 tsp. baking soda
½ tsp. baking powder
¼ tsp. cream of tartar
3 to 4 Tbsp. Almond Breeze Original Almondmilk; divided
Decorator sugar or sprinkles
4 cups powdered sugar
¾ cup vegetable shortening
1 tsp. vanilla
3 to 4 Tbsp. Almond Breeze Vanilla Almondmilk
Food coloring
Directions
Heat oven to 375°F. Line cookie sheets with parchment paper.

In large bowl, beat 1 cup shortening, sugar, egg and vanilla with electric mixer on medium speed until creamy, scraping sides of bowl if necessary. Add flour, baking soda, baking powder and cream of tartar. Mix on low speed until well mixed. Add 2 tablespoons of the almondmilk and beat until smooth.

Form into 1¼" balls, using rounded tablespoonfuls of dough. Place 2 inches apart on cookie sheets. Spray flat bottom of measuring cup or drinking glass with cooking spray; dip in sugar. Press each cookie flat, dipping into sugar every other time.

If desired, lightly brush tops of cookies with remaining almondmilk and sprinkle with colored decorator sugar or sprinkles or leave plain and frost when cooled.

Bake 8 to 10 minutes or until edges start to brown. Cool on cookie sheets 2 minutes. Remove to cooling racks.

In large bowl, beat powdered sugar, ¾ cup shortening, vanilla and 3 tablespoons of the almondmilk with electric mixer on low speed until moistened. Beat on medium-high speed until smooth and creamy, adding almondmilk for desired spreading consistency. Tint as desired with food coloring.
I hope you find these holiday house inspirations helpful. 
Pin it and Plan it!
Use Pinterest to plan the perfect holiday season. Save ideas now and you'll be stress free!
This Holiday Prep with Blue Diamond Almonds feature is sponsored.