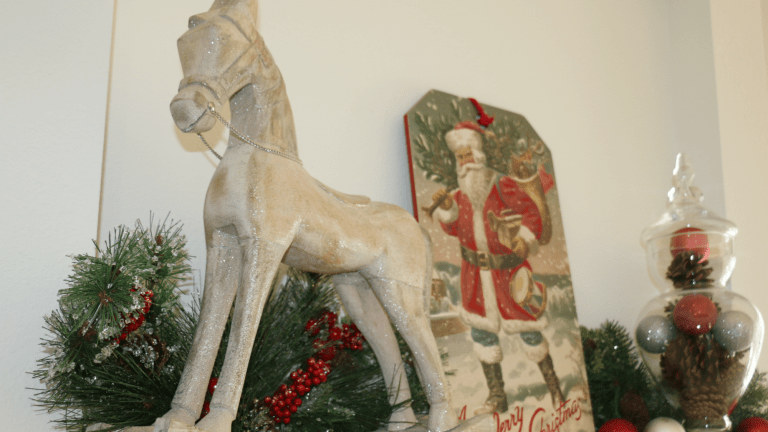 When it comes to holiday decorating, this girl goes all the way. Every single room in my home is touched by a little holiday magic and this year I'm thrilled to be able to decorate a real mantle! We recently bought a new home and after not having had a fireplace since I was a child growing up in Ohio, I'm having so much fun dressing my new mantle up. And what better time to decorate a mantle than the holiday season? Yeah, holiday mantle decor is just what I've been waiting for!
You see, my holiday decorations come out as SOON as Thanksgiving is over and this year is now different. So, I thought I would give you a peek at what I've done with my mantle so far. A holiday display like this is super simple to put together because as much as I love to get into the holiday spirit, I'm a busy mama and easy anything is the way to my heart. Bwah! So, let's talk holiday mantle decor ideas...
Much like with my fall mantle, I went with pieces that added a little height to the equation. A sweet rocking horse, a vintage looking Santa sign an an apothecary jar filled with pinecones and ornaments go perfectly with the classic Christmas vibe my decorations have this year. Since my decor has a decidedly rustic vibe these days, traditional, homey decorations just work best. And what's more homey than Christmas garland and pine cones?! And speaking of the pine cones, you could certainly forgo them and fill the jar with ornaments in your color theme of choice. Easy peasy!
So, as you focus on your own holiday mantle decor this year, I hope my ideas help on the inspiration front. And for even more festive holiday fun, check out these easy holiday centerpiece ideas!
We were not paid for this post. It does contain affiliate links. Shopping them helps us bring you this site!