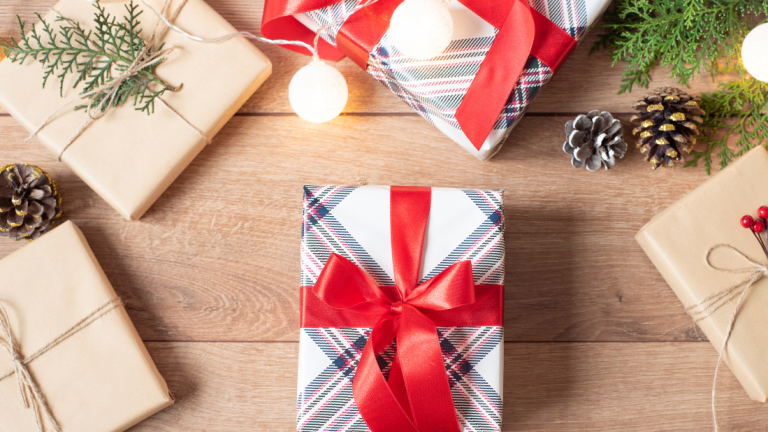 2022 Best Holiday Picks for Grandparents
Eight gift ideas that add minimal clutter and maximum love for the grandparents in your life.
Grandparents are special people. They love and nurture and babysit and bake and lend and help in any and every way they can. We may be grown up, but we'll always be their babies--so they happy do for us and ask for little in return (well, you know, besides a crew of grandkids.) 
This holiday season, show those beloved Grammies, Pop-pops, Nanas, G-Pas, and Mimis just how much you care with thoughtful presents they'll positively cherish. 
Gifts-for-Grandparents Guide
We've rounded up nine nice and nifty gifties for grandparents. 
Audible Membership: Audible will send your book-obsessed Gramma or Grandpa an email with redemption instructions--or allow you to print and give it to them directly. She'll have access to an unmatched selection of audiobooks performed by world-class talent, and will get to pick three titles for each month of her gift membership (1 audiobook + 2 Audible Originals). Plus, she'll get 30% off any additional audiobooks. Audible allows readers/listeners to enjoy books anywhere and anytime. Get your Audible membership here. (note: this is an Amazon Affiliate link)
Easy to Connect BlueTooth Speaker: I gave up on Sonos a while ago. Too complicated and too many updates. I love the simplicity and sound quality of this Bose speaker. It's perfect for the grandparents. It's engineered to deliver true 360° sound for consistent, uniform coverage from a bluetooth speaker. It'll give you up to 17 hours from a rechargeable lithium-ion battery, you get more play time than the original SoundLink Revolve-plus speaker. Charging is easy via the Micro-B USB port. Plus, it's easy to grab and go, with a flexible fabric handle ($229 Black Friday Pricing) Get the Bose Speaker on Amazon here. (note: this is an Amazon Affiliate link)
Wildgrain Bread: This bake from frozen delivery service is like having a bakery delivered to your family. A mixed box includes an assortment of sourdough breads, hand-cut pasta and artisanal pastries. When the grandparents want freshly baked bread, they simply pre-heat the oven and pop in a loaf. The quality is fantastic. You pick how often they get deliveries. Get $10 off your first order with code AFFILIATE10.
Custom Photo Art: Grandparents LOVE photos to show off, this is a gorgeous way to display them. Pick your four favorite photos of the grandkids and arrange them in this beautiful frame. You can customize the color and the border. Order your custom Minted 4 Photo Collage here. ($140)
Indoor/Outdoor Pillar Candles: Candlelight without the flame. It's safe and festive. These realistic candle sets can be used on the deck outside or on a mantle or table indoors. They even come with a timer. Turn them on at a designated time, and it will automatically turn off in five hours and relight at the same time each day. Get the Candles on Crate and Barrel here.
Electric Kettle: This electric kettle looks like it's vintage, but it is built to heat up fast. For the Grands that sip tea or like instant beverages, this is a must. Known for its wonderfully retro refrigerators, Smeg has launched a joyfully designed kitchen appliance collection based on the curved and compact lines of postwar design. Incorporating a 1950s-era aesthetic. ($189.95). Get the SMEG kettle on Crate and Barrel here.
Book of the Month: Give your parents the gift of books delivered to them. They get to choose from five monthly reads, vetted by cool people with great taste. Three months for $49.99 Sign them up for Book of the Month here.
Goldbelly Culinary Gifts: I'm all for giving gifts packed with meaning. When my parents visited NYC we always had lox and bagels from Russ & Daughters. This holiday, I can send them the goodies using Goldbelly. The spread includes New York's finest Nova, all natural cream cheese, hand-rolled bagels, chocolate babka, and Private Blend coffee with a Russ & Daughters mug ($179). And this is just one idea. The Goldbelly site is packed with culinary goodies you can customize for grandparents. Shop Goldbelly goodies here.

MORE MOMTRENDS GIFT IDEAS TO COME
We'll be posting gift ideas each days this week, for kids, teens & tweens, mom and grandparents.
MORE FROM MOMTRENDS FOR THE HOLIDAYS
PIN IT!
Use Pinterest to save your favorite gift ideas. Be sure to follow our Holiday Recipes and Crafts board here.
This gift guide contains affiliate links.