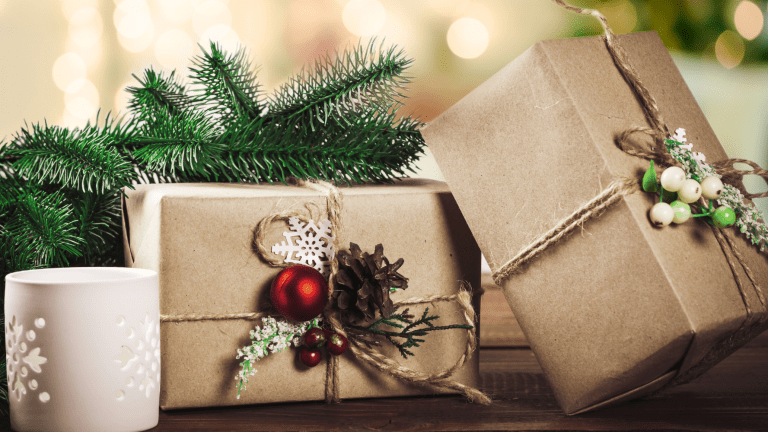 Grandparents are special people. They love and nurture and babysit and bake and lend and help in any and every way they can. We may be grown up, but we'll always be their babies--so they happy do for us and ask for little in return (well, you know, besides a crew of grandkids.) 
This holiday season, show those beloved Grammies, Pop-pops, Nanas, G-Pas, and Mimis just how much you care with thoughtful presents they'll positively cherish. 
Gifts-for-Grandparents Guide
We've rounded up nine nice and nifty gifties for grandparents. 
Erin Pelicano Jewelry 
Any grandmother is sure to absolutely adore this Erin Pelicano handcrafted necklace. It celebrates one of the most precious people in our lives. The Grandmother necklace is created in sterling silver and gorgeous gold dipped layered discs that represent generations. The Erin Pelicano collection includes Mother-Daughter jewelry sets created in silver, gold and rose gold. Get your Erin Pelicano necklace here. 
Corala Blankets 
Sleep is so important. Give the grandparents in your life quieter, cozier nights with Corala Blankets. Made with 100 percent cotton, Corala Blankets breathe well and use a smaller diamond square pattern that makes weight distribution even on the body. Real glass beads act as a comfortable weight in the blanket, and double quilting makes it a durable and high quality choice. And because temperature is critical when you want to sleep well, Corala Blankets offers two free duvets: one for winter and one for summer. This deliciously soft 20 lb. queen blanket comes packaged in a gift box--so it's ready to go right under the tree. Take advantage of 15% off your order with coupon code MT15. Get your Corala Blanket here.
Ritter Sport Chocolates Single Origin Cacao Selection Line
If Grandma and Grandpa both have a sweet tooth, then they'll love the new single origin cacao collection from Ritter Sport Chocolates. This new line will have chocolate purists melting with happiness. Give them a treat that's naughty, nice, and absolutely mouth watering. Get your Ritter Sport Chocolates on Amazon.
Brother Printer INKvestment Tank MFC-J805DW
Printing problems no more with Brother's INKvestment Tank MFC-J805DW. Grandma and Grandpa can print to their hearts' content without worrying about running out of ink. All INKvestment Tank printers use clean cartridges that hold more ink and work with an internal storage tank to deliver more pages of uninterrupted printing. It eliminates the guesswork of when you will run out of ink--you know approximately how many pages you have left to print with an exclusive Page Gauge system. The compact design is ideal for small spaces, and you can print and scan wirelessly from computers, smartphones, and tablets. Best of all, it's on sale for just $139.99
Scout Bag Hidden Gem

Save Money at a Ski Swap
Are the slopes in your future? If you want to save money on ski gear, consider a ski swap. A swap is a great way to buy and sell used equipment. Most swaps consist of a variety of gear, from brand new to used skis and snowboards to skis; from poles to boots to bindings and ...read more
The Ten Best Wooden Play Kitchens For Kids
Cooking is a timeless fascination for children. This type of play goes beyond gender and teaches kids loads of life skills along the way. An investment in a play kitchen is money well spent, as it can provide hours of entertainment. We've rounded up the ten best wooden play ...read more
New Victory Announces a New Season of Shows
We know you're busy planning picnics and summer outings, but we wanted to let you know that The New Victory just announced their new season and it looks fantastic. We thought you'd like a sneak peek of what's in store! Each year the New Vic theater brings culture to tourists and ...read more
Bracelets, earrings, chunky necklaces and rings? There are countless ways for "glam-ma" to organize her precious gems (and avoid tangling) in her Hidden Gem Scout Bag with a roomy main compartment, three drawstring cotton pouches, and a clear compartment in the lid that snaps shuts. The Hidden Gem pouch zips open from either side and sits upright for easy loading and viewing. It's ideal for home storage or travel. Get your Hidden Gem here. ($39)
Audible Membership
Audible will send your book-obsessed Gramma an email with redemption instructions--or allow you to print and give it to her directly. She'll have access to an unmatched selection of audiobooks performed by world-class talent, and will get to pick three titles for each month of her gift membership (1 audiobook + 2 Audible Originals). Plus, she'll get 30% off any additional audiobooks. Audible allows readers/listenera to enjoy books anywhere and anytime. Get your Audible membership here.
Gardenuity Herb Garden
Whether they're novice growers or have a bonafide green thumb, your "giftee" will love this beautiful herb-garden set. Herbs bring a myriad of practical uses, and having them at the ready is one of life's simple pleasures. Whether you are harvesting mint leaves for iced tea or a bunch of rosemary for cooking, herbs bring a freshness to any space. When your Gardenuity gift recipient is ready to redeem her plants, they can simply email their gift code to GrowPro@Gardenuity.com and plants will be matched to them when the season is favorable--so you don't have to worry about keeping the plants alive until Christmas morning. Get your Gardenuity herb set here.
His-and-Hers Lands' End Slipper
Super soft and cozy shearling moc slippers will keep Grandma's tootsies toasty on those wicked winter mornings. A rubber outsole makes them perfect for padding around the house. Meanwhile, Grandpa's new clog slippers are perfect for running outside to grab the morning paper (brrrrr). Shop slippers here. 
Acacia Wood Poker Game Set
Grandpa's game night just got classier with the Acacia Wood Poker Game Set. It includes two decks of playing cards, four sets of color poker chips and dice, and is organized in a solid acacia wood box. You can even engrave the plate at the top of the box with game rules, a family name and date, or a fun message. Get the poker set here. ($100)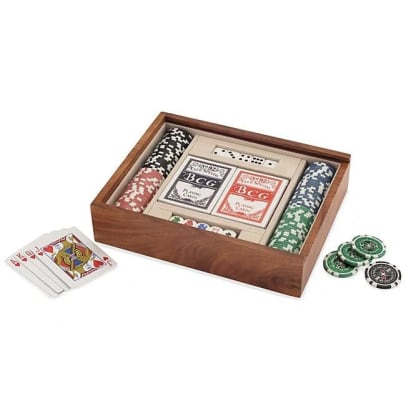 Want more gifting inspiration? Check out Holiday Gift Guide: Best Picks for Mom and our 2019 Hostess Gift Guide.
Enter to Win Gift Guide Goodies
MORE MOMTRENDS GIFT IDEAS TO COME
We'll be posting gift ideas each days this week, for kids, teens & tweens, mom and grandparents.
MORE FROM MOMTRENDS FOR THE HOLIDAYS
PIN IT!
Use Pinterest to save your favorite gift ideas. Be sure to follow our Holiday Recipes and Crafts board here.
This is a sponsored gift guide. It contains affiliate links.