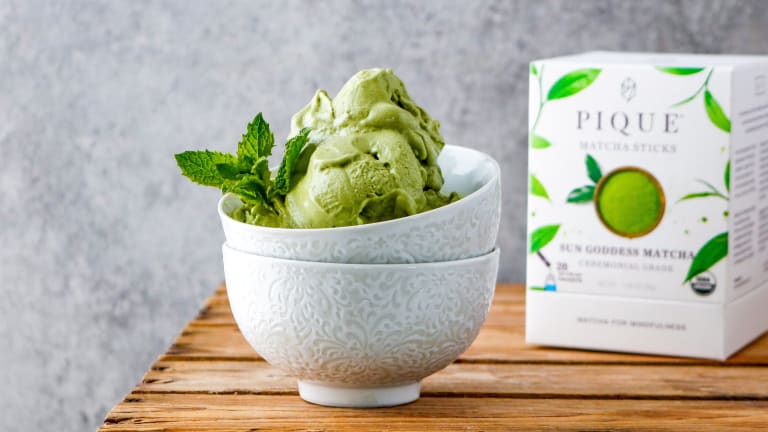 Healthy Matcha Ice Cream Recipe
Every day can be ice cream day with this yummy dairy-free matcha recipe
Making ice cream is a great way to celebrate the last days of summer. If you struggle with dairy, this dairy-free healthy matcha ice cream recipe is perfect for you.
Not only is this frozen treat dairy-free, it's also low in sugar and saturated fat. Being observant of your health doesn't mean you have to ruin the holiday! Pique tea calls this recipe "Nice Cream" I call it tasty! 
And blended with Sun Goddess Matcha, a bowl of this treat will also give you a healthy dose of the amino acid l-theanine (nature's chill pill). Healthy ice cream?! We think that's definitely cause for celebration.
Healthy Matcha Ice Cream Recipe Ingredients
4 medium frozen bananas chopped into 1-inch pieces
2/3 cup full-fat coconut milk
4 packets Sun Goddess Matcha
1 tbsp raw honey (optional)
1/8 tsp sea salt
Healthy Matcha Ice Cream Recipe Directions
Combine all ingredients in a food processor and blend until smooth, scraping sides with a spatula as needed.
Transfer to a loaf pan and freeze for 1 hour or until firm. Serve right away. Store in freezer.
Enjoy!
Healthy Matcha Tea from Pique
Pique introduced the first matcha with a "quadruple toxin screen" for: heavy metals & fluoride, pesticides, toxic mold, radioactive isotopes.
Pique matcha is designed for mindfulness and shaded for 35% longer to produce more amino acids like l-theanine and umami flavor with each serving.
This matcha meets the world's purest standards and delivers the same quality, potency and health benefits of the highest grade ceremonial grade matcha created by respected tea masters for formal tea ceremonies in Japan.
More Tea on Momtrends
Pin it!
Use pinterest to save your favorite healthy recipes. 
This Healthy Matcha Ice Cream Recipe feature is not sponsored.