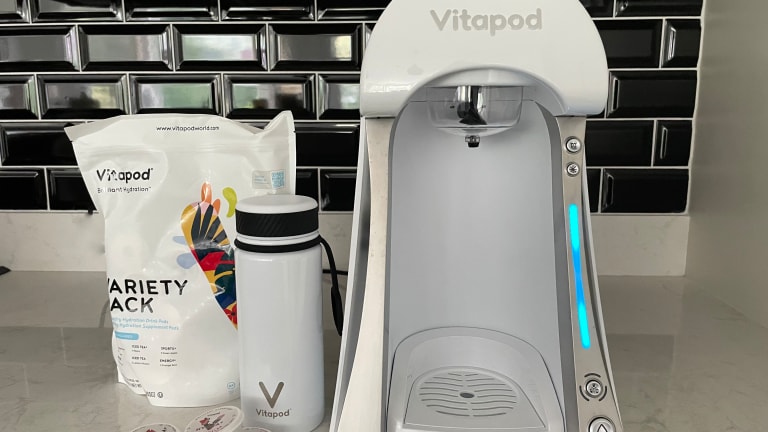 Healthy Hydration for the Entire Family
Vitapod is a better way than water alone to nourish and hydrate your family.
Staying hydrated is serious business, especially when 75% of people are dehydrated. Dehydration is linked to  myriad problems including daytime fatigue, cramps, headaches, and dizziness. As we start the back to school season, it's time to rethink hydration for the entire family. 
To stay hydrated, I have been testing out Vitapod, a system complete with tasty hydration that you can use with any water bottle. Bottom line: While I love drinking water, it is also nice to have a flavor boost and the better the drink tastes, the more likely I am to consume it!
Getting Started with the Vitapod 
Let's talk about a different way to filter your water at home. You'll start with the Vitapod Machine Starter Kit ($199.99). This is a high-performance drink machine. First and foremost it offers advanced filtration. Not only will it filter out any impurities, the Vitapod Machine is engineered to transform tap water into nourishing wellness drinks that are healthier than water.
The key is the pods.
Each small "pod" contains flavor and the nutrients your body needs. Depending on the pod, you'll get a range of benefits that include vitamins, minerals and flavonoids, (powerful plant-based antioxidants). 
The Starter Kit Includes
Vitapod Machine
18.5oz bottle
Sample pack of pods with 1 of each flavor (10 ct.)
Get your Vitapod Starter Kit here for $199.99
Setting the system up is a breeze. You simply install the filter, add water and plug in. Your Vitapod system starts filtering with the touch of a button. 
Why Hydration Matters
Vitapods provide a more complete daily nutrition for the whole family. Many of us are falling short on our health goals. We're not getting the recommended 5 to 9 servings of fruits and vegetables. It's not because we don't care, it's because we are busy! 
Skipping these important food groups can lead to a nutrition gap in key vitamins, minerals, and plant-based antioxidants. Vitapod has been formulated by scientists to overflow with nutrients including flavonoids and amino acids to help our families close the nutrition gap – the fact that it tastes delicious is just a bonus!
What are Flavonoids?
Flavonoids are antioxidants developed in plants over millions of years for two main reasons – to protect them from UV radiation and viruses. Unfortunately, the average American consumes just 50 mg of flavonoids per day from fruits and vegetables (we should be having at least 400-500 mg). With up to 370 mg of flavonoids in a pod, you can sip your way into closing the nutrition gap.
Vitapod is your ultimate source of nourishment in one tasty drink. 9 out of 10 Americans are not eating enough fruits and vegetables each day. Vitapods fill that gap with quick access to vitamins like Vitamin A, C, D, and E, minerals like potassium, magnesium, calcium, and polyphenols that the human body is unable to generate on its own. 
Picking Your Pods
After you sample all the flavors in the sample pack, it's time to order your favorites. Keep your kitchen stocked up to meet your hydration goals. Different pods serve different purposes. There are pods to support general hydration, pods packed with immunity boosters and more. 
One pod transforms tap water into a rush of delicious and nutritious bliss, delivering more complete daily nutrition and enhanced hydration that keeps you at your best.
HYDRA+
My favorite pods are the Hydra+ -- they provide a unique blend of electrolytes that hydrate better than water. Since we're all athletes in this family, I'm excited about how this switch can enhance our lives and our health.
The Hydra+ includes vitamins A, C, D, E, folic acid, calcium, magnesium, and potassium plus flavonoids from decaffeinated green tea extract. Instead of taking a bottle of tap water to the gym, I bring a Hydra+ infusion loaded with goodness.
Check out the benefits: 
Low sodium. Zero sugar. No artificial flavors or sweeteners.
Provides essential vitamins, minerals, and flavonoids.
Unlike most sport drinks, we don't rely on excessive amounts of sodium to get it done.
Our favorite is Hydra+ flavor is Watermelon ($34.99 for 30 pods)
Better for the Environment
For every machine they sell, they stop 50 single-use plastic bottles from entering the ocean in partnership with PlasticBank®.
NOTE: VITAPODS ARE FULLY RECYCLABLE.
Now is the time to Get Started
Every day we lose up to 100 ounces of water – with 1 in 5 adults experiencing mild dehydration during the course of the week. 
Dehydration means you won't be on top of the many challenges that make up your day. Adding Vitapod to your life is a colorful and tasty way to make sure you are building healthy habits for a lifetime.
This is a sponsored post.