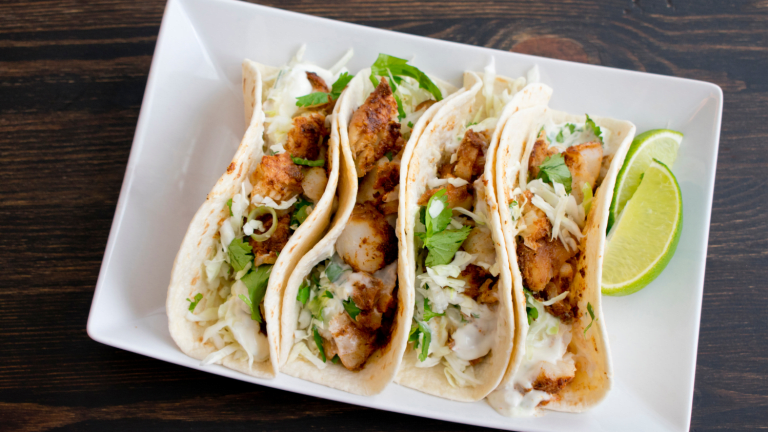 Healthy Fish Tacos and Guacamole
This quick and easy concoction is bursting with flavor and easy to prepare.
Summer is all about eating light, but that doesn't mean food should be boring. A few days ago I was sick of our pasta routine and decided to mix it up with taco night complete with healthy vegetable fish tacos and my favorite guacamole. 
Related: 10 must try recipes for avocado lovers
Healthy Fish Tacos and Guacamole
Ready in less than 30 minutes, I started by chopping up a variety of vegetables (yellow squash, red onions, tomatoes, zucchini, etc) and let them marinate with simple ingredients like olive oil, lemon, lime, salt and pepper. As that cooked I made my favorite guacamole that I loved sampling as I cooked. 
Next up was the white fish and some beans for a simple and healthy dish thanks to the fiber-rich vegetables, high protein from the fish and heart healthy fats from the guacamole. I also add some black beans, sour cream and cheese on the side for a fun toppings bar. 
This quick and easy concoction was bursting with flavor and I even had enough for leftovers that I plan to use as a side dish or as a topping on a salad.
Fish Tacos Ingredients:
1 zucchini, cup up
1 yellow squash, cup up
variety of peppers, cut up (I used red, green and yellow)
2 tomatoes, cup up
1/2 red onion, cut up
2-3 cloves of garlic, minced
filet of white fish (I used a grouper)
1/2 lemon
1/2 lime
salt and pepper
drizzle of olive oil, approximately 4 tablespoons
Healthy Fish Taco Directions
Drizzle some olive oil in a pan and set aside. 
Cut up the garlic and onions and add to the pan. Set to a low flame as you cut up the zucchini, squash, tomatoes, onions, and peppers. 
Add to the pan, along with some salt, pepper, lemon and lime. 
In about five minutes add in the fish and mix around as the fish breaks down into smaller pieces. 
Cover and reduce to a low heat as the fish and vegetables cook.
Serve with a taco shell or eat it as is.
Homemade Guacamole Ingredients:
4 avocados, de-pitted and cut up
2 tomatoes, cut up
1 tablespoon of pre-chopped garlic or 4 cloves of garlic, minced
2 lemons
4 limes
1/2 red onion, cut up
salt and pepper, taste to determine preference
Guacamole Directions
Cut up the avocados, onion, and the tomatoes and add them to a mixed-sized mixing bowl. 
Mix and add in the garlic, lemons and limes. 
Add in the salt and pepper and taste. Either mash with a spoon or use a hand blender on low to mix everything together. 
Serve with your favorite chip.
What are you cooking this week?