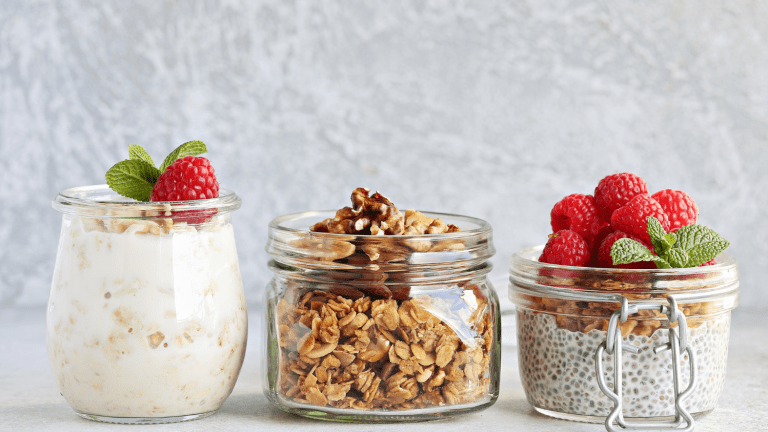 Healthy Breakfast Ideas for Moms
Even if you only have a few precious moments, fuel your day with one of these quick breakfast ideas just for mom.
To combat fatigue, revive your energy and tackle a toddler or two, we've rounded up some of the healthiest breakfasts to get you through lunch. Thinking why bother? I didn't really understand the whole "breakfast is the most important meal of the day" mantra until I became a mom. To inspire you to take better care of yourself, we have six ideas for a healthy breakfast that is ready in a flash.

Related: 10 hearty breakfast recipes to make in the winter
If I ever skip breakfast now I asking for a disastrous day - on top of feeling sluggish, irritable and having a gnawing feeling in my stomach. Nutritionists even state that eating a healthy breakfast will help us make better food choices throughout the day and help stabilize our metabolism.
Six Healthy Breakfast Ideas for Moms
Yogurt with the works. This is my go-to breakfast that I love for not only being delicious but for being super easy to prepare and an option that is also super healthy. Packed with calcium, I love the low-fat or fat-free creamy Greek yogurt from FAGE. Topped with some nuts like walnuts or almonds that are packed with protein, moms will love also the extra dose of antioxidants when you add in some berries (blueberries, blackberries, strawberries, etc) for sweetness and a granola like Ancient Grains with almonds for some crunch. Red quinoa is another great addition if you don't like granola as a gluten-free grain that will fill you up. I also sometimes add a little honey or agave syrup if I am looking for something a little sweeter.
A quick bowl of cereal. What can be easier than a bowl of cereal? The problem is locating the right cereal that isn't packed with sugar. I love cereals that are packed nutritional benefits and low in calories like Nature's Path Smart Bran. This 130-calorie cereal (with skim milk) also contains psyllium, oat bran, and wheat bran and a whopping 13 grams of fiber. To make it more of a complete breakfast, add a banana or some of your favorite berries to add to your daily fruit count.
Oatmeal with all the fixins'. Much like the yogurt mixture, I love enjoying a warm a bowl of oatmeal on the weekend that is packed with fruits of raisins. Instead of serving it plain, I try to make it more of a complete meal by adding raisins, flax seeds, cinnamon, some butter, fruit and walnuts. As a complex carbohydrate, I love how this breakfast keeps me full until lunch and ready to tackle the morning challenges.
Egg omelet with spinach and light cheese. Eggs are another weekend staple that I try to get into the breakfast rotation. Instead of a plain scramble I like to mix in some spinach or light cheese like Cabot's 50% reduced fat cheddar that is packed with protein, Vitamin C and calcium and filing so that you don't feel deprived. Top with some whole-grain toast for a filling am meal. Other omelet fillers can also include mushrooms, olives, tofu, ham, turkey, kale, Swiss, peppers, salmon, etc.
Salmon and toast. I have a huge love affair with smoked salmon. I could really just eat it raw but to have a more complete breakfast I often top it on a slice of whole-grain toast or a light bagel with some cream cheese-- breakfast perfection! And if you find it on sale, pop it in the freezer, it thaws in a flash.
Power bar with nuts. Sometimes even a bowl of cereal isn't quick enough. Rather than skip a meal and make a poor food choice later, I like to carry around a nutrition bar like SOYJOY (love the banana ones) and a handful of mixed nuts for an easy and healthy breakfast.
MORE FOOD FEATURES FOR YOUR FAMILY FROM MOMTRENDS
PIN IT!
Use Pinterest to save your favorite recipes. Be sure to follow our Kid Food Pinterest board here.