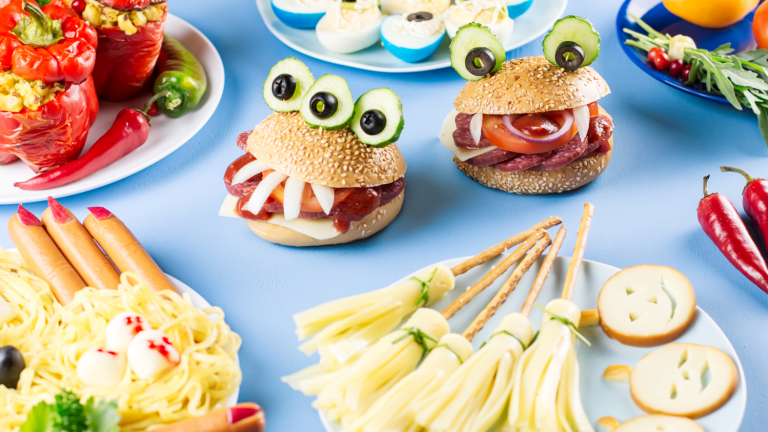 Healthier Halloween Party Food
You can have a healthy and sustainable Halloween without taking any fun away from the holiday.
When did Halloween parties get so complicated? You can no longer get away with dumping a few oversized bags of individually wrapped candy into a bowl. You have to be cognizant of allergies and food safety--and, you know, make it Pinterest-worthy and Instagramable! Carolina King is helping take the anxiety out of Halloween for parents. "You can have a healthy and sustainable Halloween without taking any fun away from the holiday," states King, founder of Mama Instincts and The Mama Instincts Podcast. 
Related: We've been boozed free Halloween printable
Four Tips for a Healthier Halloween Party
Do-it-yourself popcorn bar. "Start with freshly popped Malaysian popcorn (recipe below) or try some Tiny but Mighty popcorn which has really cute tiny kernels without the annoying husks that get stuck in your teeth. Set out a seasoning station with different toppings. In keeping with the Halloween theme, include these Surf Sweets Gummy Worms which are USDA Certified Organic and Non-GMO Project verified. They are also free of the 10 most-common allergens."
Instead of punch, prepare flavored fruit-infused water enhanced with Regular Girl. "Some kids eat more junk food than usual and are probably not so regular this time of year. Regular Girl is a good source of fiber plus probiotics. This is so easy to make! Press fresh fruit at the bottom of a jar to release the flavor. Top with water. Add one scoop of Regular Girl for every 8 ounces of water. It blends invisibly without changing the taste, aroma or appearance of the water."
Make a platter of cheese ghost sticks or ghost bananas. "Use a permanent marker to draw a ghost face on an unpeeled banana or on cheese sticks. This is a fun activity to do with the kiddos and a fun way to turn a healthy snack into a Halloween snack."
Serve witch finger carrots sticks. "Turn baby carrots into creepy fingers by using a paring knife to give the carrot a finger shape. Shave one end of the baby carrot to make a fingernail bed and cut some grooves where a knuckle would be. Cut a small triangle piece of red pepper to use as nail. Dip one side of the pepper in honey and place on the carrot. Serve the fingers on a platter and watch your guests' amazement! 

More Halloween Fun from Momtrends
PIN IT!
Need more ideas on what to do with the kids? Be sure to follow our Activities to Do with the Kids board on Pinterest here.
This is not a sponsored post.