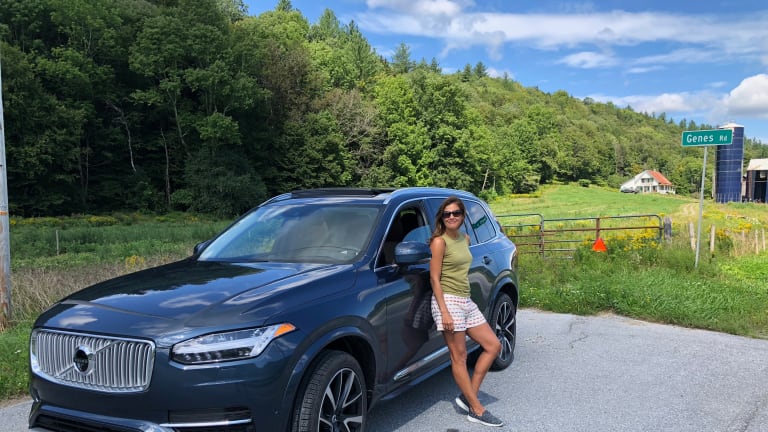 Heading Back to School in the Volvo XC90
Momtrends Test Drives the 2018 Three Row Volvo XC90
Even though I'm a New Yorker, my wheels are really important to me. We live a city life during the week. On weekends we either drive to rural Connecticut or Vermont to connect with nature. We log a lot of miles. For the past five years, we've relied on Volvo to get us from point A to point B in comfort and SAFETY. This year we are heading back to school in the new 2018 Volvo XC90.
Checking out the 2018 Volvo XC90
Last year we started researching a new three row SUV for our family. We've tested out the Audi Q7 (read more here) and the Mercedes 550. But our hunt wouldn't be complete with out Volvo. When we took our daughter to school in Vermont, we loaded all her gear in the 2018 Volvo XC90 that the company loaned to us. We logged over 750 miles on the car - spoiler alert: we are smitten with the new Volvo.
Why We Like the Three Row SUV model
Why the XC90? This is a very specific category. Many people tell me, just get a mini van for all your gear, but here's the issue: we ski. We ski a LOT. Like, 38 days a year. 
We started our car journey with a Honda CRV. As our family grew, the amount of gear we required seemed to quadruple. We needed the extra storage capacity of a three-row vehicle. And we need the option of being able to bring along a few extra passengers. Five years ago we did all the research and invested in Volvo. We've been pleased with our car choice. The size is just right for us.
If you've got kids and those kids play sports, the Volvo XC90 should be near the top of your list. It's able to get all our ski gear and MORE in it. This car has all the space we needed to fully outfit a dorm AND it drives like a dream.
Testing the Third Row of the Volvo XC90
Since the space is a big selling point, let's start there. Most likely you won't be riding in the third row, but you still want to know what it's like back there and how easy it is to set up. Let's check it out.
Pretty cool features! On my wishlist? Push-button seat activation. The Q7 third row goes up and down with a push of a button. In a perfect world, Volvo would adopt this technology.
Safety Features of the Volvo XC90
Maybe I should have started with safety, because parents worry and we sweat the details. If we can spend more to keep our kids safe we will. For our family, the safety features of an SUV are the most important factor. Like all Volvos, this is a solid car. When you open and close the doors, you feel protected. And as a parent this matters. 
Volvo LITERALLY puts all the safety features at you fingertips. Swipe right on the dashboard display and you'll see the full range of safety options.  
Favorite XC90 Safety Features
XC90's City Safety feature is a big deal. It uses radar and camera technology to identify potential hazards such as other vehicles, cyclists, pedestrians and large animals ahead. First it warns the driver, and if the driver doesn't respond the Volvo City Safety feature can automatically apply the brakes to help avoid or mitigate a collision.
There's also the lane guidance. You'll get a vibration when the car veers out of the lines. You probably already have the BLIS system that alerts you of a car or object in your blind spots, this car has that too. And I love the adaptive cruise control. This feature makes long drives to ski almost bearable. For more on the safety features head to https://www.volvocars.com/us/cars/new-models/xc90
Heading Back to School in the Volvo XC90
Ok we've covered the two BIG topics, the safety and third row of the Volvo. But that's not enough to get me to spend $50K on a new car, it's also got to be a great driving experience. And the new 2018 Volvo XC90 delivers. It's fun to drive and isn't truck-like. 
It's nice to look at thanks to Scandinavian design. The dash and interiors have been updated with luxurious Swedish craftsmanship. On our test-drive weekend, we covered nearly 1,000 miles and were in the car for 10+ hours. I really got a feel for the vehicle. I'm not alone in my assessment. The XC90 was winner of the 2018 Consumer Guide® Best Buy Award for the third straight year in a row. That's pretty cool.
Pin it!
Use pinterest to organize your search for a new three-row SUV.
This Heading Back to School in the Volvo XC90 feature is not sponsored. This car was loaned to me for the test drive.