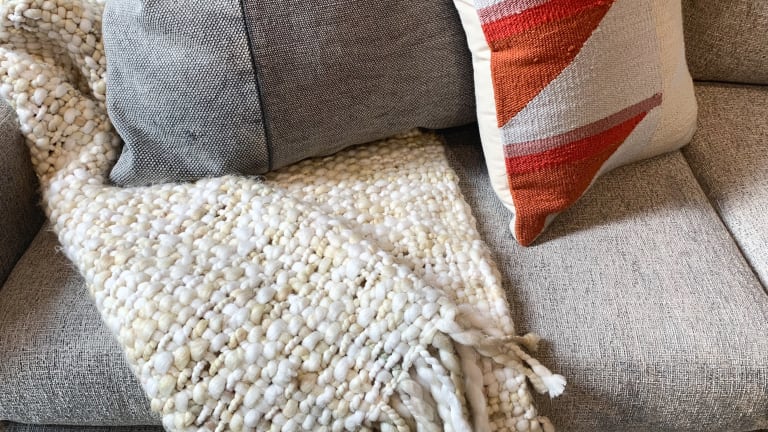 Harvest at Home
Creating a Warm and Cozy Ambiance for Seasonal Guests
How is it that we're already in mid-November? And how--HOW--is Thanksgiving just one week away? Time is flying this chilly fall month, and we are embracing every moment of hygee at home. Still, with the big Turkey Day celebration ahead, we have got to get our homes primed, primped, and prepped for "the harvest."
Now, some of you may already be on #TeamXmas, but I like to take my holiday happenings one event at a time; and before I set up the tree and lights, I want to fully enjoy the fall festivities.
Don't worry if you haven't bought lots of autumnal accents and TG decor; you can easily add a little ambiance with some warm touches and inviting elements. We've rounded up a few simple and chic ways to set the scene and embrace your own harvest at home.
Make Your Fireplace Your Focal Point
Fall is the start of fireplace season. A few logs of wood or some solid-colored candles create a cozy, cabin-inspired scene without even having to light anything. Add some decorative touches to your mantle: gourdes, acorns, leaves, and lanterns will do the job and set the mood. (via Bless'er House)
A Basket Full of Creature Comforts
Encourage your seasonal guests to make themselves at home. Baskets full of blankets, throws, and cozy knits will make them want to cozy up and enjoy the moment. Create a mini-library of books they can pull from and always offer plenty of "help yourself" coffees, teas, and cocoas. (via Fancy Pants Mommy)
Pops of Plaid
Maybe it's the platter of pumpkins, the assorted hanging pots and pans, the chalkboard sign, or the cozy dining nook, but this cottage kitchen all but screams "fall in the country." Another element that helps create this delightful vibe? Those plaid pillows or any touch of that subtle flannel-inspired pattern print. (via Follow the Yellow Brick Home)
Yellows and Oranges
Pops of fall colors will definitely warm up your home during the harvest season. Mustard yellows and burnt oranges remind us of the beautiful fall foliage. (via This Old House)
Hang a Sign
You can easily find fall-inspired signs on sites like Etsy--or even in your local Target's Bullseye Playground for $3 a pop. A sign or plank about gratitude and love is the icing on the cake (er, pumpkin pie?) and the final touch to complete your harvest at home scene. (via etsy)
This is not a sponsored post. All opinions are our own.