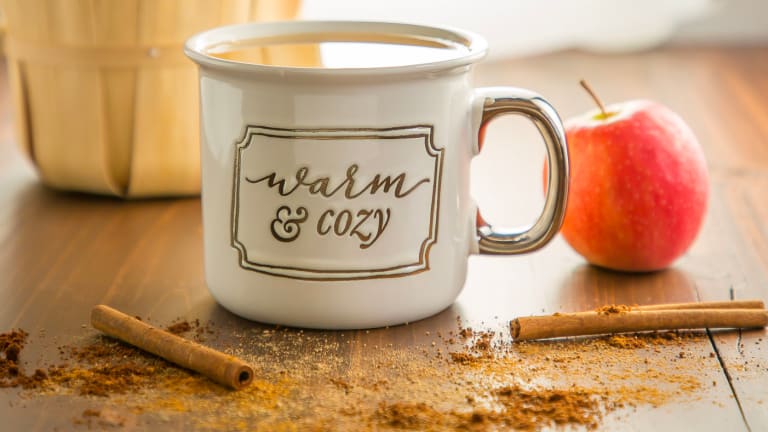 Hard Apple Cider
This hot and spicy hard apple cider will warm you from the inside out it's the perfect drink for fall.
Baby, it's cold outside!  Even the deep south saw snow this week. Tonight the low is 19 and the rest of the week is following suit. So, what do we need when it's cold outside, girls? Something warm to drink, of course! For me, this is typically ginger or chamomile tea. On special nights, though, I make this warming hard apple cider.  This hot and spicy nectar will warm you from the inside out. Just what the doctor ordered!
Related: Boozy salted caramel apple cocktail
Tonight was one of those special nights.  My neighbor came over and we got to catch up while the kiddos played.  It's so nice when our schedules are open at the time.  Life gets so hectic.  Even though we live next door to each other we sometimes go two weeks without seeing each other.  Do you have neighbors/friends like that?  Yeah, kind of comes with the territory with kids.  That is why tonight was so special and I whipped up this super simple hard apple cider.  The icing on the cake?  You can even make this in large batches in the crock-pot if you want to!  Go ahead and invite all your girlfriends over ;)
Hard Apple Cider Ingredients
Yields 2 large servings
4 cups apple cider
1/4 tsp saigon cinnamon
1/2 tsp nutmeg
1/4 tsp cloves
1/2 cup Fireball whiskey
Hard Apple Cider Directions
Heres' how to make this hard apple cider on the stovetop.
Add 4 cups of apple cider to a stockpot.  
To the same stockpot, add 1/4 tsp saigon cinnamon, 1/2 tsp nutmeg, 1/4 tsp of cloves, and 1/2 cup of Fireball whiskey.  
Cook over medium-low until warm and steaming.  
That's it. Your hard apple cider is ready to be served and enjoyed. If you are making this in a crockpot, add all ingredients to the crockpot and cook on low. This recipe can be doubled or tripled (or more) to suit your crowd's needs. As written, this recipe yields 2 large servings.
MORE FALL RECIPES FROM MOMTRENDS
PIN IT!
Use Pinterest to save your favorite recipes ideas. Be sure to follow our Apples board here.
This is not a sponsored post.