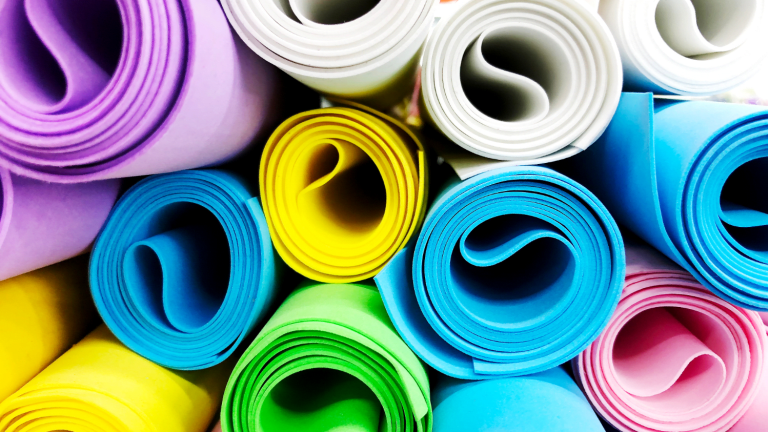 Namaste...today is International Yoga Day. I began practicing Yoga a decade ago and have been a fan ever since. I do remember that before my first personal experience with yoga, my first thought was "yawn..." and I was concerned that afterwards I would feel that I hadn't worked my body. Well, I was completely wrong on both accounts. Yoga has been life changing for me. It not only helps to cope with stress and the daily struggles in one's every day life, but it has fostered a kindness towards my self from myself, not to mention that it is one of my favorite ways in which to "workout". 
If you're looking to become stronger, leaner and more flexible, it is time to give yoga a try. Regardless if you are a novice, or regarded as a yogi, we are celebrating International Yoga Day with some of our favorite trends.
Better Plant-Based Nutrition
My yoga class is early in the morning and although I am hungry the thought of a meal doesn't work for me. I can't leave the house on an empty stomach either. I have been loving the yummy, plant-based Vega Clean Protein powder (chocolate makes a yummy smoothie) and have been using it as a great first meal of the day. and for a natural boost of energy, Yummy tasting Vega Clean Energy powder gives you the energy you need without artificial flavors, colors, sweeteners, preservatives, GMOs, dairy, or soy ingredients.

Five Tips for the Perfect Pumpkin Patch Visit
It's that time of the year again...pumpkin patch time! While I love a nice Pumpkin Spice Latte as much as the next fall lovin' girl...for me, the season is all about spending time with my family...and hopefully that time is spent outside as much as possible. If you're headed out ...read more
Perfect for Fall Pumpkin Spice Dirt Bomb Recipe
Get your pumpkin spice fix with this tasty dirt bomb recipe. Unlike fried donuts, this recipe is a little lighter and, since no hot oil is involved, a lot less messy. These dirt bombs, or baked donuts, are irresistible cakey muffins that are spiked with nutmeg and ginger, and ...read more
Save Money at a Ski Swap
Are the slopes in your future? If you want to save money on ski gear, consider a ski swap. A swap is a great way to buy and sell used equipment. Most swaps consist of a variety of gear, from brand new to used skis and snowboards to skis; from poles to boots to bindings and ...read more
Be Kind to Your Feet
As I learned quickly, Yoga is all at once calming and physically demanding. Once your body gets heated up, it is hard to keep steady on a sweaty yoga mat. Yogitoes to the rescue! Yogitoes Towels have awesome grips on the bottom that prevent slipping and sliding during the rigors of class. It is lightweight, extra long and works perfectly paired with your favorite yoga mat. Need more reason to feel zen-like during class? Yogitoes are made using recycled bottles requiring 66% less energy to produce and all dyes are free of AZO, lead, and heavy-metals.
MORE YOGA FROM MOMTRENDS
PIN IT!
Use Pinterest to save your favorite ideas from Momtrends. Be sure to follow our Fitness and health board here.
For even more Momtrends, follow us on Facebook, Twitter, Pinterest and Instagram.