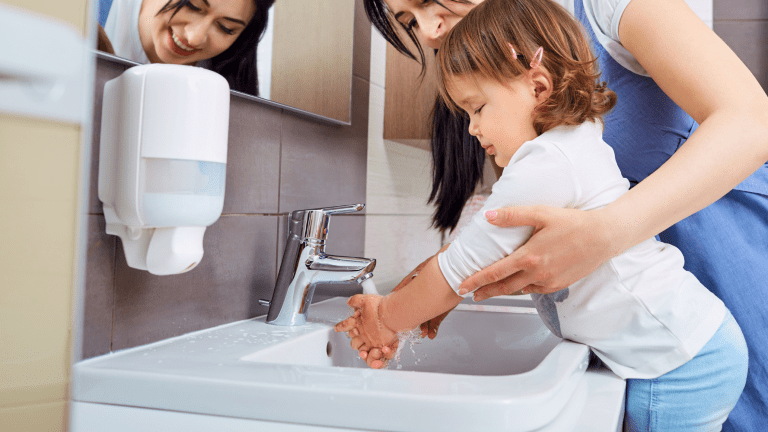 Hand-Washing 101
Effective Hygiene Tips for Sanitizing
Hand washing is a hot topic these days. As if the incessant spread of "regular ole viruses" wasn't scary enough, the appearance of COVID-19 here in New York State (and, you know, around the entire world) is causing even more fear and misconception. Indeed, the news of a Coronavirus pandemic has certainly incited panic in parents and non-parents alike. But the best way to combat anxiety is with knowledge. And, so, yeah we think a crash course on how to effectively scrub up your mitts is well worth the time. 
But, first, a quick story: my son came home from school yesterday talking about how one person in NYC has Coronavirus. "That poor man or woman, Mom. He's the only person with this rare disease and no doctor can even treat him." While he got most of the facts  wrong, I was shocked my seven year old had any clue about the outbreak; alas, kids talk amongst themselves and the teacher made it a learning moment. I cleared things up, but also tried to keep my cool and stick to the basics--because, as scary as it might be, as moms, we have to use some common sense to protect our families and keep our kids calm. And, like I said, that starts with good hand hygiene (something we should be practicing any way!)
How to wash your hands properly--according to the experts!
1. The Center for Disease Control recommends you wash your hands thoroughly AFTER using the facilities; changing a diaper/cleaning up a child; sneezing, blowing your nose, or coughing; treating a wound; touching an animal/ animal excrement; treating someone who is ill; or touching garbage.  
2. Additionally, the CDC advises washing up BEFORE prepping or eating meals and snacks; treating a wound, or caring for someone ill.
2. Use warm water and soap to wash your hands whenever possible. Follow the CDC's five steps: Wet, Lather, Scrub, Rinse, Dry!
3. Rub your hands together for 20 seconds. (Yes, you can sing the "Happy Birthday" song to ensure you accomplish this timed task.) The World Health Organization suggests using multiple maneuvers to properly get each area of the hand: interlace fingers, rub palm to palm, and rub rotationally. Check out this nifty diagram.
4. Use a new single-use paper towel to dry your hands, or, if preferred, just air dry them. Avoid using a cloth towel that could potentially be harboring germs.
5. Talk to your child's school, and ensure that they're practicing proper hand washing during the school day, as well. And have your kids wash their hands immediately upon getting home from school.
6. In the absence of soap, the Mayo Clinic recommends using hand sanitizer that contains at least 60 percent alcohol.
7. Talk to your kids so they understand the risks of not washing their hands. Don't use scare tactics--no need to create more hysteria; but gently remind them of the last time they didn't feel so well: "Remember when you had the flu a few weeks ago, buddy?" A simple nudge like that will send them to the sink faster than you can shout "Happy Birthday song!"
Want more from Momtrends?
2. 7 Small But Important Things to Know About Cold and Flu Relief
This is not intended to be medical advice. Please speak to your doctor or a health-care professional for more information. This is not a sponsored post.