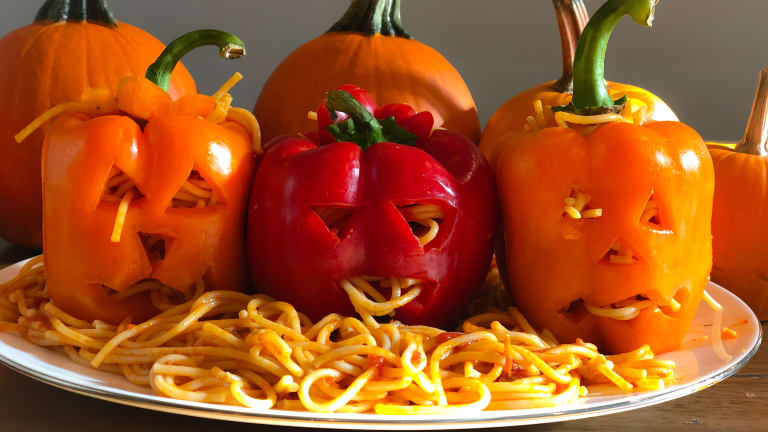 Halloween Dinner Idea: Leaking Jack-o-Lantern Spaghetti Brains
Celebrate Halloween with a meal that's satisfying, healthy and a little spooky
No doubt about it -- this Halloween is, um, different. We're all trying to navigate the rules of celebrating the holiday mid-pandemic, whilst also making it special and fun and wicked exciting for our normalcy-deprived children. 
Regardless of whether you'll be doing the traditional trick or treating route, boo-ing friends at their doorstep, or staying home and watching scary movies as a family, you can mark the creepy occasion with a meal that's satisfying and spooky (and hopefully loaded with protein, so you can feel a little less guilty about letting your kids gorge on candy.) Here is a fun and delicious idea for a devilishly good Halloween dinner.
Leaking Jack-o-Lantern Brains
Ingredients You'll need:
Orange bell peppers (but you can use any color; my kids prefer red peppers!)
Spaghetti (pick your favorite brand)
Sauce (can be jarred; I like to whip up a quick bolognese for protein factor, but no judgements from us if you work from a jar)
Leaking Jack-o-Lantern Spaghetti Brains Directions
Carve your bell peppers just like you would a Jack-o-Lantern. Using a knife, carve out eyes and a wicked smile
Then cut a circle around the stem (don't throw it out though!)
Gently scoop out the pepper's insides/ seeds
Meanwhile, boil spaghetti. Once it's al dente, toss in your sauce
Finally, fill the jack-o-lanterns with spaghetti -- the messier the better! It's supposed to look like leaking brains, after all!
Top the jack-o-lantern with the stem and serve!
This colorful meal is a great balance to all the candy the kiddos consume. It's all about balance! What's your favorite Halloween meal tradition? 
WANT MORE FROM MOMTRENDS?
PIN IT!
Be sure to follow Momtrends on Pinterest and for more spooky inspiration follow our Halloween and Thanksgiving Boards here. 
This is not a sponsored post.