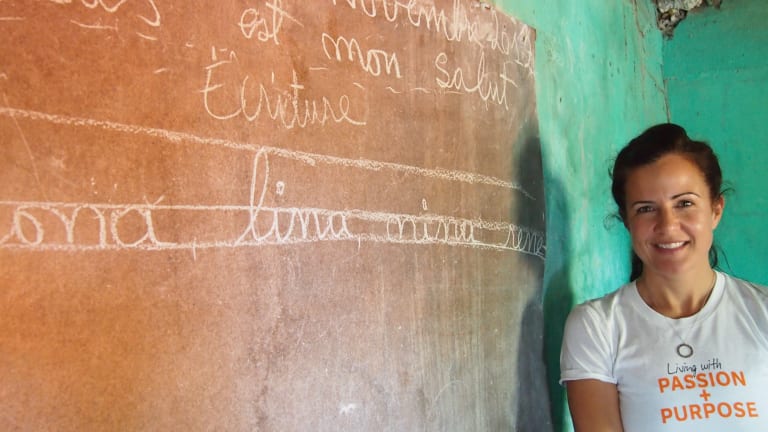 Haiti Crocs Cares Program Service Trip
Organizations are helping Haiti country rebuild and a good place to start is in local schools.
I've been blessed with abundance. A recent trip to Haiti with Ladies Home Journal and Crocs served as a reminder for me to practice gratitude. Last December, I traveled with Sally Lee (Editor of LHJ), LuAnn De Lesseps (of Real Housewives fame), Jennifer Brandt (PerfectlyDisheveled.com), Cathering Connors (HerBadMother.com) and a team from CrocsCares and LHJ. Our mission was to pass out hundreds of new Crocs shoes to Haitian school children in need.
Related: Donation ideas for Haiti
Haiti Crocs Cares Program Service Trip
We arrived in Haiti during the late afternoon and I quickly learned that Haiti will not be kept to a NYC pace of efficiently. As we scurried around the airport, we discovered many of the shoes we were to deliver were still held up in customs. The persistent women from Crocs eventually freed the shoes but not without some drama. Lesson learned: The Crocs team wasn't just about a photo op. They wanted to get as many pairs of shoes onto deserving feet as humanly possible.
From the airport, we climbed into trucks and slowly, slowly chugged up the hills form Port au Prince to Pétion-Ville (a suburb of sorts of Port-au-Prince). The drive lasted about two hours due to dense traffic. The good news? I had plenty of time to soak in my surroundings. Haiti has had an immensely difficult time rebuilding after the 2010 magnitude 7.0 earthquake. Many buildings in Port-au-Prince remain in shambles.
The hilly area where we were staying wasn't particularly hard-hit from the 2010 earthquake, but it was cut off from vital access to Port-au-Prince's supplies and support. The poverty was palpable. The streets were strewn with litter, and far too many young men and women wandered around aimlessly or took a stab at selling cheap goods from roadside stands. It didn't take two hours to discern that Haiti is hurting for industry and jobs.
Helping Haiti from the Inside
Thankfully, some organizations are helping the country rebuild. A good place to start is the school. During our stay we saw three schools and each one was notable for the ingenious ways it served a community. With minuscule budgets, communities did their best to get the children of Haiti a leg up. No matter where you go in the world, we all want the best for our kids.
The schools consisted of cinderblock walls and scant supplies. Most families were lucky to scrape together the school fees to cover attendance--there was nothing left for books or supplies. Aid organizations provide what they can. Crocs worked with Feed The Children to orchestrate this shoe drop. Feed the Children has been working to immunize children and get nutritious meals to those in need via community schools.
Just like in any community in the USA, the local school is a community hub. For Haitian kids, school is where they can get medical attention and a regular meal. Rural communities like the ones we visited, don't have the funds for clinics and there seems to be little reliable food aid.
Children trek for miles on dusty, rocky roads for the chance at a meal and perhaps some basic instruction. The lucky few will stick with school and go on to a shot at higher learning in a distant city. With a little more luck, these students will return to help Haiti rebuild. You can see how the process is a long and winding one. The first step is to get children regular medical care, food, and teachers who can make a difference. That's where CrocsCares come in. 
Giving Shoes to Those in Need
Part symbolic, part practical, the act of giving shoes to these needy kids was meant to do two things. First, show the children that they are loved and valued (I am sure there are many, many days when they feel forgotten) Second, help the journey to school be a little lighter, brighter and sunnier.
So we lugged new, bright, beautiful shoes up and down the hills of Haiti. We sat and fit hundreds of little (and big!) feet with ladybug Crocs, striped Crocs, hot pink Crocs, pirate Crocs...you get the picture. My goal was to treat every little foot with the same loving care I would give my girls back at home. Since there was a BIG language barrier (I don't speak French or Creole), I just merrily sang my favorite Disney tunes as I fitted the little feet.
Did the kids know what was going on? I'm not sure. But this I know: For a brief respite life wasn't as hard. Someone was taking care of them. Giving them something new and pretty and maybe, just maybe, giving them a reason to hope for something better than the cards they had been dealt. We were rewarded with smiles, giggles and the feeling that for a moment we made a difference.
Everywhere you look in Haiti you can see rubble. From the buildings to the broken down adults. But here's the thing: Hope exists in these kids. In horrible surroundings, they found the capacity to smile. We were treated to a few songs in thanks. The smiles and the melodies will stick with me for a lifetime. Buying shoes for my girls can never be a simple act again.
Hotel Kinam was a little oasis of calm throughout our busy stay. The friendly staff did their best to keep us in hot showers, cool rooms—both of which were much appreciated and a true rarity in Haiti. Back there with our little group we shared stories of the children and of wanting to do more. My mission is to spread the word. I hope you'll join me by sharing this story in social media and supporting the trip's sponsors. 
Read more about CrocsCares here. 
For more pictures from the trip, visit the Momtrends Facebook album here.
MORE CHARITY FEATURES FROM MOMTRENDS
PIN IT!
Use Pinterest to save your favorite posts. Be sure to follow our Intentional Motherhood board for more ideas about giving back and self care.
Momtrends was not paid for this post.