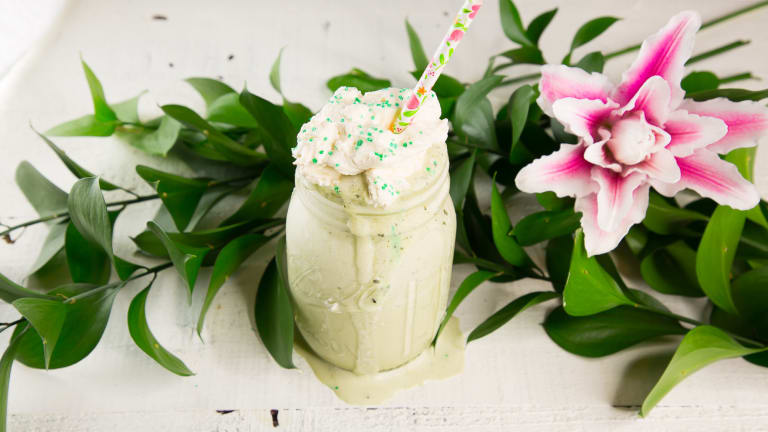 Publish date:
Green and Tasty Boozy Matcha Shake Recipe
As promised last week, this week I'm featuring a green cocktail for St. Patrick's Day.  This boozy matcha shake is such a treat for the warmer weather.  Refreshing and sweet, it's perfect for spring.
Related: Three green cocktails for St. Patrick's Day
A definite indulgence and a milkshake at its core, matcha ups the ante transforming this into a trendy dessert.  The vanilla vodka transforms the dessert into a cocktail. 
The result? YUM.
Tasty Boozy Matcha Shake Recipe
First, you need to get out your blender.  Grab your favorite vanilla ice cream, real vanilla extract, milk, and matcha powder.
To your blender, add all the ingredients and blend.  I like a thicker, chunkier milkshake so I pulsed more than I truly blended.  If you blend too much and it gets soupy no worries, just add another scoop of ice cream.  Problem solved.
Once your milkshake is done you can share if you'd like.  You know the kids (and possibly your spouse) are now watching your every move waiting for you to offer them some.
Two Versions of the Matcha Shake Recipe
For this reason, I whip up a double batch of the milkshake so my son (and husband) can join in on the fun.  It's not fair if mom gets a milkshake and the kiddos don't, right?

Here's What No One Tells You About Olive Oil
produce is at its absolute PEAK right now. It's the time to prepare fresh veggies and fruit with ease and simplicity. When it comes to cooking, the farmer's market is my muse. As I prepare some of my summer harvest favorites, I'm sharing a little secret, what you put ON the ...read more
Amazing Breastfeeding Accessories for Mom
As a breastfeeding mama I'm always on the lookout for stylish and functional accessories. Chewbeads and NuRoo offer moms products that pull double duty! Add an extra layer of style while also keeping it functional with Chewbeads necklaces and NuRoo nursing scarves. Both of ...read more
Once the milkshake is ready, pour it into your favorite glass.  Now is when I add the vodka.  With a spoon, mix it in a bit and you are ready for the topping.
Whipped cream.  YAY.
I made my own with heavy whipping cream and vanilla extract.  Feel free to use store-bought too.  Either way, your milkshake is ready for your enjoyment.
Boozy Matcha Shake Ingredients
1/2 cup milk
4 scoops vanilla ice cream
1 teaspoon matcha powder
1 teaspoon vanilla extract
1 shot vanilla vodka
Whipped cream
Green Sprinkles (optional)
Boozy Matcha Shake Directions
Blend the first 4 ingredients together in your blender.  Pour milkshake into a glass and add the vodka.  Give it a quick stir with a spoon and top with whipped cream and sprinkles.
Happy Sipping!
MORE ST. PATRICK'S DAY FROM MOMTRENDS
PIN IT!
Use Pinterest to save your favorite crafts, menus and parties for St. Patrick's Day here on the Momtrends St. Patrick's Day Board.