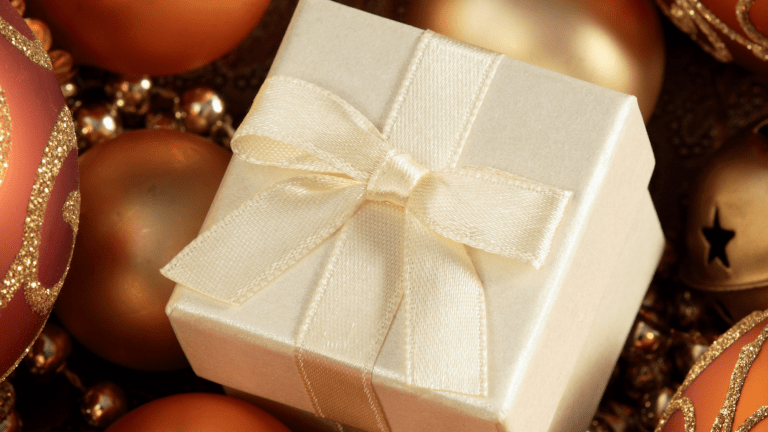 Great Gifts for Babies
Our Must-Have Gift Guide for Babies
Deck the halls and get ready for the jolly because the holidays are here and we are as excited as ever to celebrate with you. This year Momtrends has teamed up with five other elves (Glamamom, The Chirping Moms, Stroller in the City, Our Family Lifestyle, Divine Lifestyle) to help bring you a holiday gift guide that has the top gifts of the season. 
Each day for the next seven days, we will bring you a new category from our holiday gift guide. To kick off the holiday gift guide, we bring you our Great Gifts for Babies. It's filled with must-have gifts for baby because resident expert mama (newborn in tow!), Jill, over at Glamamom curated it. 
While our littlest gift recipients may not be sharing their wish list with Santa just yet, our veteran moms know just what gifts will wow. We've brought you gifts for baby; some practical, some indulgent, all of them part of the 2017 must-haves gift list for babes.  
1. cuddle+kind's ethically-produced, hand-knit dolls aren't just adorable, they help feed children. For every cuddle+kind doll sold, 10 meals are donated to families in need. The dolls are made by hand in Peru, hand knit, hand loomed, embroidered and crocheted by artisans using knitting expertise that has been handed down through generations. The perfect keepsake for the little doll in your life.
2. A direct to your door, fresh baby food company, Little Spoon's Babyblends are designed for comprehensive nutrition for every baby at every age. Customize a plan for someone on your list without any long-term commitments. You can pause, cancel or make changes at any time.
3. The CYBEX MIOS supports the motto "design should not only have functionality, it must also be fun!" This new to market stroller provides maximum stability in a lightweight frame, offering an airy, floating appearance. The retro-modern seat design features breathable mesh to not only support the lightweight aspect, but also helps to regulate the child's body temperature. The narrow design glides through urban or suburban bustle with ease. Compact, flexible, functional, and stylish – ideally suited to the needs of modern parents and babies. The Birds of Paradise and Butterfly Collection are favorites.
4. HeyWow! is a bit like "Where's Waldo" but with real kids! A creative mum and dad team in Scotland create these brilliantly personalized, stylishly designed picture books for babies and kids featuring their name and photo on every page.'In the City' is an exciting hide and seek adventure where little readers discover themselves within 12 busy city scenes.
5. Spearmint LOVE is a trove of adorable baby gifts. Among our favorites are the teethers that come in fun designs like hashtags, cacti, bubble teas, and this organic pretzel wood one.
6. Shopping with baby can be the ultimate challenge. If you're not wearing your baby, you are desperate for a solution, and thanks to the Binxy Baby shopping cart hammock, you can be hands free with a comfy, cozy, clean and SAFE place for baby to "hang out". This compact, lightweight and easy to use baby hammock offers busy moms everywhere a safe, effective and soothing place for baby. 
7. Little Nomad transforms a space with certified EVA foam play mats that look like gorgeous rugs instead of the circus colored mats we're used to. Baby has a comfortable and cushy surface to play on and mom gets to keep her sensible design aesthetic. 
8. Babo Botanicals' natural hair, skin, and sun products collections are made entirely on a certified organic farm in upstate New York and are completely vegan (except the lotions that contain beeswax), free of parabens, phthalates, and artificial fragrances. Now Babo has released a line of sensitive skin therapy called Sensitive Baby. The products make perfect gifts for any tots on your list.
9. At the core of 12 | 12's mission is to give back and improve the lives of children everywhere. Its baby and toddler pieces are simple and safe, made from the softest organic, toxic-free fabric created in careful consideration of the environment. For every purchase, 12 | 12 donates an item from its collection to Baby2Baby. We love the gift sets and bundles.
10. One of our collective personal favorite pieces of baby gear is the DockATot portable, multi- functional baby "bed" for resting, lounging, and relaxing. It was created by a mom in Sweden with a strict emphasis on design and comfort. It's a glamorous option for feeding, soothing, and bonding with your baby and makes a fabulous gift with all its contemporary prints. 
GREAT GIFTS FOR BABIES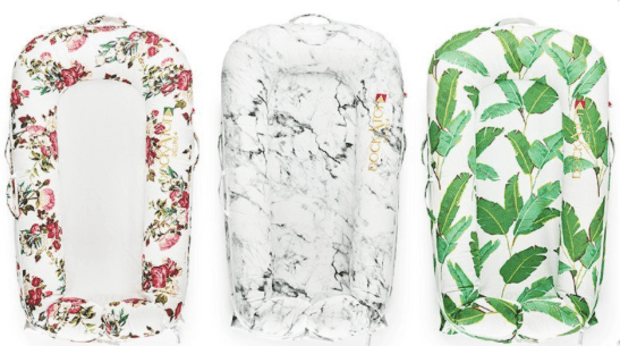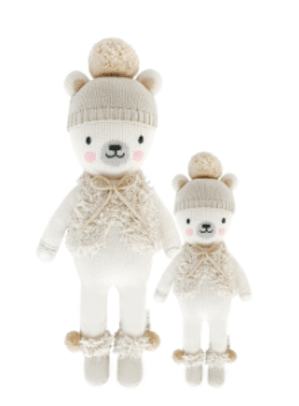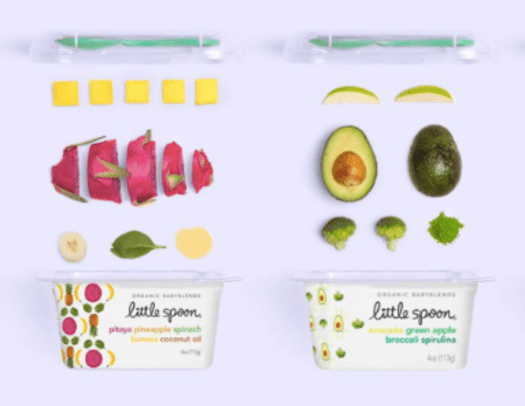 Did you catch our other holiday guides? We brought you gifts for babies, Gifts for toddlers and preschoolers as well as gifts for school-aged kids, Tweens and Teens, Gifts for College Students, Gifts for Her + (Him) and Great Toys for All Ages. 
Merry Gifting! 
Check out our complete set of guides in this Gallery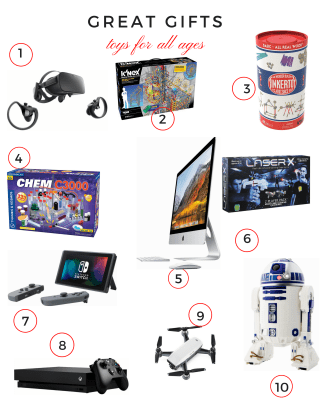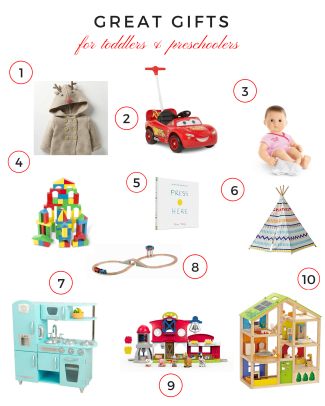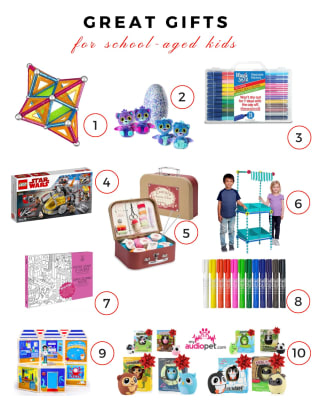 This is a sponsored post. All opinions expressed are our own.