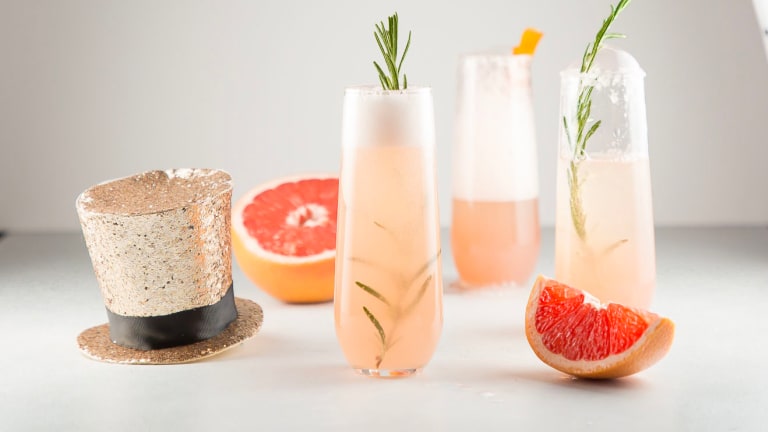 New Year's Eve Grapefruit Prosecco Cocktail
Can you believe the year is through?! I, for one, cannot. It seems that the older I get, the faster time goes by. I have very conflicting feelings about this. On the positive side, I have become much more appreciation for the time I have. I try to be more deliberate with my moments and savor the good ones. Gratitude, for me at least, seems to come with age. On the flip side, I'm still getting older... (Ha!)  
Be sure to make some quiet time to reflect on this past year. What did you enjoy? What didn't you enjoy? Relish your achievements and let go of any failures. I challenge you to do more of what makes you happy and be deliberate with your time. Be present in the moment and simply enjoy life more.  
New Year's Eve is a celebration, and a fresh, bright cocktail should be the focus of such a joyous occasion. This week I am featuring just that! A prosecco cocktail with fresh grapefruit juice and a homemade simple syrup. Don't fret yet; this is still a simple recipe, I promise. I do recommend making the syrup the day before so you can enjoy the festivities.  
To make the simple syrup:
Combine 1 cup of sugar, one grapefruit peel (use a veggie peeler to remove peel from grapefruit), one sprig of rosemary,  1 inch of fresh ginger (sliced), and 1 cup of water in a small pot.  Bring to a boil and then reduce to a simmer.  Simmer on the stove for 15 minutes and remove from heat.  Cool and refrigerate until needed.
To make the grapefruit prosecco cocktail: 
Combine 2 ounces fresh grapefruit juice and one tablespoon of simple syrup in a champagne flute.  Fill the glass with prosecco and enjoy!  Garnish with a fresh sprig of rosemary, candied grapefruit peel, or a sugared rim.  
Happy Sipping!
This is not a sponsored post.