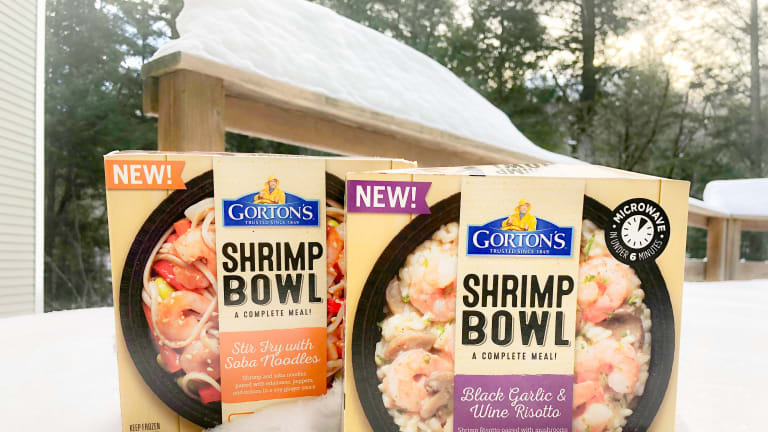 Gorton's Shrimp Bowl Winter Meal Warm Up
Fueling up for winter fun
Winter fun is under way here at Momtrends. We've got kids in ski programs in Vermont which means I'll be running back and forth to the mountain shuttling the girls all winter long. Every day I pack them a warm lunch -- soup in a thermos, fruit and other goodies. They are always taken care of when it comes to lunch. But what about mom? I found the perfect solution - Gorton's Shrimp Bowls they are the perfect winter lunch warm up.
Of course you know Gorton's. In 1953, Gorton's introduced the famous ready-to-cook fish stick. Their fisherman have been bringing us seafood for decades, now there is something new--fantastic shrimp bowls. They come in two flavors and are so easy to prepare. 
Lunch for one on the run
This weekend I treated myself to some snowshoeing while the girls were with the ski team, for lunch I headed home to prep a quick and delicious meal before pick up.
I was able to whip up an all-in-one risotto Shrimp Bowl in under six minutes. It was the perfect sustenance after a snowy morning. My lunch was a creamy ristotto dish with black garlic and wine sauce. It was like a mini vacation and I didn't have to fight for a table.
Speaking of tables, I decided that even when I eat alone I deserve a pretty setting. A proper napkin, a nice mug of tea and a view. I put my food down and really enjoy the food and my own company.
Even though I didn't have a ton of time, I feel like I gave myself a mom time  out. I didn't have to clean up much and it took a flash to prepare. Lunch cooks in about four minutes in the microwave.
And you can feel great about your decision to shop Gorton's. They use a method called Trusted Catch™ sustainability. Gorton's is fishing in a way that minimizes  environmental impact. I feel great about this delicious meal option. 
Find out more about the Gorton's Shrimp Bowl here. This winter give the Gorton's Fisherman responsibility for packing your lunch. 
This Gorton's Shrimp Bowl Winter Meal Warm Up feature is sponsored.