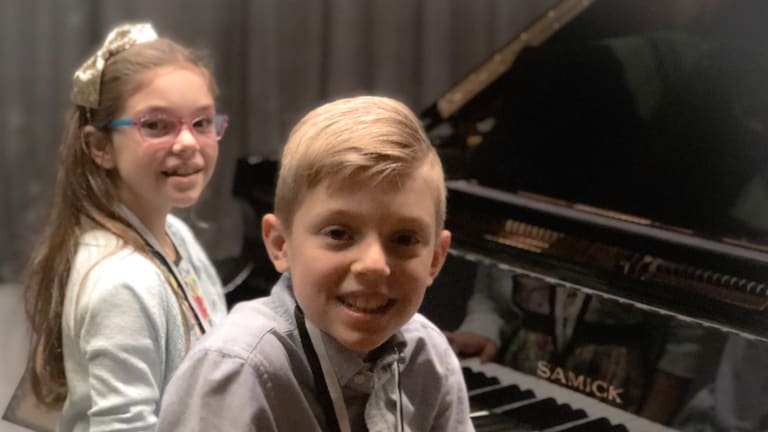 Give the Gift of Music
Online Music Lessons Make the Perfect Experience Gift
I have vivid memories of my grandmother playing her piano for us whether it was for holidays, to unwind or just to share the joy of music. Her piano was her prized possession and she had always encouraged all of her grandchildren to pursue music. Only half of us did, and I cannot include myself in that half. My husband's family is very musical and we saw the positive impact it had on his family too. Music brings people together and is good for the mind. We purchased a piano when our son was four and can honestly say it was one of our best purchases to date. 
Both of older children take private piano lessons, and with our five year old beginning to tinker, we know she is not far behind. The bigs both play an additional instrument in school and have quickly advanced all due to their piano lessons and practice. It is such a joy to hear them play--in fact we just attended their first piano concert.
Playing the piano has inspired them to try other instruments like the guitar as well as the ukulele. Fender Play has made that possible with easy, online tutorials that gradually advance in difficulty. The children (and my hubby too!) eagerly practice and look forward to the online lessons. I will note that the lessons are easier for my children as they have a full understanding of how to read music, musical notation and all that jazz.  
Although we think that the programs Fender Play offers are comprehensive, we recommend working at your own pace and love that the lessons are for anybody and are in short intervals to hold anyone's attention. Fender Play is positive, convenient (you can have your lesson at any time, anywhere!) and is a perfect way to brush up on skills or pursue a passion that you've been holding onto. Fender Play makes an excellent gift because it is an experience that will continue to give.
We are trying out the Grace VanderWaal Signature ukulele, which reflects a boho chic style and is perfectly stylish for kids who are eager to learn an instrument. Paired with Fender Play, a video-based learning platform, everyone will be prepared to jumpstart their musical career. Or, for a more colorful option with an approachable price tag, the California Coast Series ukulele is a great starting point and tops the must-have gifts of the season list!
If you're interested in an online piano lesson experience, to expand a child's learning, we recommend Hoffman Academy. Whether you dabble on the keys in your spare time, spend hours on the bench finding your inner Mozart or are just starting out on a new hobby, piano lessons are good for your health. According to a recent study, piano lessons have a very specific effect on children as young as five years old, enhancing language skills and improving general cognitive ability.  
We had our children try out Hoffman Academy and they commented that the lessons were fun, clear and easy for them to follow along. 
Parents of kids from preschool to teenage years, are finding that the most effective way to learn an instrument is through online instruction that is engaging, entertaining and effective -- and can be done anytime your child has free and would like to log in.
Founder, Mr. Joseph Hoffman of the Hoffman Academy, shares, "Parents who give their children the gift of a musical education start them out on a path that will enrich their lives in so many ways. Studying music develops discipline, hand-eye coordination, intelligence, and creates a skill that can bring happiness to both the performer and to all who listen."
Hoffman Academy  and Fender Play are now offering the gift of experience this holiday season, perfect for the music lover (of any age!) in your family. 
This is not a sponsored post.