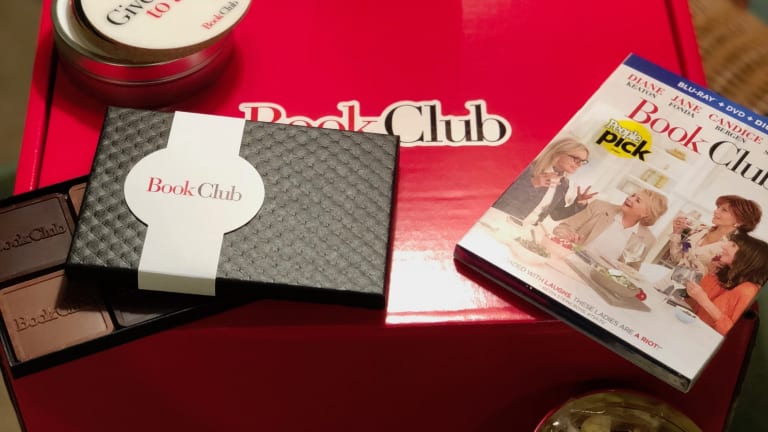 Girls' Night In With Book Club Movie
Savoring the last days of summer with a great movie
With only a few sweet long days of summer left, I decided to treat some of my favorite ladies to a "Girls' Night In" with Book Club movie. I missed it in the theaters but knew my sister-in-law and mom would adore the cast and the plot. 
For another fun Girls Night Out Idea, check out this post from Teach Mama about BUNCO.
Preview Book Club Movie
You see, we're all book lovers (that's why we get along so well!). This past week we were all gathered on the Outer Banks of NC for a family vacation. The three of us rarely get to spend a night together without kids/grandkids so I did some planning and pulled off the girls' night in. Download the film on iTunes and make plans to watch it at home this weekend. The release includes hilarious bonus content, like the making of the film, deleted scenes, and more.
The cast is amazing. Diane Keaton is flawless as a recent-ish widow who is swept off her feet by Andy Garcia. Jane Fonda plays a savvy businesswoman who is too busy for love...that is until Don Johnson comes along. Candice Bergen gave up on men after her divorce 15 years ago and is FINALLY ready to jump back into dating and Mary Steenburgen is trying to spice up her long and loving marriage.
The book club decides to read 50 Shades of Grey to liven things up and it sure works! I love the fashions the houses and the banter. These women are unapologetic about wanting full lives that include love and sex. It's about time we remembered 50+ women are still sexual beings. This movie should start some great conversations with your BFF's. Download it now!
Book Club Movie Party Prep
To prep for our night in at the beach, I made my favorite summery starter, with farm stand tomatoes. The tomatoes right now are bursting with flavor and perfect for this easy appetizer. It's hearty and colorful and so delish!
Book Club Tomato Bruschetta Recipe
Ingredients
2 cups tomatoes coarsely chopped 
Juice of 1/2 fresh lime
pinch of salt
1 tsp cilantro finely chopped
1/4 cup chopped scallion
2 tsp EEVO
one baguette
Directions
Mix ingredients in a bowl and let marinate for 30-45 minutes or longer. 
Slice baguette and place pieces on baking sheet. 
Spread EEVO on top of slices and toast them in the oven
Just before guests arrive, top baguette slices with tomato mixture and enjoy!
I served it with rose from Gooseneck vineyards and we put the dads in charge as they took the kids to pizza and ice cream. The night was a huge success and didn't require getting out of our comfy clothes or putting on makeup. 
Book Club is coming to Blu-Ray August 28th and is already on iTunes. Make a date to see Book Club with some of your besties. You'll love it.
Pin it and Plan it!
Use pinterest to plan your Book Club Movie Girls' Night In party.
This Girls' Night In Book Club Movie feature is sponsored by Paramount Pictures.