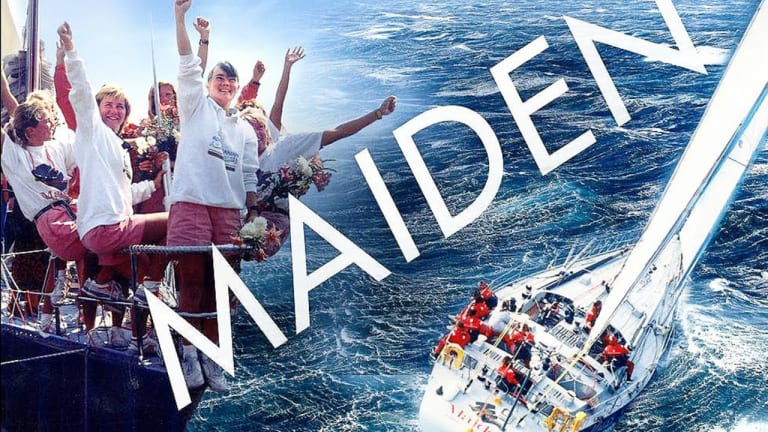 Publish date:
Girl Power Check Out Maiden Documentary Movie
Thanks to my 11-year-old daughter for writing this movie review
Thanks to my 11-year-old daughter for writing this movie review
I'm giving myself a break this summer and employing the girls to help contribute. Earlier, they wrote about Be More Chill, and now they are contributing to the review of this new documentary. Thanks to my 11-year-old daughter for writing this Girl Power review and telling people to check out the Maiden documentary movie.
Official 6th Grade Review of Maiden
Maiden is a movie about the first women to sail all the way across the world in the Whitbread race. Tracy Edwards, the main character, first was a cook on a boat with all men. Then she finally decided that she wanted to sail the Whitbread race with a crew of only women. Tracy was told that she could not do it because she was a woman, but she persisted. And the crew sailed the whole race.
Some things to take away from Maiden are, firstly, that the crew kept going even though many people did not believe in them, and secondly, that they sailed through some very difficult sailing conditions, including rough seas and sub-zero temperatures in the Southern Ocean near Antartica. Finally, this was their first time doing this and they completed the race so it shows that they challenged their limits.
Check out the Maiden Trailer here:
Girl Power Check Out Maiden Documentary Movie
Maiden is the story of Tracy Edwards, a young girl with little sailing experience and a thirst for adventure. The movie traces her early years and then takes us through the race of her life, the Whitbread. 
Tracy became the first skipper of an all-female crew to enter the Whitbread Round the World in 1989. Along the way she encountered numerous obstacles and entrenched sexism.
Spoiler alert: She persisted. It's a great life lesson for anyone grumbling that life is too hard. It's the ultimate girl power movie. 

Get Ready for Summer Tea Collection Sale
Even if we all have to stay local, summer is going strong. As you head to the pool or day camp you might have noticed your kids GREW during the past year. Just in time for summer, Tea Collection is rolling out a big deal on swimwear and graphic tees for kids. I've enlisted some ...read more
The Key to a Great Overnight Oat Recipe
Working moms know the importance of meal planning. I'm getting ready for busy few weeks and I've been perfecting my fast breakfast options. I've been using Bob's Redmill Organic Steel Cut Oats to prepare my overnight oats for a nice, cold breakfast in the morning and I'm going to ...read more
Morning Sickness Relief with Sea-Band Mama
While pregnancy is this amazing and beautiful time in a women's life, it is also one that can wreak havoc on the body. From morning sickness to discomfort to cravings, the body that you once knew so well becomes this vessel for your baby. Of course, this is all worth it but ...read more
The film is expertly direct by Alex Holmes, I'm amazed at the footage he assembled of the trip. The scenes as the crew sails through snow squalls is pretty epic. 
Tracy Edwards and the Maiden
Since the race, Tracy Edwards has stayed in the spotlight. After becoming the first woman to receive the Yachtsman of the Year Trophy, she was awarded an MBE honor, she became an author and speaker. With the 40th anniversary of the Maiden's success, she's touring the globe spreading the message of empowerment.
And it's not just Tracy, the boat is on the move too. The Maiden has been buffed up and made sea worthy again. Right now it's sailing the world with, of course, a female crew. Find out more about it at www.themaidenfactor.org
Girl Power Check Out Maiden Documentary Movie
I challenge my girls all the time to think out of the box when it comes to careers and possibilities. Words are one thing, witnessing other women push boundaries is another. 
Find out more about the movie www.sonyclassics.com/maiden/
Pin it!
Use pinterest to save your favorite movies and never have wonder what to watch next.
This Girl Power Check Out Maiden Documentary Movie feature is not sponsored.