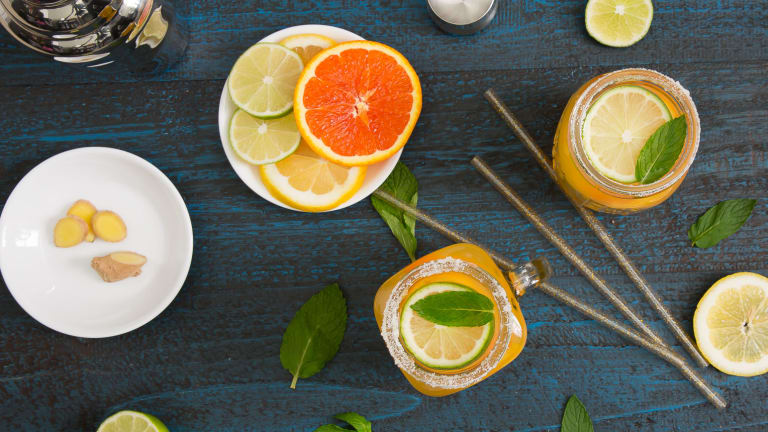 Ginger Citrus Cooler
The warmer weather is making me crave cold refreshing beverages. What better way to satiate that craving than a delicious twist on lemonade? This version boasts oranges, limes, and lemons. Talk about a ton of vitamin C!
Mixed in this citrus concoction is a homemade ginger orange simple syrup. It's a cinch to make and really adds a boost of flavor. I highly recommend making your own simple syrups and experimenting with the flavors this summer. They make such a difference in a cocktail recipe.
For this recipe, go ahead and mix the drink ahead of time, if you can. A few hours in the fridge chilling and allowing the flavors to marry is perfect. Of course, if you can't wait, I understand. The cocktail will still be delish. Be sure to serve the beverage over ice.
As far as the lemonade goes, use homemade or store bought. I've tried both options, and since store-bought saves me a lot of time, I usually don't go the homemade route.
The recipe can be doubled or tripled. I often make a pitcher in the morning when we have plans to grill in the evening. It makes a fantastic treat for my guests and me.
Don't forget to make extra lemonade for the kids! My son adores this citrus cooler (non-alcoholic version) and requests his "special lemonade" quite regularly. I oblige and make a batch pretty regularly.
The syrup needs to be made first. To make this, combine the ginger, orange zest, sugar and water in a small pot. Bring to a simmer and hold for about 10 minutes. Remove the pot from the heat and allow the syrup to cool.
Meanwhile, juice the orange and lime. A sugared rim is optional when you serve the cocktail, but I recommend it. And be sure to slice up plenty of extra citrus fruit to add to the pitcher.
Ingredients- makes 2 cocktails
For the simple syrup
The zest of 1 large navel orange
1/2 inch of fresh ginger, peeled and sliced
1/2 cup sugar
1/2 cup water
For the citrus cooler
1 large navel orange, juiced
1 lime, juiced
1 1/2 cups lemonade
2 sprigs of mint
2 ounces bacardi
2 ounces triple sec
1 lemon, 1 orange, 1 lime sliced for garnishes
Instructions
For the simple syrup
Add the ingredients to a small pot and simmer for 10 minutes. Remove from heat and cool. Store in the refrigerator until needed.
For the citrus cooler
To a large container, add the lemonade, orange/lime juice, mint sprigs, 2 tablespoons of simple syrup, citrus slices, bacardi, and triple sec. Mix well and refrigerate for 2 hours. Shake well, garnish, and serve.
Happy sipping!
If you love this refreshing cocktail be sure to check out our Cilantro Lime Cooler, Low-Cal Margarita, and Strawberry Banana Daiquiri