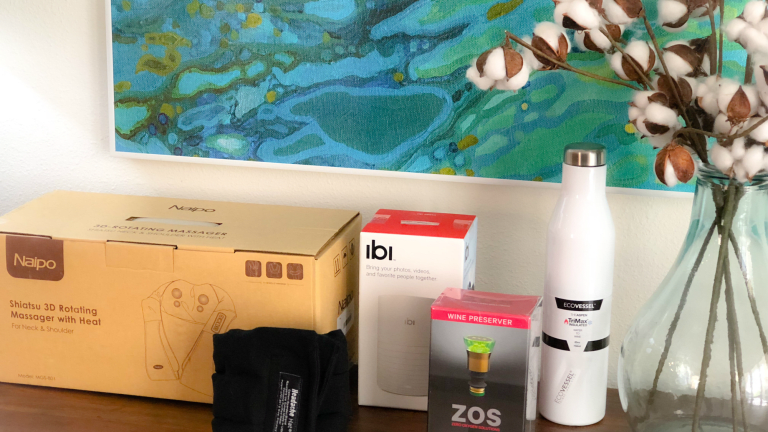 Gift Ideas for the Women Who Has Everything
Whether you're shopping for Mother's Day, a birthday or you just want to treat a special family member or friend, coming up with gift ideas for the woman who has everything can be tricky. My Mom is one of those women. She works hard, makes a good living and has grown children so her disposable income is at, well, her disposal. Bwah! So, sometimes it's tough finding a gift that lands in the she doesn't already have it department. So, just in case you too are having a hard time shopping for a woman in your life, I thought I would share some fun gifts for mom that she just might not have already and never knew she needed!
Unique Gift Ideas for Her
Sweet treats...Sure, cupcakes aren't anything anyone neeeeeeeeeeds, but the women in my life certainly wouldn't turn down a treat as special as the cute, delectable mini cupcakes, that come in an increasingly fabulous array of flavors I might add, from Baked by Melissa. And they have boxes for every occasion. Whether you're looking for Mother's day, Teacher Appreciation or just a simple thank you for being there, Baked by Melissa cupcakes are always a good idea! In fact, I recently served them at a party and they were a huge hit. So, consider bring a box as a hostess gift at the next summer soiree you're invited to!
Luxury soap...Who needs luxury soap? She does! It's an every day treat for her hands. Not only is Keller Works soap gorgeous, I mean one bar even has flecks of gold in it, but it's made for very sensitive skin. Even those with skin conditions like eczema have sung its praises. Gift your mom a four pack of these beautiful bars and she'll have enough to jazz up her master bath, her guest bath and even the kitchen sink!
Upgraded photo storage...Most of the ladies I know have a problem with their phone storage. It can be SO hard to delete photos of their kids so they end up maxing out the storage on their phone long before they should have. Well, with the Ibi photo storage device, they can free up their phones and keep all those precious memories safe! It automatically saves all your photos and videos in one easy to access place. Now that's a problem solver all us moms need.
Wine presever...Have you ever opened up a bottle of wine and wasted half the bottle because you didn't finish it in time? Haven't we all? Well, with the Zos Halo wine preserver, you can say goodbye to wasted wine! It's made of an oxygen barrier stopper attached to a replaceable cartridge that sucks the oxygen out of the bottle making it last longer. So, you don't have to worry on those nights you just want to sip on one glass of wine with dinner. Your bottle will be waiting for you the next day perfectly preserved!
Multi-purpose water bottle...Speaking of wine, does the woman you're shopping for have a bottle that can store both water OR wine? Well, the Eco Vessel steel water and wine bottle does just that. Whether you're headed out for a hike or a romantic picnic, it can be filled with the beverage of your choice and it will keep your drink nicely chilled for up to 80 hours! You read that right. 80! I'm thinking some rose needs to land in mind. Just sayin'.
Headache helper...I suffer from migraines. I know I'm not alone. SO many woman have regular headaches or migraines. An ice pack goes a long way when we're talking headache relief. The Headache Hat takes an ice pack to a whole other level. It's a wearable ice pack. And the individual ice cubes can be moved around so they're positioned where you need them. The best part is, if you're able to get up and move around, you can without having to give up the relief your Headache hat is giving you!
At home massager...There is nothing like a relaxing massage. Am I right? The thing is, sometimes we just don't have time to get an appointment before we need relief. With the Naipo Shiatsu Kneading Massager Neck & Shoulder Massager with Heat you can attack all those laptop induced knots that are making you so uncomfortable. And you can do it right from the comfort of your own couch. It even has a deep tissue function! See ya sore muscles. My shoulders would certainly LOVE to receive this gift. Haha!
Well, there you have it. I hope that all these gift ideas have given you a good amount of gift giving inspiration for the woman who has everything. And if you need even more inspo, check out this super sweet DIY Mother's Day serving tray!
We were not paid for this post. We did receive samples.