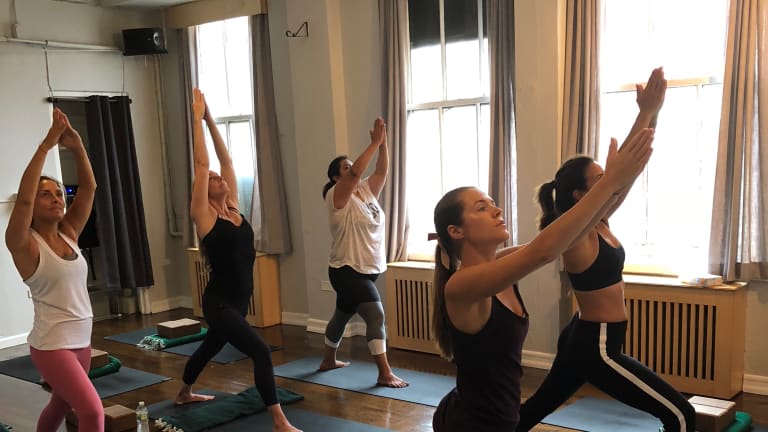 Get your Zen on with Momtrends
Making Self Care a Priority
I'm just starting Rachel Hollis' book Girl Wash Your Face. In it she shares that making yourself a priority is anything but selfish. I'm often telling this to the bloggers in our NYC community. Like so many moms I know, they are busy with their work and their families. Making time for self care is sometimes seen as selfish. Here at Momtrends we're about inspiring each other to be the best version of ourselves we can be. That's why we started the Get Your Zen on with Momtrends events.
Momtrends Yoga Series
We wanted to create a space for moms to inhale and exhale. I've been practicing yoga pretty regularly at Yoga Vida in DUMBO. Working with the management there, I scored a discounted rate to get a private class for our blogging friends. Yoga isn't an indulgence in my book, it's maintenance and a great yoga class goes a long way towards being a more zen mom.
Our vinyasa practice was all about inclusivity. Since we had moms trying yoga for the first time, we didn't want to do anything intimidating, and the team at YogaVida was fantastic. There was plenty of guided instruction so no one got lost. YogaVida says, "At our studios we make yoga accessible and inclusive - without judgment, pressure or demands. This is yoga for everyone!" And that's exactly how we like it. I don't want to feel judged when I'm trying to get chill.
That's why I invested in a private class for our community of influencers. I wanted them to have a safe space to try something new and to feel great in the process.
From the smiles I saw after the class, I'd say it was a huge success. We look forward to continuing the series into 2019 and beyond.
Looking for Sponsors
To thank our friends for making time for yoga and Momtrends we treated them to a Zen goody bag. We included Vichy samples and new Aloe Gloe beverages. I've been loving my Vitamin C serum from Vichy. It's an essential step in an anti-aging routine. Aloe Gloe is a new beverage concept. Co-founder Danny Stepper had an accident that gashed open his forehead. After getting stitches, his doctor prescribed not only applying Aloe Vera to the scar but also recommended drinking it. When he couldn't find a good product he became an inventor. Read all about the benefits here.
More Yoga Resources for Moms
I know not everyone is a NYC influencer, but we've got lots of other yoga resources, check out this easy yoga video here. And check out this post about our favorite yoga clothes.
And don't miss this post about setting up your own yoga studio.
This Get your Zen on with Momtrends is not sponsored. It's a recap of our yoga series and we are actively looking for sponsors.