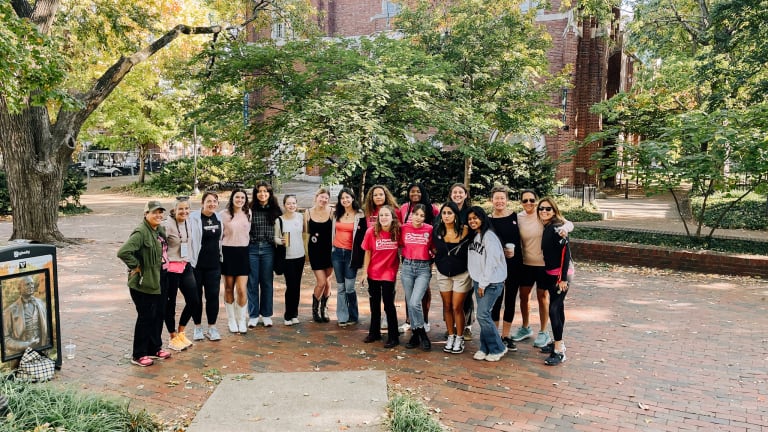 GenAction Brings Reproductive Health Activism to College Campuses
A group that is doing important work to protect reproductive rights is a college volunteer effort called GenAction
When the Dobbs decision overturned the longstanding precedent that American women have the right to decide how and when they give birth, I was caught off guard. I wrongly assumed that the rights my mother fought for would be there for my girls. This summer I've been on a mission as an advocate and I've learned a lot along the way. One group that is doing important works is a college volunteer effort called GenAction. GenAction Brings Reproductive Health Activism to College Campuses through a partnership with Planned Parenthood.
Related: What you need to know about Plan b
How We Got Here
Before we dive into solutions, let's recap the problem. On June 24, 2022, the U.S. Supreme Court issued its ruling on Dobbs. The decision took away the constitutional right to abortion, abandoning almost 50 years of precedent, and paving the way for states to ban abortion. In a nutshell, the "supremes" tossed the ball back to the states. And each state decides how they provide abortion and reproductive health access to women.
To be clear, prior to Dobbs, I wasn't complacent. I volunteered at Planned Parenthood in New York and I supported pro-choice candidates with my time and money. But looking back on my decades enjoying the protections that Roe gave me, I didn't do enough. 
I'm still lobbying, donating and volunteering, but I wanted to do more. Since my baby making days are over, this fight is for the next generation. I want them to feel empowered to create a family on their own terms. I see my GenX sisters as a bit of a failure (sorry friends, maybe it was too many Pop Tarts, 90210 and Diet Coke that slowed us down). That's why I'm focused on helping the next generation of activists find their footing.
After the Dobbs decision, I immediately thought about all the college students this decision would effect. I know it's self-serving, but I thought of Vanderbilt specifically. My school sits smack dab in the bible belt and now has some mighty punitive laws in effect. As I lobbied in the community, I became aware of a cool student-led group on campus, Vandy GenAction. In my opinion, this is where REAL change is going to happen.
What is GenAction?
Planned Parenthood Generation Action Network is a network of young organizers and activists across the country who organize events on their campuses and in their communities to mobilize advocates for reproductive freedom.
Here's what they do:
Mobilize advocates for reproductive freedom
Raise public awareness about reproductive health and rights
Educate young people about sexual health
Create lasting change in their communities
With more than 350 campus groups across the country, Planned Parenthood Generation Action is harnessing the power, energy, and enthusiasm of young people and to fight back for our rights.
GenAction groups are supported by the local Planned Parenthood chapters and get funding through Planned Parenthood. Speaking to the Vanderbilt group, I learned that they participate in patient escorting, they distribute free birth control on campus (mostly condoms), they use social media to educate peers about sexual health and they work with the university to advocate for reproductive health.
The girls are amazing, sharp, motivated women. They want to feel safe on campus and lead big, full lives that include SEX. They believe the experience should be fun and consensual. The Vanderbilt Chapter of GenAction is only 4-5 years old and they are already 100 members strong. 
Where Does Your School and State Stand
When it comes to the experience our children are going to have, we need to get moving. Use this interactive map to find out the laws in your state or the state where your children will go to school. Vanderbilt, is in Nashville, TN. Abortion is no longer available in this state. 
On August 25, 2022, Tennessee began enforcing its trigger ban, which prohibits abortion at all stages of pregnancy. Tennessee also restricts providers from using telemedicine for the provision of abortion care. Providers who violate Tennessee's abortion restrictions may face civil and criminal penalties. You can find out more about your state's specific laws here reproductiverights.org/maps/abortion-laws-by-state/
Bringing Generations of Advocates Together
Outraged at the new laws, I thought about my choices. I could hide away in my female-friendly state of Vermont or I could try to lift my southern sisters up.
I hatched an idea to bring alumni from my 1992 class together with the GenAction crew on campus. During reunion weekend, we gathered on Alumni Lawn to share stories and unite on a goal to make Vanderbilt safer for girls and women.
We paired off and walked the campus. Our time together was spent swapping stories and passing along encouragement. I'd love to see this advocacy model flourish. Showing up lets the younger generation know we stand with them and gives a strong message to the university that we've got each other's backs.
How to Help Students as an Alum
First, let's talk about how college-educated women can be empowered agents of change at the college level. You have more power than you think. Colleges rely on alumni networks for donations and for career support. Use your power wisely and well.
Educate: Reach out to your university and find out what services are available to students. Use your alumni network to build a community of activists.
Advocate: Make it known that you support free contraceptives, as well as free emergency contraceptives at your school. If aligned with your values, ask for abortion pills to be available at campus health. Contact your representatives and make your voice heard. Here's a place to start.
Volunteer: Seek out your local GenAction group and see if you can get involved. 
How to Help Your College Student
Now, let's talk about CURRENT college students. As a parent paying the bills, you again have the power of the purse.
Be Selective: Pick colleges and universities that have clear policies that product the rights of students. Ask questions when you get a tour. If top students suddenly stop going to states that are hostile to women and girls, schools will take notice.
Encourage Advocacy: Let your children (boys are welcome!) know about GenAction. If there isn't a chapter at your child's school, help them connect with a Planned Parenthood chapter to get one started. 
Communicate: Keep the lines of communication open. Let your kids know you are informed about birth control and emergency contraception. Send your child off to school with supplies and keep them replenished.
Donate: Your donations to Planned Parenthood can help fun the important work of GenAction. Donate here.
I'm not giving up, I'm simply changing tactics. Supporting Planned Parenthood and the next batch of voters, seems like the smart move.
You can find out more about GenAction here.
More About Planned Parenthood
Founded in 1916, Planned Parenthood is a trusted health care provider, educator, and passionate advocate here in the U.S. as well as a strong partner to health and rights organizations around the world. Each year, Planned Parenthood delivers vital sexual and reproductive health care, sex education, and information to millions of people through a national network of more than 600 health centers operated by our affiliates.
Planned Parenthood health centers provide a wide range of services — namely preventive care, including birth control, testing and treatment for sexually transmitted infections, and screenings for cervical and other cancers. Dedicated doctors, nurses, and support staff take time to not only talk with patients, but to see them for who they are as individuals and support the life they envision for themselves.
MORE HELP GETTING READY FOR COLLEGE
PIN IT!
Use Pinterest to save your favorite recipes. Be sure to follow our Moms' guide to college board for more tips.
This is not a sponsored post.