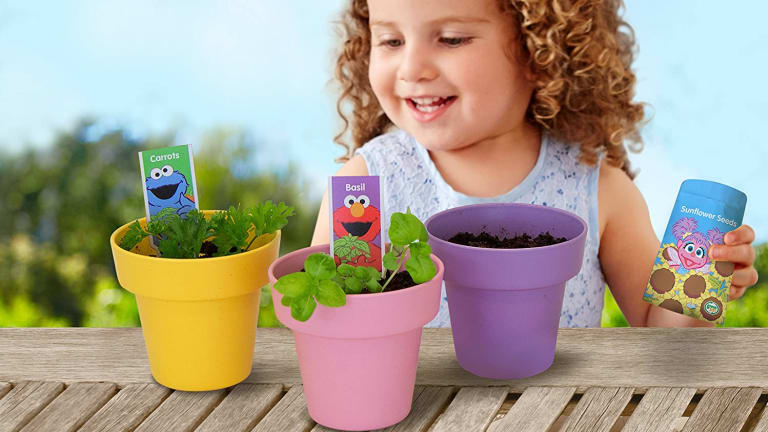 Gardening with Elmo
Sesame Street characters help kids get interested in growing gardens with new garden kits.
Do you have a green thumb? Well, spring is the perfect time to teach your little one about gardening. With Sesame Street's new garden kits (which come in many different characters: we like Elmo) you can show your kids the basics when it comes to taking care of plants. 
Related: Celebrate Earth Day with a succulent garden
Sesame Street Gardening Kits
Each kit comes complete with shovel, spade, and rake-- explaining the difference in each tool. You're also provided with soil, planters pots, stickers, stakes, and seeds. Check out how simple it is to grow wonderful plants while living in the city.
Having a little helper can make gardening extra fun, but most tools used for planting aren't made for little hands. Luckily Sesame Street has come up with several character-themed kits that come with everything you need to grow a full garden. Elmo's garden bag includes Sunflower seeds, Garden Beans, and Tomatoes.
First, you soak a soil pellet in some water. Then you place the softened soil into the planters pot-- pop in 3 seeds of your choice and make sure it gets some sun.

You may want to get a flower box or terra pot so that you can keep your budding plants safe and tidy. 
You can let your child choose what they want to plant and talk about how seeds grow. They will love to hear about how a tiny seed changes into a great plant and even into something they can eat!
Sesame Street Gardening Kits are available on Amazon here.


MORE GREEN LIVING IDEAS FROM MOMTRENDS
PIN IT!

Need more ideas on what to do with the kids? Be sure to follow our Activities to Do with the Kids board on Pinterest here.
Momtrends was not paid for this post. Products were sent for testing purposes only. Shopping affiliate links helps support Momtrends.