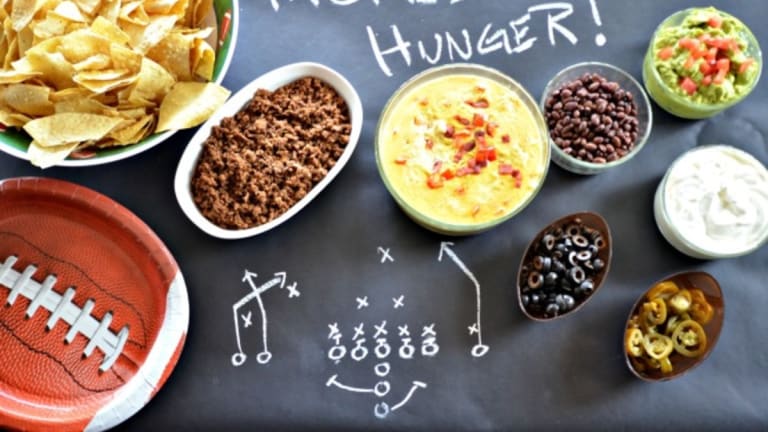 T-minus one week until we watch the Super Bowl on television. Even as someone who only follows the NFL occasionally, I never miss this big sporting event and want to share these fun Super Bowl party ideas. We've got ideas to get everyone involved in game day and to turn football into a family event. 
Fun Super Bowl Party Ideas
From the Super Bowl menu to the games, there's a ton of ways to get the family into this day celebrating football. I'm not a major football fanatic, but I do try to get into the fun and excitement. And, while my kids are young and not particularly sports minded, they also enjoy the pageantry of a big game and celebration. That's why I try to make good food they'll enjoy and create projects that will get them psyched and ready. 
It makes watching a potentially boring game a whole lot more awesome for everyone. That's why I've rounded up a few favorite family-friendly football party ideas. 
Fun Super Bowl Craft
This craft is great for beginners and doesn't require many supplies. Plus, when you're done it's a game. Get instructions on this Fun Super Bowl Craft here. 
SB Popcorn via Hungry Happenings 
Popcorn is a great shareable snack and this recipe takes it up a notch. Get the SB Popcorn via Hungry Happenings recipe here.
SB Commercial Bingo via Here Comes the Sun Blog 
For many viewers (raises hand), the commercials are just as fun as the on-field action. This game is made for ad lovers. Get the SB Commercial Bingo printable from Here Comes the Sun Blog.
SB Paper Chain via Fab Every Day
This is a craft to start this week so you can decorate your house for the big game. Again, this project doesn't require much skill or complicated supplies. Get the instructions for making the SB Paper Chain at Fab Every Day
SB Party Sacks via Simply Kierste 
These adorable snack bags are the perfect thing to hold your game day popcorn. Get the details on SB Party Sacks via Simply Kierste.
SB Party Table Runner via Peacefully Chic
This simple table runner is perfect for a messy spread like nachos and chili. All you need is some craft paper and Sharpie markers. Get the scoop on the SB Party Table Runner via Peacefully Chic.
SB Party Concession via Sprinkle Some Fun
If you have more time and motivation, I love this Super Bowl Party set up from Sprinkle Some Fun.
SB Nacho Bar via Momtrends
Nachos are a traditional Super Bowl snack. Here at Momtrends, we take our nachos making to the next level with this awesome Nacho Bar.
From food to crafts, look at this winter sporting event as a chance to get creative. Even if you care more about the ads than the plays, a fun  super bowl party is the perfect way to bring the family together.
More Super Bowl Ideas from Momtrends
Pin it!
Save your favorite recipes and ideas from our The Big Game Pinterest board here.