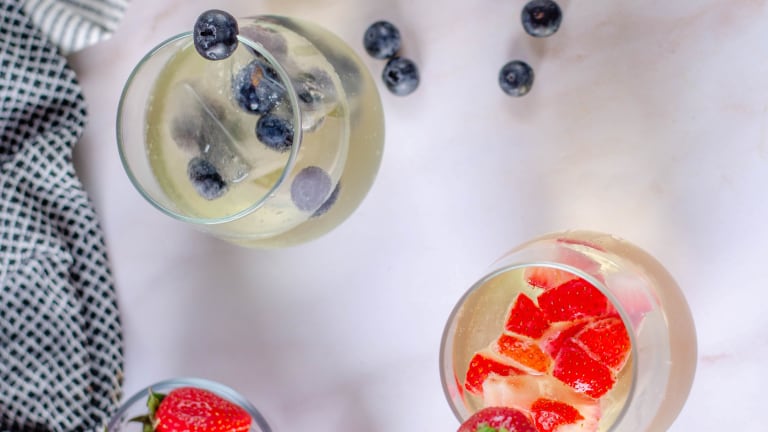 Try This Recipe for Frozen Prosecco Ice Cubes
We froze Prosecco sparkling wine into ice cubes. The result: a delicious, refreshing and cold cocktail. You can also freeze with fruit and juice.
I feel like I've been a bit of a one-trick pony with my cocktail concoctions as of late. I've been all about the mason jars, bubbles (can't get enough of my Prosecco), infused ice-cubes, colorful chevron straws, and freshly sliced or muddled fruit. Seriously though, what more could one want during the balmy, hot, sizzling summer season? I aim to please.
Related: Cheap and fun summer Sangria date night idea
Try This Recipe for Frozen Prosecco Ice Cubes
This evening, I'm turning to a classic bottle of bubbly for my Saturday Sips feature: Gooseneck Vineyard's sparkling Italian wine. 
Save 20% on your Gooseneck Vineyards order with code: Momtrends
It has a clean, pleasantly fruity bouquet that's reminiscent of rennet apples and peachy blossoms. (Seriously, take a whiff and a swig. It's nice, right?!) Well-rounded, balanced, and crisp straight from the fridge into my glass, it's a reliable (and price-friendly) option. But instead of drinking it the traditional way this time around, I decided to try freezing it into cubes. I've been seeing frosé recipes all over the Internet, so I figured why not try making "Frosecco?"
Prosecco Ice Cubes Ingredients
Goosneck Vineyard's sparkling Italian wine
Fresh Fruit
Ice cube tray
How to Make Frozen Prosecco Ice Cubes
Place fruit into individual cubes 
Add Prosecco
Freeze
Add the cubes to seltzer or chilled Prosecco and enjoy.
Playing with Your Cubes
I froze two cubes of Frosecco with strawberries, two with blueberries, and two with a little bit of OJ. The cubes don't freeze totally solid, but that's not a problem. You can pour more Prosecco over your cubes or easily mash it up into a glass as a slushy grownup treat--a palette cleanser, if you will. Delish!
The verdict: Success!
This easy party-pleasing recipe makes for one delightfully refreshing drink. And if you enjoy your mimosas like this mama does, you will absolutely love this icy cold cocktail. Enjoy... Happy Saturday, friends.
Don't forget to order your Gooseneck wine online here www.gooseneckvineyards.com/at-our-winery.
Save 20% on your order with CODE: Momtrends
MORE SUMMER COCKTAILS FROM MOMTRENDS
Love this recipe? Please share! You are guaranteed to love these summer cocktails too:
PIN IT!
Use Pinterest to save your favorite cocktail ideas. Be sure to follow our Drinks board here.
This is not a sponsored post. Samples were provided. All opinions are our own.