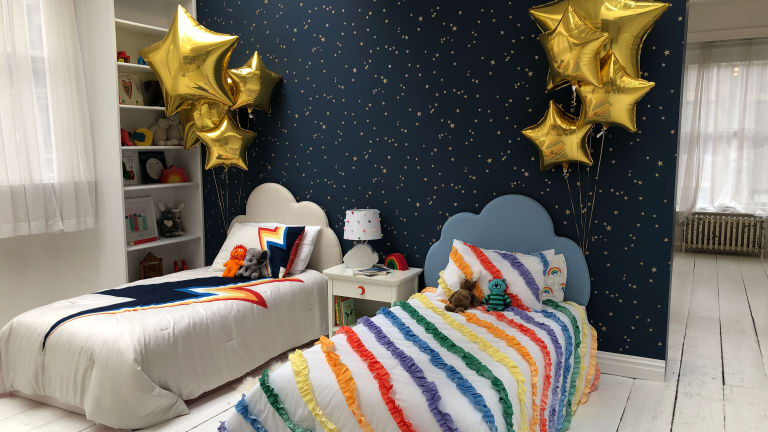 Publish date:
FLOWER Kids by Drew Barrymore at Walmart
Flower Kids makes it affordable and fun to create an exciting space for their kids
Flower Kids makes it affordable and fun to create an exciting space for their kids
I'm excited to announce that FLOWER Kids by Drew Barrymore is finally here and now available at Walmart. I had to keep the collection under wraps for awhile, I saw the collection earlier this summer and was FLOORED! It's a whimsical, bright group of home decor that's budget friendly. Now I can finally spread the word.
Drew Does Design
Drew Barrymore is the mom of two and embraces motherhood head on. While she's taken on many roles in her career, I think brand maven suits her best. She can throw all her creative energy into a collection that will bring a lot of joy to families, not matter their incomes. 
Her design ethos is very democratic. Her brand, FLOWER, covers everything from beauty to fashion to home, and she's keen to bring on partners who can bring the designs to life as a good price. 
FLOWER Kids at Walmart
Flower Kids at Walmart features more than 100 artfully matched items ranging in price form $18 for kitchen and dining to $500 for bedroom furniture and décor. Flower Kids helps parents create exciting spaces for their kids that's personal, unique and functional.
For this collection, Drew partnered with Walmart and it's a winner. Flower Kids combines bespoke design and quality materials with Drew's signature playfulness. 
Favorite Finds from FLOWER Kids by Drew Barrymore Home Collection
I got to peek into the showroom when Drew debuted the line, I loved the palettes she selected. She's not bound to gender confines and leans heavily on primary colors and patterns and prints that are for EVERYONE.

Five Tips To For a Girl's First Leg Shave
Do you remember your first time shaving? Mine wasn't pretty. I snuck my dad's razor and shaved my legs dry. It wasn't pretty. Get your daughter ready for this rite of passage with the right tools and a quick education. We've got five tips to help you navigate your daughter's ...read more
Why You Should Add Wild Blueberries to Your Diet
Do your New Year's goals involve healthier eating? Adding more fruits and vegetables to your diet? Or even adding tasty new recipes to your repertoire? We've got five reasons for you to add wild blueberries to your diet. Our friends from the Wild Blueberry Association have ...read more
Why Moms are Loving This Blueberry Couscous Salad
It's blueberry picking time. And while most blueberry recipes revolve around baked goods, we've got something different to share. First, a few sentences singing the praises of this lovely fruit. Blueberries are high in antioxidants, improve memory function and reduce the effects ...read more
Some of my favorite pieces included the artwork. There's a great "about my mom" print and I adore this Astro Boy Galaxy Party by Drew Barrymore Flower Kids.
I think Drew knows that rainbows go with everything. We are crazy about this design trend.
The bedding is awesome and I was instantly thinking about re-doing the girls rooms. And I know Drew is a mom because she knows we need storage. The Alligator Storage Ottoman was another favorite find.
I can't wait for you to check out the collection and tell me what you think.
FLOWER Kids by Drew Barrymore at Walmart
The line is exclusively available now on Walmart's family of sites, including Walmart.com, Jet.com and Hayneedle.com. An assortment of Kids items will also be available in select U.S. Walmart stores.
Shop the Collection at Walmart here 
More Great Kid's Features
Pin it!
Use pinterest to save your favorite home decor ideas. 
This FLOWER Kids by Drew Barrymore at Walmart feature is not sponsored.