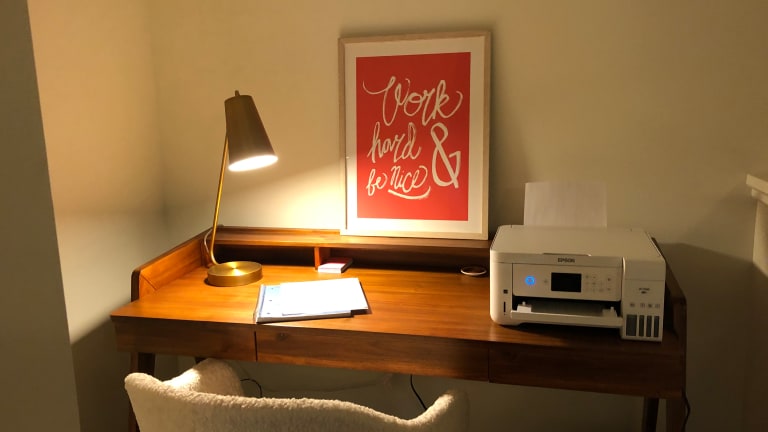 Five Things To Know About EcoTank 2720 Printer
Epson's smallest EcoTank printer is perfect for families
We're all in when it comes to ditching cartridges in favor of refillable ink tanks. Since Epson came out with the EcoTank in 2015, it's been a printing revolution in our house. I no longer find myself desperate for ink at 9pm on a school night when I have to print a permission slip. So when it came time to outfit a new condo with a work space, I knew I was going to rely on Epson once agin for a printer. The EcoTank 2720 printer is a wireless all-in-one for cartridge-free home printing solution.
Who Needs the EcoTank 2720
This printer is ideal for those who want style (tech gear can be trendy too!), quality, efficiency, and simplicity. If you're in the market for a new printer for your family or home office, this one is a great choice.
This printer would be great for a home office, or a college dorm or a small business. Weighing just under 9 lbs, this is a versatile and compact printer. And it doesn't take up much space (it's 14.8" x 22.8" x 10.0") -- which was ideal for the little study nook we created. This is the smallest EcoTank to date, thanks to integrated front-facing ink tanks. And I love the option to get the printer in white or black.
Why I love the EcoTank 2720 Printer
First off, this printer is compact, making it ideal for apartment living or small work spaces. We have created this small nook study area in our Vermont condo. Out of the box, I was impressed by the sleek look and host of features. The Epson 2720 is the smallest EcoTank printer. It  combines a color printer, a flatbed scanner and copier all in one. Plus it has wireless connectivity. 
The size is nice, but what's better is how it prints. EcoTank is cartridge-free printing. The printer has wells that you fill up when you set up the printer. Once you set it up, you've got up to 2 years of ink ready to go. 
Epson says the average family can save up to 80% with low-cost replacement ink bottles. The set up is easy. Thanks to some nifty engineering, it's VERY unlikely that you will spill anything. The ink bottles have special heads that are uniquely keyed for easy filling of each color. They will only open when fit into the designated ink tank.  
Setting Up the EcoTank 2720 Printer
Setup was very simple; in only a few steps I had the printer unpacked, the date/time set, ink wells filled and paper loaded. Then I just need to  connect to our wireless network. Joining my wireless network was also a breeze, using the control panel on the printer I was able to view all available networks, choose the correct one and enter my password.
I was prompted to choose the type of connection (wireless, direct to the computer via a USB cable or via an Ethernet) and any optional software I wished to install, clicking "Next" a few times and I was done. In less than 30 minutes after opening the box, I was able to start the printing initialization process.
Printing with the Epson EcoTank
Once the ink wells were loaded (it takes a few minutes) I was ready to print. I love the ability to print directly from my iPhone and iPad using the Epson iPrint app, a free download from Apple's app store. Once installed, I was able to select the wireless printer, choose paper size and orientation (landscape or portrait) and then scan through the photos in my iPhoto library, select one and click print -- couldn't be easier. 
The print quality is excellent on both color prints (Max. Print Resolution 5760 x 1440 dpi) and on photos (special photo paper required for the best results). It's an exceptional home printer for a great price.
The Epson EcoTank 2720 printer is priced at $199.99 at Epson.com or Amazon and gets an A+ from us.
More Tech from Momtrends
Pin it!
Use pinterest to save your favorite family tech finds. Be sure to follow our Business Building for Women Who Rock Board here.
Momtrends was not paid for this Five Things To Know About EcoTank 2720 Printer post. We did receive the Epson 2720 for review purposes.