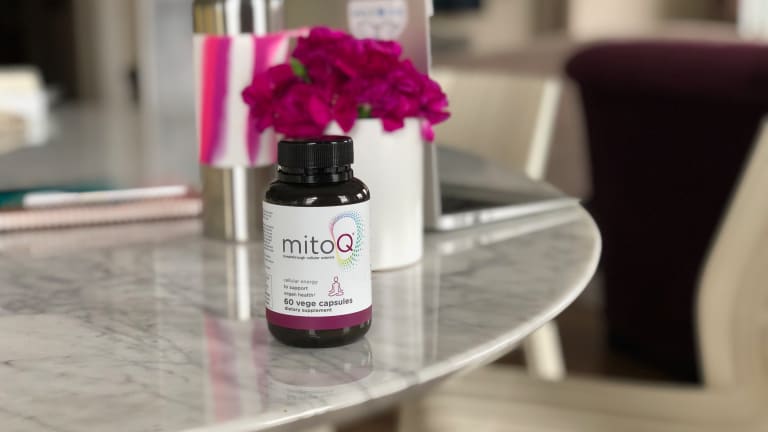 Five Mom Life Hacks To Help Get Energized
MitoQ supplements help generate health-giving energy
As an, ahem, older mom, I am on a mission to take great care of myself. I'm trying to model good behavior for my girls; and, frankly, I'm trying to keep up with them. Now that I have a tween and teen, I'm pulling out all the stops. I'm working with MitoQ to share my five mom life hacks to help get energized.
Why Moms Need Energy 
Every mom works. Some of us do it outside the home and others manage families as their full-time gig. No matter where we work, we all need good systems in place. Through trial and error, I've found a few things that work to help me be my best.
In a typical day, I start off with a 10-minute meditation. I try to get my mind in a good place before I start my day. Using an app, I follow a simple breathing meditation to help remind me of the things I can change and the things I can't.
Next I take my supplements. I've added MitoQ to my wellness routine. MitoQ is a unique form of CoQ10--an antioxidant the body naturally makes--that helps create cellular energy and neutralize free radicals. It does this by penetrating the mitochondrial membrane to act directly where the body needs it the most. As a reminder, the mitochondria are like the "powerplants" of the cells. They combine the food that we eat and the air that we breathe to generate the energy our cells need to operate in our heart, brain, liver, lungs and every other part of our body – they are essentially at the core of every function the body does to keep us alive and healthy.
Over the years, I've tried a few programs to improve my health. I am aware that there is no cure-all or quick fix. Now that I'm in my late 40's I'm keenly aware of how my choices can affect my future. Like everything else in our bodies, our mitochondria become less efficient as we age. As soon as we reach our 30s, mitochondrial function can decline by 10% with each passing decade. 
I never skip meals. As I get the family a healthy meal, I don't neglect my own needs. Even if it's a banana and some green tea, I always have a little fuel to start my day. 
After the kids are off to school, I get in my workout. This is usually a social time. I have a squash club, a running group and yoga classes. Since my work can be solitary at times, I like getting in connections with my friends as I sweat.
Now it's time to get to work. In the world of social media, things never get dull. Each day new challenges and surprises pop up. Yesterday I took the subway into Manhattan to check out a new home collection for kids from Drew Barrymore. This is the more glamorous part of my day. Then I worked on some editorial planning at my satellite office at The Wing in Soho. I zipped back home to meet with a new tutor and then popped back online to get a client a draft of a campaign we are working on.  
Five Mom Life Hacks to Help Get Energized
As I shared, I've tried a lot of life hacks to optimize my work and life balance. Here are five things that are helping to keep me energized.
Sleep: Seven hours of sleep is my minimum. Eight is even better. I don't believe in being a sleep martyr or celebrating only getting six hours or fewer. I'm getting more and more serious about my sleep hygiene. I use the bedtime setting on my iPhone to keep track of my sleep health. For more sleep tips head to this post.
Supplements: The MitoQ supplement is the world's first CoQ10 antioxidant that can penetrate the mitochondrial membrane and act directly in the mitochondria, the power plants that provide the energy needed by cells to function properly and fight off free radicals. Free radicals are the "waste" by-product of the cellular energy production process. Adding in antioxidants helps to provide the energy needed by cells to function properly.
Water: I carry a bottle with me and fill it two times throughout the work day. At home, I sip herbal tea. It's a simple and FREE way to keep my body functioning at its best.
Exercise: Fitting in five to ssix workouts a week is nonnegotiable. It's my therapy and my stress reliever. I mix up my workouts all year. My tip: make them social. When you've got a partner to work out with, you have increased accountability and double the fun. 
Mindfulness: Making time for meditation has paid off. I'm a better mom, wife and boss when I am less reactive and more reflective. Check out some of my favorite meditation apps here.
Adding in the Right Supplements
Finding the right supplement is an important decision. MitoQ® helps your cells generate health-giving energy, supporting your organs and tissues to perform as well as possible. It's breakthrough science and targets the mitochondria that actually produce the energy in your cells – so you can put your heart into life, wherever you are, whatever you're doing.
As moms, we can't give less than 100%. 
Getting Better Every year
Next year I turn 50. I don't fear aging. I think I'm getting wiser with every year. My lifestyle choices are helping me embrace this next decade.  
I'm not slowing down. Instead, I'm taking proactive steps to make my health a priority. It's good for me, and it's great for my girls. They model the behavior they see in front of them.
MitoQ helps optimize organ health, which supports sustained energy output and recovery levels; it also helps the body's natural ability to build resilience to combat free radical damage associated with aging and illness. 
Find out more about how you can tap into science with MitoQ to power your energy.
Pin it! 
Use Pinterest to save your favorite wellness posts.
Disclosure: Five Mom Life Hacks To Help Get Energized is a  sponsored post. However, all thoughts and opinions are my own.