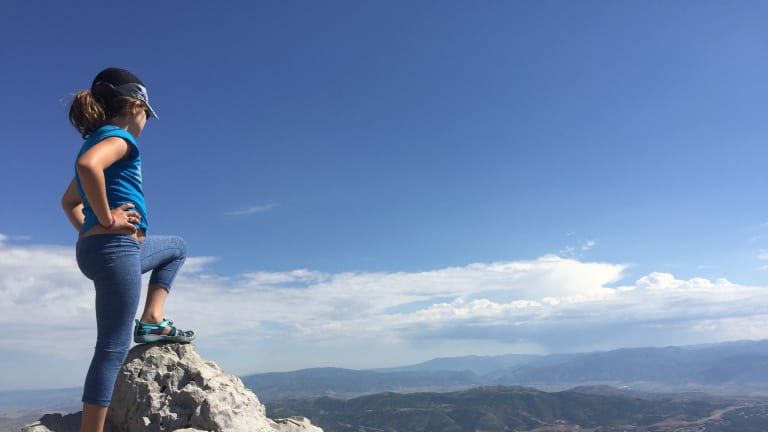 Fit Mom Tips for Celebrating National Trails Day
When hiking is on the agenda, you have to pay attention to hydration, here are my mom-friendly tips.
Summer is the time to explore outdoors. In an effort to unplug and get moving, and we're taking a moment to celebrate the magic of walking in the outdoors. It's time to celebrate National Trails Day. This day is a day of public events aimed at advocacy and trail service. I'll be out there picking up trash tomorrow and I want to share my tips from the trail to help you make the most of your summer. 
National Trails Day
This first Saturday in June is dedicated to servicing the trails. It's a time to connect with the people near you who share your love of being outside. Build your local community and join the nationwide movement to give back to the trails and make sure everyone can enjoy the outdoors. You can find a clean up group to join or grab a garbage bag and head to your local trails and pick up any trash you find,
Find out more about National Trails Day here.
Tips for Maintaining the Trails
These tips are from Backpacker.com on how to keep Mother Natures' backyard looking beautiful for generations.
Don't take shortcuts. When you step off the trail you can ruin the ecosystem. 
Stay on the trail as much as possible. This keeps erosion to a minimum. 
Leave no trace. f you carried it in, carry it out....
Make repairs. Move downed branches and other natural litter off the trail. Every little bit counts.
Report blockages.  If there's a big tree down across a trail in some remote section of the wilderness, the trail overseer or organization needs to know about it in order to remove it.
Join a Trail Club. By giving your time and money you can help make sure nature is always there for families.
For more tips visit Backpackers.com
Fit Mom Tips: Hiking and Hydration
I recently made a trip to Oregon with my daughter. On the agenda for her: Skiing. On the agenda for me: Hiking. I'm by no means an expert hiker, but I simply love it. The process of exploring in pursuit of views and a bit of exercise are just what this blogger needed after a busy few weeks of work.
I packed my trusty hiking boots, good sock, sunscreen and got out there. Here's a look at us mid mountain (the snow was up higher and preserved even in the summer thanks to a glacier). The Timberline chair lift broke about a mile from the lodge. This was a really unexpected hike. I walked up the trail to see the kids ski into mid-mountain base to get some photos. Then, oops, the lift broke. None of the kids were going to be able to take the chairlift down to the base. So we had to walk it. Here's what we looked like at the start.
Amazingly, none of the kids complained. I carried two sets of skies, they walked in boots. Did I mention the temps were in the 90s as we descended! I wasn't prepared for this last-ditch effort to get the kids down from the mountain. Normally I would have brought more water with me. When I go to the bottom I was wiped out. Pedialyte is as effective as an IV in cases of mild to moderate dehydration.
There were plenty more hikes on the trip. I can highly recommend both of them. Mirror Lake, about 10 miles from Mt.Hood, is an easy uphill climb to a loop around a pretty little pond that reflects the mountain. Well worth the hike.
And from the Timberline Loge at Mt.Hood, there's miles and miles of the Pacific Crest National Trail. This trail was featured in the movie Wild with Reese Witherspoon.
Momtrends Hiking Hydration Tips
My hiking boots got a lot of action! If you're considering some family hikes this summer remember these rules.
Bring Snacks. Hikes often take longer than you think--especially if you're bringing the kids along. Tuck a few pieces of fruit and a couple energy bars in your bag "just in case".
Check in. Tell someone where you're going and when you expect to return. If someone gets injured and you don't have cell reception you're in bad shape.
Get a weather report. Find out if you need an extra layer of waterproof gear. A little research goes a long way.
Pack a flashlight. If you're lost and it get darks this is essential
Bring a first aid kit. In my small one I've got anti-bac wipes and bandages.
Carry plenty of water 
Be alert to the symptoms of dehydration. Signs of mild to moderate dehydration include: dry, sticky mouth, tiredness, thirst, dry skin, headache, dizziness or lightheadedness.
Finding Your Next Hike
American Hiking Society has partnered with the Hiking Project to help families find trails. The Hiking Project is a crowd-sourced platform, which means that all trails are shared by hikers like your family. If you don't see trails near you now, keep checking back. Find a hike near you.
MORE FITNESS FROM MOMTRENDS
PIN IT!
Use Pinterest to save your favorite parenting articles. Be sure to follow our Fitness and Health board here.