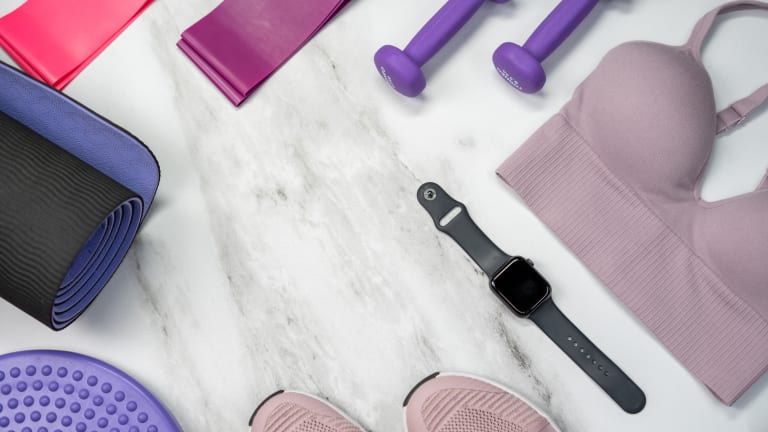 Fit Mom Profile: Stephanie Sheaffer
Series about moms in social media and how they manage fitness and motherhood.
A new book and a new baby would put cause many moms to take a time-out from fitness. But when you are Stephanie from Metropolitan Mama, you just roll with it. The Vail, AZ mom of two never seems to be lacking energy or motivation to meet all her goals. I'm inspired by her upbeat attitude and her ability to work family into the workouts.
Related: The latest cool yoga apparel has finally been revealed

Stephanie just published her e-book, A Mom's Guide to Blogging, and is a blogger with a generous spirit. Here's how she squeezes it all in...
Fitness Goals for 2010:
Get in tip-top shape before trying for baby #3.
Go on family walks every night (or every other night) at a minimum.
Run in another 5K and improve my time.
Biggest Fitness Accomplishment: Running in my first 5K in December 2007. I never considered myself to be a runner so getting out there and completing a race was so motivating! 

I like working out...with my husband (he's Mr. Athletic!), with my girls (I'm SO grateful for my jogging stroller!), or with a close friend (Nicole is one of my favorite running partners!). I also like running solo...with my thoughts or my iPod shuffle.
You can find me: On the mountain or anywhere outdoors! Breathing in that fresh Arizona air is good for my soul.
My favorite time to workout is:Late afternoon or early evening. I like working out when my husband is home. That way, we can all go together as a family or he can watch the girls while I "escape" for 20-40 minutes.
My sneaky fitness trick:Doing crunches during bath-time or when I'm playing with the girls during the day.

Why I workout: For my health. For my sanity. For my husband. For my girls. For my future. For myself.
Favorite Fitness Brand: I typically wear Asics or Mizunos on my feet. My favorite sports bras are by ENELL and Fabulous Athletic Bra (both brands are great for those of use who are well-endowed and who want to minimize the bounce). My favorite fitness clothing brands are SkirtSports, RunningSkirts.com, Oiselle, and Brooks Running.
I'd like to try______this year to keep my routine fresh. Actually, I'll probably just keep running. Boring? Maybe. BUT...it works for me. It's free. It doesn't involve driving or babysitters. And it's effective.
Best workout song ever: I actually just recently started running with music because my brother-in-law gifted me with an iPod shuffle for Christmas (yay!). A few songs on my "to-download-from-itunes" list include: "Roll to Me" by Del Amitri, "Two Princes" by Spin Doctors, "Yes I Will" by Bebo Norman and Joy Williams, "Material Girl" by Madonna, and "Umbrella" by Rhianna. Yes, my music style is...eclectic. You can laugh if you want to.
A typical week's worth of workout looks like:

Family walks on most nights of the week.
Running 1-3 miles, 2-4x/week.
Playing with my girls throughout the day.
I stay motivated by: Looking in the mirror! Ha! All joking aside (well, actually, I'm only half-joking...!), I stay motivated by signing up for races. That way, I have a goal to strive for. I'm definitely a goal-oriented person so having a date on the calendar helps me immensely.

MORE FASHION TIPS FOR MOMS
PIN IT!
Use pinterest to save your favorite fashion posts. Be sure to follow our Fall Fashion Trends Pinterst board here.
Stephanie did not pay for this post. All Fit Mom profiles are the property of Momtrends and may not be reproduced without permission. Feel free to link away. Affiliate links on this post help support Momtrends. Readers are encouraged to click and shop.