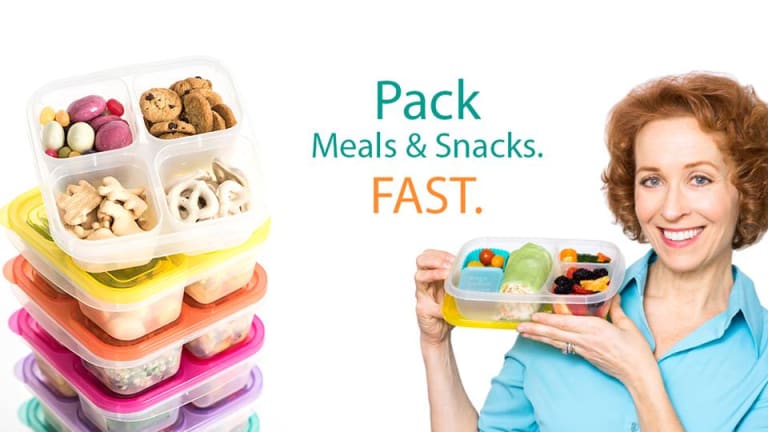 Fit Mom Profile: Kelly Lester
Founder of EasyLunchBoxes.com shares her fitness tips
We may live coasts apart, but I think Kelly Lester and I are kindred souls. She launched a business--Easylunchboxes.com--to make life easier, greener and healthier for busy families. Kelly is based in Woodland Hills, CA and has three daughters. This fit mama knows what is like to battle extra weight. She dropped 30 pounds
and vowed to live healthier. She's kept off the weight and continues to inspire moms with her lifestyle.
Fitness goal for 2010:Continue to lower the amount of sugar and foods with crappy additives that I consume. Also want to engage my kids even more in food prep and menu choices, to encourage them to create and eat healthy meals. And if they get really good at cooking, I can have one less chore that I'm responsible for!


Biggest fitness accomplishment:Being called "thin" or 'skinny" since I was once 30 lbs overweight.


I like working out:
a.) alone
b.) with groups
a.) alone

You can find me:
a.) at the gym
b.) on the mountain
c.) in front of my favorite TIVO'd programs
d.) with my wii
c.) in front of my favorite TIVO'd programs
My favorite time of the day to workout: Mid-morning (after coffee, carpooling, breakfast, dishes, computer time. In that order.)
My sneaky fitness trick: Kettlebells have really added to my muscle building success, although I don't think they're very sneaky.
Why I workout:I read recently that successful people exercise. There seems to be a positive correlation between accomplishing something difficult and taking care of oneself. People who exercise don't talk themselves out of it. Just like successful people don't give up. They keep pushing. My weight loss/fitness goals and business success are both challenging, but they both have enormous rewards. One would not be as gratifying without the other. So I want it all. I admit it.
Favorite fitness brand (shoe, apparel, etc.): Anything that's comfortable. It usually fits even better if I got it on sale.

I'd like to try __racewalking___ this year to keep my routine fresh.
Best workout song ever: Before The Parade Passes By (Barbra Streisand)
A typical week's worth of workouts looks like: 3-5 times a week on the Tony Little Gazelle I purchased about 6 years ago. It works great and you can really push yourself on it. I do 20-30 minutes of cardio on it. Then I do a few light weights and kettlebell exercises. This is all in my bedroom in front of the TV where I catch up on a few shows. I work out just enough to maintain. I could do more. Adding another 10 minutes to each workout would be a great goal.

I stay motivated by:How great it feels when my pants stay just loose enough to be comfortable and flattering.
More fitness from Momtrends
Kelly did not pay for this post. All Fit Mom profiles are the property of Momtrends and may not be reproduced without permission. Feel free to link away. Affiliate links on this post help support Momtrends. Readers are encouraged to click and shop.