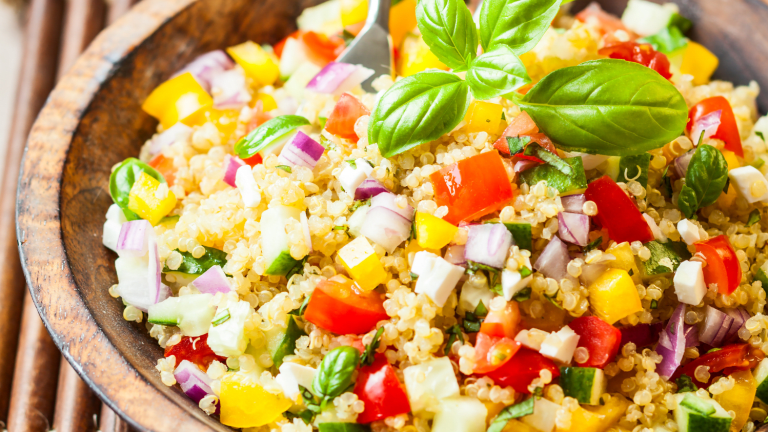 Fiesta Quinoa Salad Recipe
To mix up a bland dinner, I tested out the Fiesta Quinoa Salad, a Mexican inspired salad
Grains have come a long way, and to add some dimension and unique flavor to our standard dinner I have been testing out quinoa recipes. Quick to cook, these rich grains retain an amazing amount of flavor that I typically accentuate with some dill, salt and pepper. This Fiesta Quinoa Salad might be the thing to convert your family to this new grain.
Related: Easy sheet pan chicken recipe for families
The family loves the grain, but does get sick of the same old recipe. I recently had the chance to check out a new cookbook called Blissful Bites: Vegan Meals that Nourish Mind, Body, and Planet (BenBella Books, September), a comprehensive recipe book with 175 easy-to-make, delicious recipes that use locally grown, organic ingredients.
To mix up a bland dinner, I tested out the Fiesta Quinoa Salad, a Mexican inspired salad that uses both regular and red quinoa for a beautiful look that is also amazing to eat. Much like my standard quinoa dish, this one was also quick (about 30 minutes) where I created both a tasty lime dressing and unique flavors and texture to the quinoa with corn, black beans and yellow peppers. I loved the dimension these flavors brought to the dish as well as the amazing dressing that packed a zesty and bold punch.
The family also loved the dish, and I loved how the book inspired me to try something new - especially since it was based off of a food that we already loved. Written by Christy Morgan, who is also known to her blog readers as The Blissful Chef, the book provides parents with a healthy collection of meals that makes vegetarian and vegan cooking simple, fun and exciting to test out. Through this book, which also happens to focus on seasonal eating, you can learn a thing or two about cooking at home with Christy's amazing cooking and prep tips, a guide to stocking your pantry as well as some knife skills to help you through your cooking.
Through the book and a desire to change up our dinnertime routine, I added a new and really easy quinoa dish to our meals while also creating a dish that was vibrant, delicious and heathy!
Fiesta Quinoa Salad 
Makes 5 to 7 servings
Ingredients:
1 cup white quinoa, plus 1/4 cup red quinoa, washed and drained
1 cup fresh corn, off the cob
2 cups filtered water
Pinch sea salt
1 can (15 ounces) black beans, rinsed and drained
1/2 cup finely diced yellow pepper (or another color bell pepper)
1/2 cup diced tomatoes
1/4 cup cilantro leaves
Dressing:
2 teaspoons lime zest
2 tablespoons lime juice
2 teaspoons cumin
2 teaspoons chili powder
2 tablespoons tamari
2 teaspoons apple cider vinegar
Fiesta Quinoa Instructions:
Place quinoa, corn, and water in a medium saucepan with pinch of salt and bring to a boil.
Simmer covered for 20 minutes over low flame.
Meanwhile, whisk the dressing ingredients in a small bowl until well combined.
Fluff quinoa with fork, place in medium bowl, and stir in the black beans, veggies, dressing, and cilantro.
Season with sea salt if needed. Serve warm or cold the next day.
Have you tried any good quinoa recipes? Please share.
MORE FAMILY-FRIENDLY RECIPES FROM MOMTRENDS
PIN IT!
Use Pinterest to save your favorite recipes. Be sure to follow our Healthy Eats board