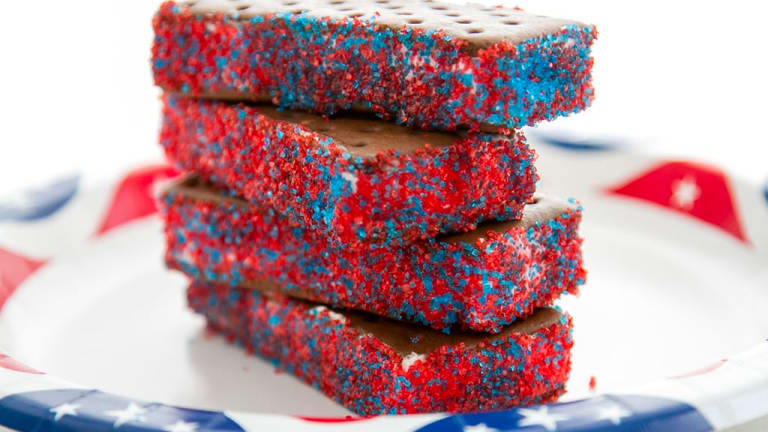 Five Festive Fourth of July Treats
We rounded up some fun, festive Fourth of July treats to help you with your Independence celebration planning! And better yet, they're all super easy to make!
Are your Fourth of July plans set yet? You may just want to include the festive Fourth of July treats that I rounded up at your celebration, so don't go anywhere! Is it just me or is June flying by? We're already on our 3rd week of summer break. How is that possible? Considering we're headed into the middle of June, I'm guessing the Fourth of July will be here, like, tomorrow. So, I thought I would get a jump on things and start thinking about my family's Fourth of July plans. 
Related: Throw a rustic 4th of July family party
It will be our first 4th in our new home so I think I might host a Fourth of July party. If that happens, I'm going to need a menu and on that menu there will need to be treats...Festive Fourth of July treats to be exact. And in case you're in the same boat, I thought I would share some of the ideas I found...
Five Festive Fourth of July Treats
Festive Fourth of July Treats
Firework Popsicles...It is hot hot hot in my neck of the woods in July, so ice cold pops with a patriotic flair would definitely be a hit.
Red, White and Blue Parfait...Just because something's a treat doesn't mean it can't be healthy! This fruit and yogurt is light AND on trend.
Fourth of July Twizzler Twists Treats...I'm all for krispie treats in any form, so this Fourth of July version is obviously right up my alley.
Patriotic Oreos...I love it when something I make to eat is so pretty, it can double as a centerpiece. A bunch of these Oreo treats displayed in a mason jar would be so cute!
Red, White and Blue Ice Cream Sandwiches...It doesn't get much easier than this Fourth of July worthy treat, yet it looks totally impressive!
Now that you have plenty of festive Fourth of July treats inspiration, check out our nautical tablescape for some more Fourth of July fun! With all of these fabulous Fourth of July party ideas, you're well on your way to throwing the ultimate Independence Day celebration!
MORE 4TH OF JULY IDEAS FROM MOMTRENDS
PIN IT!
Use Pinterest to save your favorite ideas for summer fun. Be sure to follow our 4th-of-July board for more inspiration.
We were not paid for this post.