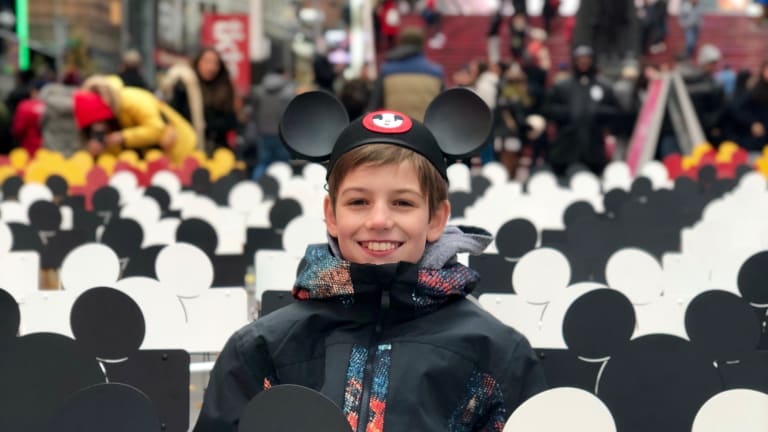 Fermob and Disney collaborate on Bistro Chairs
Fun Mickey Designs for your Home
Hey Mickey fans! Did you know that this is a big birthday for everyone's favorite mouse? He's 90 this year and Disney has carefully selected some partners to help celebrate Mickey's birthday. Fermob, the French furniture company, and Disney collaborated on these cool new bistro chairs -- just in time for some special people on your Christmas list.
To kick off the partnership, there was a huge event in Times Square and I got to take in the action. Fermob set up a mouse ear-shaped seating area in front of the Disney store and invited all of NYC to grab a seat and take in the views. The design was captured by a helicopter photographer to give us a bird's eye view of the event. It was a Disney flash mob experience!
Fermob Takes Times Square
Fermob isn't a stranger to the Big Apple. The furniture brand has been a part of NYC's streetscape for years. We have their cool green bistro chairs in many of my favorite public spaces like Bryant Park and Madison Square Park. The chairs have to be sturdy because here in NYC they get a lot of action! Normally they are iconic park green, but red Mickey Mouse ear chairs...now that's something special -- and NYC took note.
It was cool to see all of the locals and tourists stop in their tracks and check out the chairs. I bet the same thing will happen when you set these chairs up in your own home.
MickeyxFermob BISTRO CHAIRS
These are sure to make a great gift for the Mickey lover in your house. The chair takes the iconic bistro chair design and adds a Disney twist, using Mickey's silhouette --his ears and his shorts to give shape to the chair. When it comes to decorating ideas, I'd love to see them add color to breakfast nook, on a terrace or perhaps in a play room by an arts and crafts station. 
The brand is all about FUN, COLOR and celebrating creativity. Find out more about the partnership here
Fermob's Mickey Mouse Bistro Chairs are a limited edition and available exclusively at YLiving in Poppy Red and Liquorice while supplies last. To shop, head to www.yliving.com/mickey-mouse-bistro-chair
Now tell me, where will you set up your Fermob Mickey Mouse Chairs? Tag your photos with @fermobusa #mickeyxfermob 
Pin it!
Use pinterest to save your favorite home decor ideas.
This Fermob and Disney collaborate on Bistro Chairs feature is sponsored.