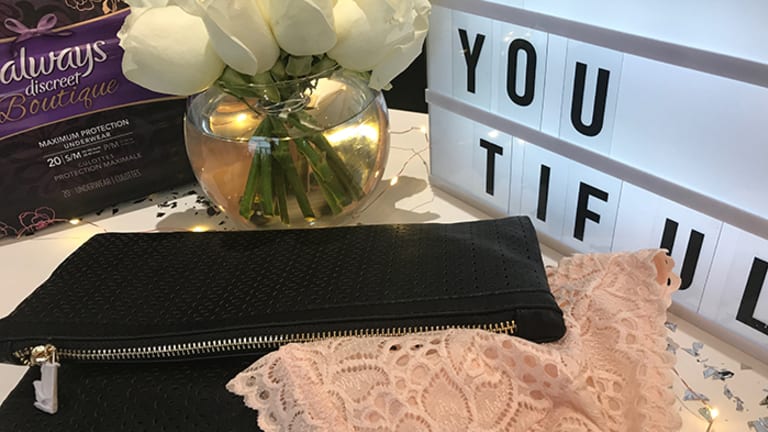 Feeling Confident Is Feeling Sexy
Let's talk about what makes you feel confident, beautiful, and sexy.
This is a sponsored post.
A new little black dress? A fresh blowout from the salon? Perhaps a solid eight hours of sleep or a big win at the office? Maybe it's a well-deserved date night with the hubby. Whatever floats your boat; we know how empowering it is to feel like the best version of yourself.
Of course, if you're like one in three woman experiencing bladder leaks, that top-of-the-world conquer-all feeling can easily be curbed by a cough, a sneeze, a hearty laugh, or just about anything. Date night can quickly be quelled with a little leak—because, who feels sexy when they're uncomfortable? And those traditional bulky bladder-leakage pads and underwear? Well, they're just about the last thing to keep you feeling on you're A-game. 
Indeed, it's true that 2 in 3 women who have tried bladder-leak underwear avoid wearing them all together, even though they know they need them; and 88 percent of women say they'd be more likely to wear them if they looked like regular panties.
Luckily for you and your lingerie drawer, there's a new product on shelves now with a mission to deliver maximum bladder protection and an equal dose of dainty femininity.
That's right; Always Discreet Boutique is a pretty panty with built-in bladder-leak protection to keep you feeling gorgeous and dry. That's because it was created with the help of thousands of real women who experience bladder leaks every day; they didn't want to have to choose between maximum protection and a product that made them feel good. In fact, 71 percent of women say they would even put their bladder-leak underwear in the panty drawer if it were pretty. Always Discreet Boutique is definitely worthy of some armoire real estate with its silky-soft material, curve-hugging contours, and an ultra ladylike rose-colored hue and floral design.
We learned all about how Always Discreet Boutique is disrupting the market (in the best and sexiest way possible!) at a recent event in New York City. We were treated to makeovers, blowouts, and a few new date-night accessories while learning about the science and technology behind the brand. Designed to be flirty and fashionable, Always Discreet Boutique boasts remarkable performing protection. Hidden inside this is a super-absorbent core with RapidDry technology that helps to absorb leaks in seconds. I couldn't believe that a core so thin would be able to hold an entire glass of liquid and be dry to the touch in seconds! Not only that, the product also boasts OdorLock technology that instantly neutralizes odors and Absorbent Gel Material locks fluid within the core away from the body. 
Who knew science could be so sexy? And so, armed with knowledge, that fresh blowout, and a little primping action, we're feeling confident, cool, and ready for a date night.
Fem Care AI analysis – "Nielsen Homescan Panel ending March 2012 looking at Fem Care purchases in HH 50+ that have no teenagers at home."
The Always Discreet Boutique Online Study was conducted by MSLGROUP Research.