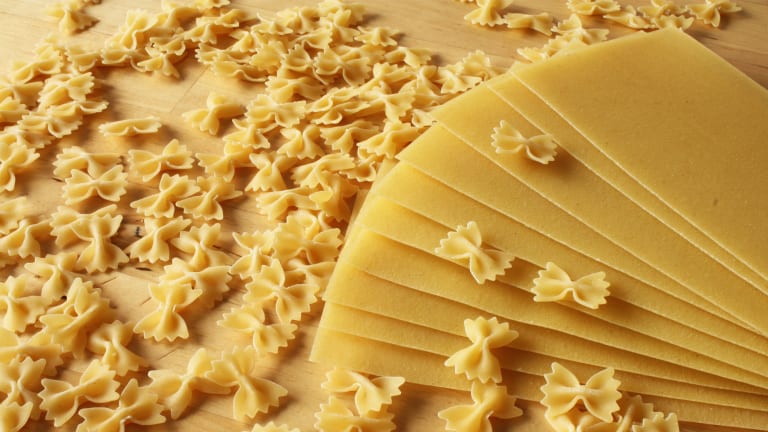 I've mentioned before that I'm a big fan of my crockpot. I even own three of varying shapes and sizes, and I am convinced that nearly anything can be cooked in one. That said, the crockpot feeds my occasional laziness in the kitchen. Sometimes, I just want to do the whole "fix it and forget it" thing where I want the meal in the pot quickly, and I don't want to think about it again till it's time to eat.
Related: Crave worthy crockpot dip recipes
We all love lasagna, but it's one of those meals that I never thought would work in the crockpot without having to cook the ground beef first. For me, if I'm going to bother getting pans dirty while cooking the meat, I may as well just put the whole thing in the oven.
Until I found this recipe: a crockpot lasagna that does not involve any precooking! The whole lasagna assembles quickly, uses simple ingredients and then after 4-6 hours, dinner is served!
Crockpot Lasagna
Ingredients:
15 oz. (1 container) ricotta cheese
1/4 cup parmesan cheese
2 cups shredded mozzarella cheese
1 lb ground beef
2-3 Tbsp minced garlic
1 tsp oregano
1 jar marinara sauce (24 oz)
Lasagna noodles
Directions:
In one bowl, combine ricotta, parmesan and 1 cup of mozzarella. In a separate bowl, combine ground beef, oregano and garlic.

Perfect for Fall Pumpkin Spice Dirt Bomb Recipe
Get your pumpkin spice fix with this tasty dirt bomb recipe. Unlike fried donuts, this recipe is a little lighter and, since no hot oil is involved, a lot less messy. These dirt bombs, or baked donuts, are irresistible cakey muffins that are spiked with nutmeg and ginger, and ...read more
Save Money at a Ski Swap
Are the slopes in your future? If you want to save money on ski gear, consider a ski swap. A swap is a great way to buy and sell used equipment. Most swaps consist of a variety of gear, from brand new to used skis and snowboards to skis; from poles to boots to bindings and ...read more
The Ten Best Wooden Play Kitchens For Kids
Cooking is a timeless fascination for children. This type of play goes beyond gender and teaches kids loads of life skills along the way. An investment in a play kitchen is money well spent, as it can provide hours of entertainment. We've rounded up the ten best wooden play ...read more
Pour 1/4 to 1/2 cup of marinara sauce at the bottom of the crockpot (just enough to cover it) and add a layer of lasagna noodles, breaking to fit in place.
Spread about half the cheese mixture on top of the noodles, top with half the meat mixture and a cup of sauce.
Break noodles to fit again, top with rest of cheese, meat, 1 cup of sauce, and one more layer of noodles.
Pour the remaining sauce on top of the last layer of noodles and sprinkle with the reserved mozzarella.
Cook on low for 4-6 hours.
Optional, mix spinach leaves into the cheese for a wonderful flavor and extra veggies!
WANT MORE RECIPES FROM MOMTRENDS?
PIN IT!
Looking for more food ideas? Check out the Momtrends Recipe Board on Pinterest!