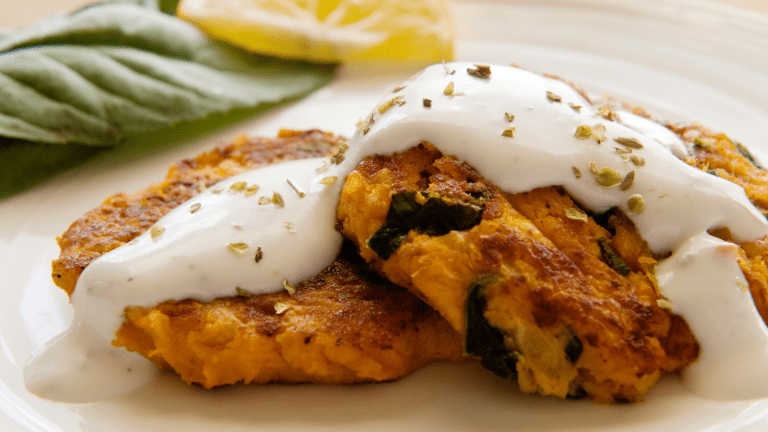 Favorite 4th of July Recipes
Bake up some delicious Salmon Cakes with a dill pickle sauce using the Kosher Dill Spears for a summer celebration.
The 4th of July is always a fun and lively holiday. We love celebrating America's birthday as well as enjoying time with friends and family and exciting events. This 4th of July we are also going to be entertaining before the fireworks. 
Related: 7 festive Fourth of July sweets drinks
Favorite 4th of July Recipes 
For the 4th of July, I decided to update the classic potato salad using the Zesty Garlic Chips with carrots, beets and potatoes for a delicious new twist on grilled veggies. I also made Salmon Cakes with a dill pickle sauce using the Kosher Dill Spears. These delicious recipe ideas are bound to be a hit that paired so well with these bold and flavorful pickles.
Salmon Cakes with a Dill Pickle Sauce
1 pound of salmon filets
1/2 cup of fresh dill
1 chive, chopped
2 eggs
2 cloves of garlic, minced
1 lemon
1 cup bread crumbs
2-4 Vlasic Kosher Dill Spears (as well as the juice)
1 cup of greek yogurt
salt and pepper
drizzle of olive oil
Directions:
Pre-heat oven to 375 degrees. 
Add olive oil, juice from the Vlasic Kosher Dill Spears, chives, lemon, dill and chives to a pan. 
Turn onto a medium heat and add in the salmon. 
Let cook for 15-20 minutes. 
Turn off flame and cute up salmon and mix with the cooked dill, garlic and chives. 
Chop up a pickle and add it to the salmon. 
Crack two eggs and place in a bowl. 
Spread out the bread crumbs. 
When the salmon has cooled place it in the eggs and work it into a bowl into the bread crumbs. 
Once formed place on an oven-safe pan. 
Keep making the salmon cakes until you mixture is done. Place in the oven.
While cooking scoop your yogurt, dill, lemon and pickle juice in a small bowl. 
Check on salmon cakes in 10 minutes and turn them over. 
Cook another 10 minutes (on the following side) and then they are ready. 
Prepare with 2 (or more) pickles and drizzle the salmon cakes with the yogurt dill sauce.
Grilled Vegetables with Zesty Garlic Chips
Ingredients
6-8 carrots, cut up
assortment of fingerling potatoes
1 sweet potato, cut up
3 beets, cut up
Vlasic® Zesty Garlic Chips
drizzle of olive oil
salt and pepper
Directions:
Pre-heat oven to 375 degrees. 
Cut up the assortment of vegetables lengthwise and drizzle them with pickle juice, olive oil, salt and pepper. 
Let cook for 35-40 minutes - turning over the veggies in the oven.
When finished cut up the Zesty Garlic Chips and place mix them with the grilled vegetables and serve.
These incredible flavors go back to the companies' roots where 70 years ago, pickling pioneer Joseph Vlasic used fresh, locally grown cucumbers, herbs and spices to create unique pickle recipes that have been shared for generations. Today, we're savoring that same simple concept with our Farmer's Garden pickles, in a celebration of authentic, flavorful foods.
MORE 4TH OF JULY IDEAS FROM MOMTRENDS
PIN IT!
Use Pinterest to save your favorite ideas for summer fun. Be sure to follow our 4th of July board for more inspiration.
This is a sponsored post.
For even more Momtrends, follow us on Facebook,
Twitter, YouTube, Pinterestfollow and Instagram