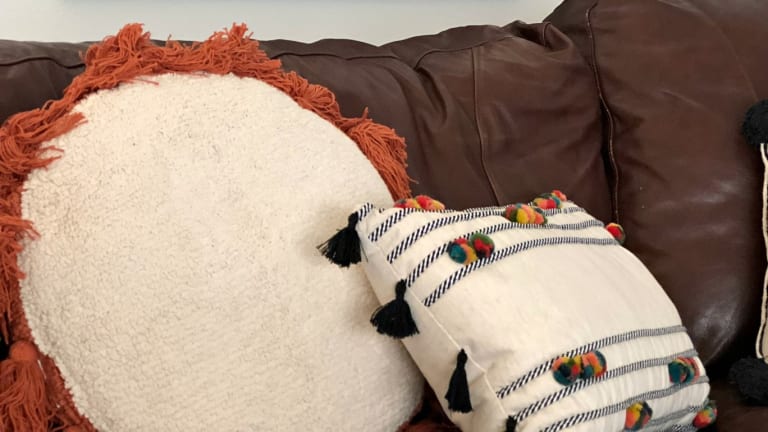 Farmhouse Family Room Ideas
Do you big puffy heart Joanna Gaines? Yeah, me too. Some may call farmhouse decor a fleeting trend, but for me, it's forever. If you're on the same page, you're going to want to check out the farmhouse family room ideas I'm sharing today. Because nothing says homey lived in vibe like farmhouse decor accents. I mean, don't get me wrong...I love more glamorous decorating styles. Really, I do. But they don't love my family. Haha!
Maybe someday my mid-century, Palm Springs style, decorating dreams will come true, but for now, the farmhouse look works for my family. We have little kids, cats and a brand new puppy. You could say it's a full house. I have to fill it with things that can take a beating and work even when they're a little rough around the edges...So, for now, my family room is more farmhouse, and you could even say more ranch inspired, than Palm Springs. Bwah!
Farmhouse Family Room Ideas to Try
Farmhouse Wall art...Ok, let's talk about how to add farmhouse touches to your family room. Start with wall art. Blank walls to not say lived in and that's what the farmhouse vibe is all about it. It feels like a happy family lives there. Animals like horses or cows, you know the ones you would find on a farm or ranch, are my personal favorite. I found this cow at a vintage store and paid, wait for it, $30. I had been looking for something to hang with my favorite new Wall Hanging Bereber Beige from Lorena Canals and I finally found the perfect piece to go with it. They look great hung together over our well aged leather sectional. It's hard to make an ancient couch look good, but our farmhouse wall art is helping. As is my next farmhouse family room idea...

Farmhouse Throw pillows...Throw pillows can go a long way when you're trying to jazz up a space with minimal effort. I picked up a couple throw pillows this summer without any kind of plan for them. I simply liked them. Black, off white and terracota have been my jam for a while. So, when I saw the Cushion Circle Terracota throw pillows and more from Lorena Canals, I knew I had found the perfect partners for my previously unused throw pillows. The Washable Cushion Bereber is a nice alternative to my black and cream pom beauty by the way. They all look great with my wall art and really give our family room the farmhouse feel I was going for. And did I mention that the Lorena Canals throw pillows are washable? They were made for young families like mine and yours!
Now do I still have a lot of work to do on our space? I sure do! That being said, a few simple changes to my farmhouse family room have given it a much more finished feel. Decorating doesn't always have to be budget busting to make an impact!
And for more farmhouse decor inspiration, check out our fall farmhouse decor ideas!
We were not paid for this post. We did receive samples.