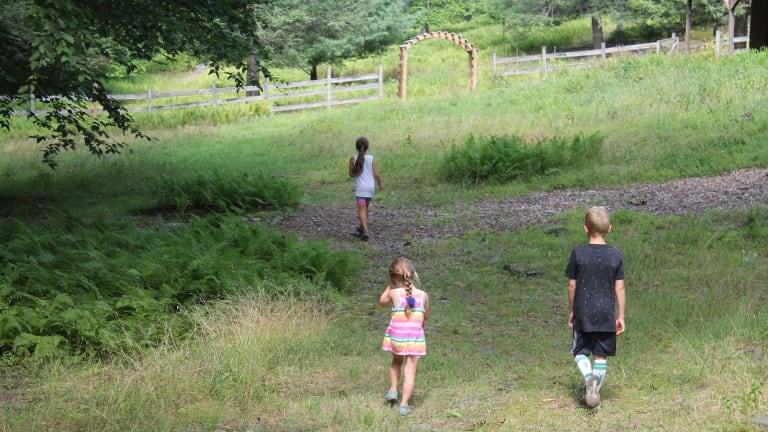 Why You Should Try Glamping
Tips on this vacation trend
Have you thought about camping with your family, but haven't quite made the leap?  Do you want to spend time outdoors communing with nature, immersing yourself in the natural beauty that lives outside the window but can't quite wrap your head around actually sleeping outdoors...in a...tent? With Bugs?  We have the latest trend in taking a break from the hustle and bustle and it is called "Glamping". Have you heard of this trend? Glamping gives you all the feels of the great outdoors with all of the comfy of indoors! 
Glamping (glamorous camping) is the avenue that allows you to step beyond a typical getaway and focus on connecting with your family in a setting that appeals to your senses, and renews your spirit. For our Glamping excursion we stayed in the beautiful area of Upstate New York called the Catskills.  
We stayed in a quaint, A-frame cabin that enabled us to enjoy the awe of the clear night sky, the flickering of fireflies, and the fresh air. Glamping is a great way to ease into camping, it is also great for families where some members are gung-ho about mother nature and some are not quite there yet.  
Glamping is an upscale style of camping with all the luxury of the amenities you want and none of the tough stuff associated with traditional camping. You get to soak in the natural world without all the blood, sweat and tears. 
Our stay at Olive Oasis in Shokan, NY even included a hot tub. YES, far from roughing it, but we were surrounded by the stars, tall trees and found peace in the quiet that only being in nature can offer. 
Glamping is all about the self-care and wellness. We spent our days hiking in beautiful trails in the Catskills Mountains, visiting local farms and eating farm to table meals, followed by swims in streams and reading by babbling brooks. But then returned home to all the comforts which provided a nice, relaxing balance to each day. 
Each day was relaxed, offered tranquility and a chance to connect with our family while bird watching, butterfly catching and hunting for fairies.  We woke each day to gorgeous views in a home tucked under the trees and marked the end of each day by sitting around the campfire sharing our favorite details of the day (and of course, freshly made s'mores!)
We took a breathtaking ride around the Ashokan Reservoir and combined our ride with a little history. The reservoir provides all of NYC with water so the children really could appreciate the process of what happens before they turn on the tap. The reservoir is certainly a sight to behold; rushing water at the foothills of the Catskills mountains, backed by mature trees.  
Glamping gave us the opportunity to star gaze, sip our tea languidly as we watched bunnies, chipmunks, butterflies and deer in the distance and truly bonded as a family, making memories non of us will soon forget.  
Glamping is a great option when you want an outdoor getaway yet are not quite willing to part (entirely) with WIFI. It has all the perks of an outdoor adventure with all the creature comforts of staying in a hotel. 
Let your next escape be a Glamping one.  Glamping Hub has thousands of destinations in several countries so finding a getaway that suits your needs is just a click away. Whether you're looking to stay in a treehouse, old castle, yurt, or cabin, Glamping Hub is the ultimate hub for all things in luxury (outdoorsy) accommodations. 
This is not a sponsored post. Accommodations were provided by Glamping Hub.