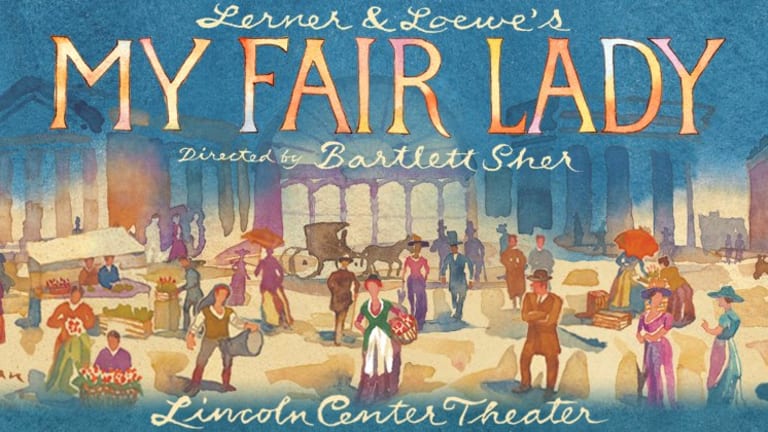 Family Fun My Fair Lady NYC Musical
Wonderful Family Musical at Lincoln Center Theater-Vivian Beaumont
I grew up on musicals. It's the soundtrack of my childhood. When I was six, I thought Jesus Christ Superstar was pop music (that didn't go over well at my catholic school). We try to see a few Broadway shows every year to take advantage of where we live. I'm thrilled to share this review: Family Fun My Fair Lady NYC Musical with you. It's a wonderful musical the whole family will adore.
Musicals are Important to Me
My mom was devoted to our cultural upbringing. She was fantastic about getting season tickets to see shows at Morris A. Mechanic in Baltimore (fun fact: we called it Morris the maniac) and Lincoln Center in Washington, DC. She gave me a great foundation in musical theater and I'm determined to pass on this love to my girls.
Lucky for us we live in New York City and have Broadway right in our front yard. We truly try to take advantage of what we've been given. Last year we saw the Harry Potter and the Cursed Child plays and Dear Evan Hansen on Broadway and this year we saw Hamilton and Be More Chill.
Our most recent find is the revival of My Fair Lady. Lerner & Loewe's MY FAIR LADY has been spruced up and is ready for the millennials. The new home for this Lerner & Loewe revival is Lincoln Center Theater. It's a must see for theater lovers.
Family Fun My Fair Lady NYC Musical Video
Here's a peek at the performance on YouTube
Yes the movie is great, but...
My first exposure to the story was the 1963 movie staring Audrey Hepburn and Rex Harrison directed by George Cukor. 
It's a classic rags-to-riches story. Eliza Doolittle is a young Cockney flower seller, and Henry Higgins, a linguistics professor. He wants to fix her and make her a proper lady. Not out of love, but because he can. Of course, she falls for him and his high-class manners, but he's really a bit of a rogue. As time goes on, she charms him and he evolves as a human (if only a smidgen).
It's a gorgeous movie with costumes that made my little heart skip a beat. I fell in love with Audrey Hepburn at once and was mildly disappointed to know she didn't sing all the songs (Marni Nixon did that). 
See My Fair Lady the movie here.
Family Fun My Fair Lady NYC
Over the years, I've re-watched the movie a dozen times and it never loses its luster, when I learned about the spiffed up new theatrical experience I booked tickets to take my girls and my in-laws. 
The Lincoln Center Theater-Vivian Beaumont is a delight. There's not a bad seat in the house and the acoustics are divine. 
The production is very high end. From the lavish costumes to the incredible sets, we were WOWED by the love that went into this revival. Laura Benanti, that lucky girl, got to wear some delicious pieces. The ball gown was swoon worthy and the outfits from the day at the races took my breath away. Both my girls are interested in set design. We were all mesmerized by the clever rotating set fo the house.
Directed by Tony winner Bartlett Sher, the cast takes the story and makes it theirs. The cast includes Laura Benanti, Harry Hadden-Paton, Alexander Gemignani, Rosemary Harris, Allan Corduner, Christian Dante White, Linda Mugleston and Clarke Thorell. This group of outstanding actors is exceptional. Laura Benanti's version of Eliza is one for the ages (I bet I'll be talking about this run to my grandchildren).
Harry Hadden-Paton is a wonderfully sexist professor. The role feels a bit anachronistic, but he works with what is has exceptionally well. A modern crowd sees him for the bully he is. But this Eliza doesn't cower, she holds her head high and carries on. 
While the sexism of the story is hard to swallow at times, the music makes the whole thing go down a lot easier. Your family will likely know the classic Broadway hits: "I Could Have Danced All Night," "The Rain in Spain," "Wouldn't It Be Loverly" and the showstopper "On the Street Where You Live." Christian Dante White delivers the goods in "On the Street Where You Live;" you'll get chills!
In our family, we all like pop music and rock, but the gorgeous music of Lerner & Loewe speaks to us on a different level. Let's hope this musical tours!
My Fair Lady Tickets & Information
Lincoln Center Theater-Vivian Beaumont
150 West 65th Street
Between Broadway and Amsterdam
New York NY 10023 View on map
Running time: 2 hours and 55 minutes, with one intermission
PLAN YOUR NYC VISIT
Check out our NYC page for things to see and do in NYC and don't miss these highlights.
Pin it!
Use Pinterest to save your favorite travel features.
This Family Fun My Fair Lady NYC Musical feature is not sponsored.