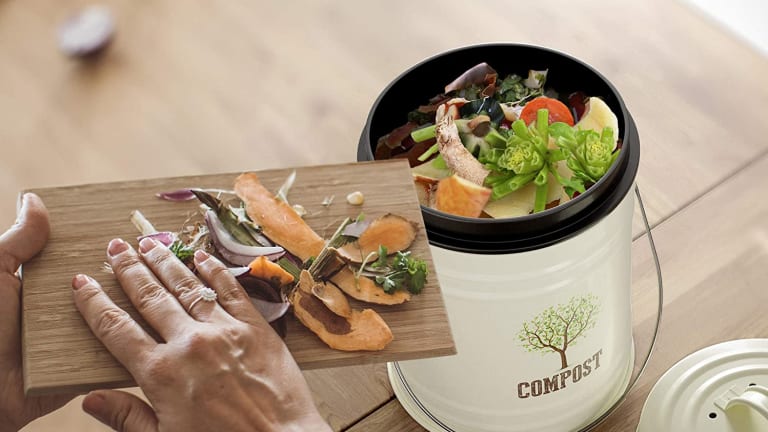 Family Composting Five Things to Consider
Nearly one half of what you send to the landfill can be composted, so with just a few minutes of work each week you can significantly lessen your environmental impact.
Nearly one half of what you send to the landfill can be composted, so with just a few minutes of work each week you can significantly lessen your environmental impact and increase the productivity of your garden! We're sharing some of our favorite kitchen composting bins and five things to consider when creating compost. 
Related: 3 ways to get kids excited about your veggie garden
Compost Awareness Week
If you're looking for a reason to finally start composting, Intl. Compost Awareness Week kicks off May 2nd! The practice helps reduce greenhouse gas, promotes healthy soil as a nutrient-rich soil amendment and contributes to a more circular economy. Many communities now have composting sites allowing those of us who want to do the greener things a chance to compost without having to become experts. 
We're lucky that our building composts. All we need to do is collect scraps. Check with your town or city to find out how and where to compost. Start with the www.litterless.com/wheretocompost site here.
Four Compost Buckets for Your Kitchen
When it comes to kitchen scraps, we've rounded up our favorite composting containers. 
How does composting happen? 
Microbes (worms, bacteria or other critters) eat up our waste. These critters need air, water, food and heat to do their dirty work. Once the system is set up and filled it is either rolled in the ground or on the base to get things going (good clean family fun). The compost then goes back to work in your yard or garden as an alternative to mulch or pot soil. Sounds like an interesting summer project. Are you game?
Now let's say you are planning on taking your composting to the next level and turning the scraps into gardening material. The experts have tips for that too. But I will warn you -- bears are very, very interested in your compost. We tried it unsuccessfully in our Connecticut home for years. Now we take out scraps to the community bins and let the experts deal with the bears. 
Five composting basics:
Do your homework. Before you start composting, make sure you understand which items and materials should be composted and how best to keep your compost balanced. Generally, you can compost items like coffee grounds, fruits and vegetables, eggshells, tea bags, nut shells, yard and grass waste, leaves and more. Typically, you can't compost fats, meats or dairy products, but it can vary from community to community. You'll want to make sure you have a good ratio of greens (like vegetable and fruit scraps and yard waste) and browns (like dead leaves and twigs). Remember, water is important – you can't compost material that doesn't have the right amount of moisture.
Determine your composting goals. The types of materials you put in your compost will vary depending on how you want to use it. You can use your compost in your yard or garden, or share it with friends and family for their gardens. Don't need compost yourself? Depending on your area, you may be able to collect your food scraps and yard waste for industrial composting and work with a local provider, like Republic Services, for collection.
Assess your space. Look around your space and evaluate what you may need to start composting. You'll want to store food scraps in a place that makes it convenient to compost while you're cooking or cleaning your kitchen. The easier you make it to compost at home, the more likely you'll be to do it. You don't need a fancy scrap bucket, but make sure it has a tight seal to reduce odor. Collection in the kitchen is just one piece of the puzzle.
Get the right tools. After you've assessed your indoor space, you'll want to get the tools that will set you up for success. You'll also need a compost bin, which you can purchase or build on your own. There are several different composters you can buy to meet your needs. Remember, you'll need to find an outdoor space that is dry and shaded to store your compost bin.
Understand the warning signs. Once your compost is started, you'll want to monitor for warnings signs that it is out of balance. Your compost shouldn't attract bugs or rodents or produce a strong odor. If it is, then you'll know that it's time to adjust the mix of greens and browns you're adding to your bin. Ideally, your compost should include an equal mix of green and brown material.
What can you compost? How about pet hair, Post-it notes, pine needles, potato peels and paper towels--and that is just the p's we can think of. Go here for a list of 163 items. Your kids can collect all the debris and load it up.
MORE KID-CENTRIC IDEAS FROM MOMTRENDS
PIN IT!
Use Pinterest to save your favorite ideas from Momtrends. Be sure to follow our Activities to do with the kids board here.
Momtrends was not paid for this post.