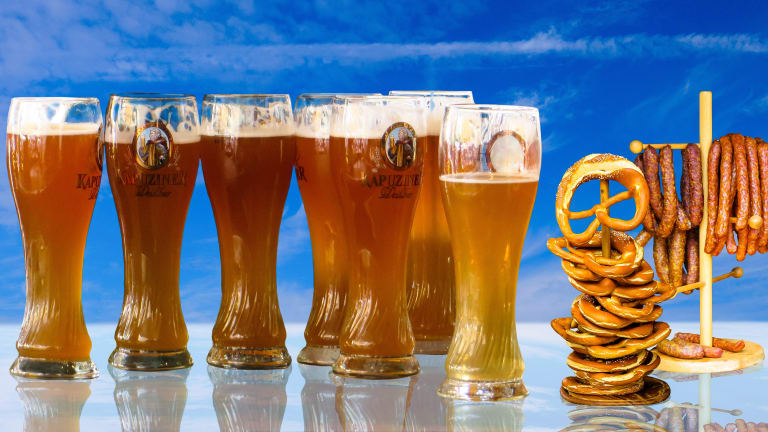 Everything You Need for Oktoberfest
If you can't make it to Munich for the original Oktoberfest, you can whip up your own international celebration at home.
Tomorrow may be the end of Oktoberfest, but luckily there is still time to celebrate! Here are five essentials you'll need to raise your own glass and prost (German for 'cheers') this weekend!
If you can't make it to Munich for the original Oktoberfest, you can whip up your own celebration at home. Here's what you'll need.
Related: Celebrate Oktoberfest with a home-brewed beer party
Everything You Need for Oktoberfest
1. Good beer: This is a given, right? Load up on lots of your favorite German beers like Konig Pilsner, Franiska Hefeweiss, or Spaten Lager. Or go choose an aptly named Oktoberfest-style beer from a local brewery. Not a beer fan? Try our favorite beers for non-beer drinkers.
2. Brats: The best thing about brats are that they are delicious, low maintenance to cook and can be made in bulk to easily feed a crowd. Cook outside on the grill if the weather is still nice enough or inside on the stovetop. For even less hands-on work, slow cook them like Bobby Flay in beer in your crockpot. Add some toasted buns and a collection of toppings like mustard, sauerkraut, raw onions, and pickles.
3. The right glass: Sure any cup will do, but to truly get in the spirit, dust off those beer steins at the back of your cup cabinet! Pull out those pilsner glasses! Your Oktoberfest beer will just taste better - promise.
4. The perfect playlist: Can't book your local oompapa band? You can still get the spirit of Oktoberfest at home with a great playlist on Pandora or Spotify. Try this Pandora Oktoberfest station or type in "Bavarian Drinking Songs" to find some lively tunes to keep your party going.
5. Braids: And the best Oktoberfest accessory to go with your beer? Braids. Sport two simple side braids or wrap them around your head in a milkmaid braid like this LuLu pin.
Now you're ready to celebrate!
MORE FROM MOMTRENDS
PIN IT!
Use Pinterest to save your favorite recipes ideas. Be sure to follow our Recipes to Inspire Board here.
Momtrends was not paid for this post.