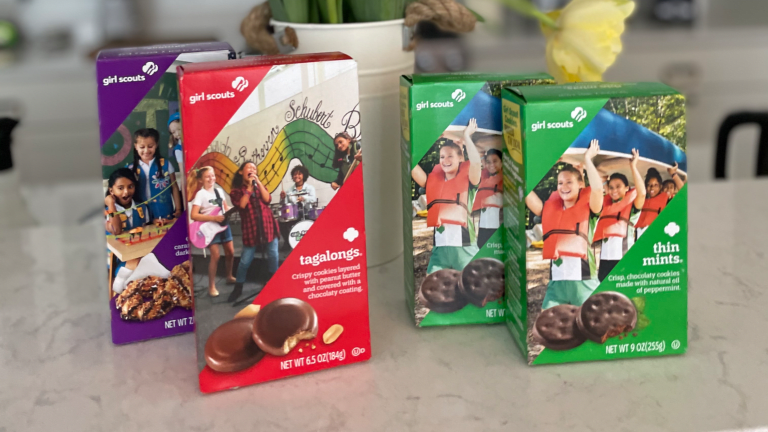 Everyday Treats Girl Scout Cookies and Wine
Stay and and treat yourself. Check out our Girl Scout Cookies and wine pairings!
It's that time of year again - Girl Scout cookie season! That sweet month when Thin Mints fill the freezer, Samoas sneak into lunch boxes, and Do-Si-Dos seems to mosey out after dinner each night. There is only one thing that could make Girl Scout cookie season better. WINE. 
We know you are doing everything right now. From homeschool to managing COVID tests to doing your normal work, whew, if you want a glass of wine and some cookies mama, go for it!
For more sweet pairings, check out our feature on cupcakes and wine.
Everyday Treats Girl Scout Cookies and Wine
That's right - one the latest trends we're loving is pairing those Girl Scout cookies with a glass of vino. Now truth be told, I'm pretty sure that any open box of Girl Scout cookie will pair just fine with whatever bottle of wine you have open. But, we're going to class it up here a bit and get deliberate about our wine/cookie pairings so that you're not just consuming calories, but experiencing the art of a perfectly paired duo. Let's begin...
Step 1: Get yourself some Girl Scout cookies.
If you don't already have a supplier, a quick question on Facebook should elicit all sorts of options from the daughters, nieces, and neighbors of your friends and co-workers. You can also find a "cookie booth" near you on the Girl Scout website. And here's a tip: hide the a box or two from your family, you deserve it!
Step 2: Find your wines for pairing.
One of the first to hit on this GS cookie + wine trend this year was Vivino, a popular vino-loving community and accompanying free wine app that lets you take a photo of any wine bottle (they have more than 211,639,349 scanned already!) and get instant ratings, prices and user reviews. As their tagline says, "Never pick another bad wine."
Vivino's wine blog published a delicious pairing list of Girl Scout cookies and wine. But there was just one problem. The wines weren't all your everyday wines. While you may keep a Riesling or Zinfandel on hand, many of the cookies were paired with less common varietals like Italian Roero Arneis, Bandol Rouges, and Amarones which as delicious as they sound, I don't keep on hand. We are talking about Girl Scout cookies here so I don't want to have to go out and search for a special bottle of wine to have with my Thin Mints. I want to know which of the six bottles of wine I have on my shelf to open.
So I got in touch with Jessica Norris, wine director at New York City's Del Frisco's Double Eagle Steakhouse, one of Wine Enthusiast's Top 40 under 40 Tastemakers, and the author of the original Vivino pairings to see her top picks for pairing some of my favorite Girl Scout cookies with wines that you and I were likely to already have on our shelves.
Here are some of her wine pairings with a few of my favorite Girl Scout cookies to get you started...
Thin Mints + California Zinfandel: "Thin Mints pack a powerful cookie punch and need something to stand up to all that chocolate-minty goodness without knocking it off its feet," Jessica says. "California Zinfandel is a great match with the extra ripe dark fruit and a medium stature."
Samoas + Oregon Pinot Noir: Chocolate, coconut, caramel - Samoas have a lot going on and require a wine that can handle the delicious mix of flavors. "Lots of stuff going on requires a wine with many sides. Oregon Pinot Noir offers fresh but not over-ripe red fruit (think pie cherry & raspberry) with subtle spice and a touch of earth."
Tag-Alongs + California Cab: Tag-Alongs offers peanut-buttery-chocolate bites of heaven. And one problem that only the right wine can solve. "A bold wine is needed to unstick the peanut butter from the roof of your mouth. Enter California Cab...Rich, round & plush. It more than gets the job done."
Trefoils + Chardonnay (any location/region will work): The perfect match for the simple shortbread? A nicely chilled Chardonnay, says Jessica. "Chardonnay is the 'Great Chameleon Grape'. It tastes like whatever the winemaker does or doesn't do to it. Oaked, un-oaked, crisp or buttery any version will pair nicely with your perfectly-simple cookie."
This trend is practically handing you a ready-made girls night! To plan your own pairing night, grab some girlfriends, your favorite varietals of Girl Scout cookies, and a few bottles of wine. Cheers to the weekend!
Spill it - what's your favorite Girl Scout cookie?
MORE WINE LOVERS FUN FOR MOMS
PIN IT!
Use Pinterest to save your favorite cocktail ideas. Be sure to follow our Wine Time board here.
Momtrends was not paid for this post. Header image courtesy of Vivivo.